Hurricane Ida has worked its way from the Big Easy to the Big Apple. Remnants of Ida reached New York City on Wednesday night, just 72 hours after devastating New Orleans and much of Louisiana's Gulf Coast.
The storm that worked its way up the Tennessee Valley and Appalachian Trail finally reached the U.S. East Coast, dropping a tornado in Annapolis, Maryland, and another in Philadelphia before making its way through New York City. The rain is so bad in New York City that cars and people are reportedly trapped in water.
The U.S. Open tennis tournament in Flushing Meadows was abruptly halted Wednesday night because of sudden flooding.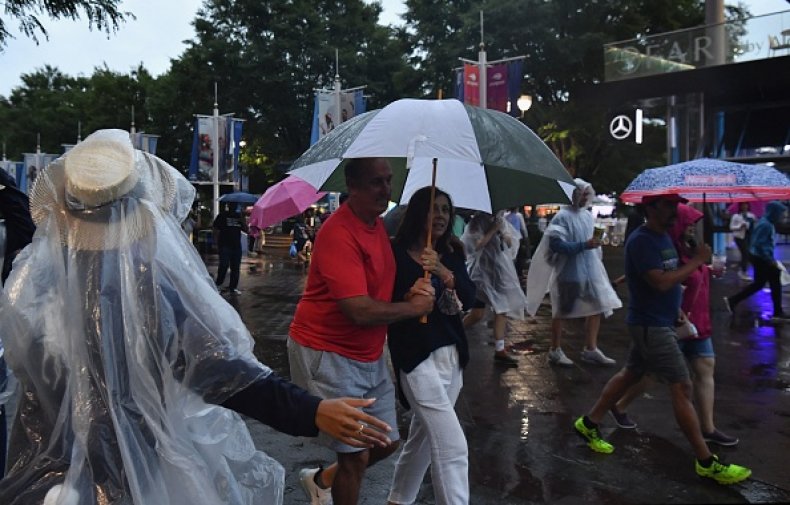 This comes as the city has already endured its second-wettest summer on record, thanks to Tropical Storm Elsa and Tropical Storm Henri, which have already battered the Big Apple. Henri hit New York City just nine days earlier. Now, the third time this summer is Ida.
For anybody keeping score, the state of Florida has only felt one tropical storm system in 2021: Tropical Storm Elsa in June.
As for New Yorkers, dealing with tropical storms is quite a rare occurrence. NYC Mayor Bill de Blasio declared a state of emergency and told residents to stay inside and avoid any areas that can be troubling the next few hours.
"I'm declaring a state of emergency in New York City tonight," the mayor tweeted. "We're enduring an historic weather event tonight with record breaking rain across the city, brutal flooding and dangerous conditions on our roads."
"If you're starting to head out, turn around and go back. Get to safety now, it's just a stunning amount of rain," de Blasio told "NY1 Live At Ten" anchor Cheryl Wills. "This is really intense."
The city is also under a tornado watch until 1 a.m. local time. A tornado warning expired at 9:30 p.m. The city is also still under a flash flood warning, which means flood waters can become extremely dangerous in a short time frame if rainfall continues like it is.
The storm developed in the Caribbean Sea last week and turned into a Category 1 storm as it passed through Cuba last Friday. Even after it traveled into the Gulf of Mexico, it remained a Cat 1 storm until Saturday night, when it became a Cat 2 storm. Early Sunday morning, it rapidly developed into a Cat 4 storm with 130 mph winds and a well-defined eye wall. It made landfall in Port Fourchon, Louisiana around noon CT on Sunday with 150 mph winds, and it slowly meandered over southeast Louisiana.
Ida drenched the southeast Louisiana coast from Morgan City to Slidell, and eastward into Biloxi, Mississippi. By early Monday morning, more than 1 million power customers were without electricity.
The storm caused a bridge in Lucedale, Mississippi to collapse, resulting in the death of two people. Ida continued its path of wrath through Mississippi. In Tennessee, Ida caused more dangerous flooding even though it had been downgraded to a tropical depression by that point.
On Wednesday in Baltimore County, Maryland, it spawned a tornado. On Wednesday evening in Philadelphia, it spawned another.
Now, it's dumping heavy rains in New York City with some relatively-high winds.
The storm is expected to move through the city and into the New England states overnight.