Houston Weather: Tropical Storm Imelda Becomes Tropical Depression as Predicted Heavy Rainfall Forces School Closures
Houston is bracing itself for its heaviest rainfall since Hurricane Harvey devastated the region more than two years ago.
The National Hurricane Center (NHC) said that Tropical Storm Imelda had caused winds of up to 40 miles per hour after it formed over the Gulf of Mexico. It made landfall near Freeport, 60 miles south of Houston, Tuesday, dumping rain over southeastern Texas.
Although it has been downgraded to a tropical depression, Imelda could still dump up to 18 inches of rain in some areas. More than 10 inches of rain were reported in St Bernard and Chocolate Bayou, USA Today reported.
The rain is expected to continue over the next couple of days, raising the chances of flash flooding over southeastern parts of the state before moving inland.
"Heavy rains and life-threatening flash flooding will continue to spread inland over southeast Texas during the next day or two," the NHC said in an advisory.
Residents of Houston have been warned about the storm and a flash flood watch which will be extended to Thursday.
Some schools and universities in the Houston and Galveston areas canceled classes for Wednesday.
These include Houston Independent School District and Texas A&M University at Galveston. The Galveston Independent School District said on its website that travel to and from school would be too dangerous.
Meanwhile, Houston Mayor Sylvester Turner tweeted: "Rain will be in the area over the next several days and could cause some flooding. Be careful driving and please pay attention to the weather reports."
Coastal Texas and southwestern Louisiana will bear the brunt of the rain on Wednesday, before the storm moves into eastern Texas and western Louisiana on Thursday, the NHC added.
CNN meteorologist Judson Jones said: "Many of the forecast models are suggesting 6 to 10 inches of rain with isolated higher amounts across the region. If the forecast holds, the amount of rain to fall would be the highest storm total rainfall since Hurricane Harvey in 2017."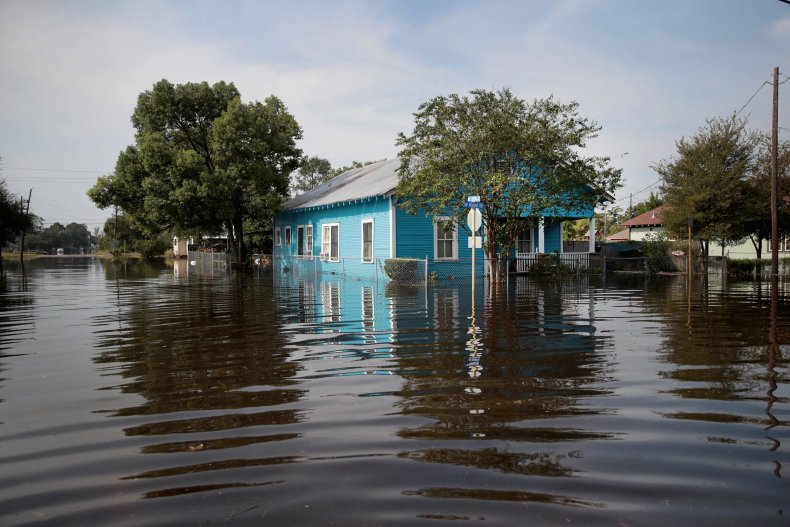 Meanwhile, Jeff Lindner, a meteorologist for the Harris County Flood Control District told USA Today: "We have a few things in our favor. The ground is dry. It's been dry for a while here as we've come through summer. The initial parts of this rainfall will go toward saturating the ground."
Between August 25 and August 29, 2017, Hurricane Harvey killed an estimated 100 people and caused up to $130 billion in damage after it tore through Texas and Louisiana, according to the National Centers for Environmental Information. Over four days, many areas were drenched with more than 40 inches of rain, causing massive flooding.
It was the first major hurricane to make landfall in the U.S. since 2005, the year of Katrina, Rita and Wilma. In May, Houston was drenched by heavy rains causing flash floods.