Hurricane Irma and Harvey $15B Disaster Fund Won't Last 30 days, Says Ex-FEMA Chief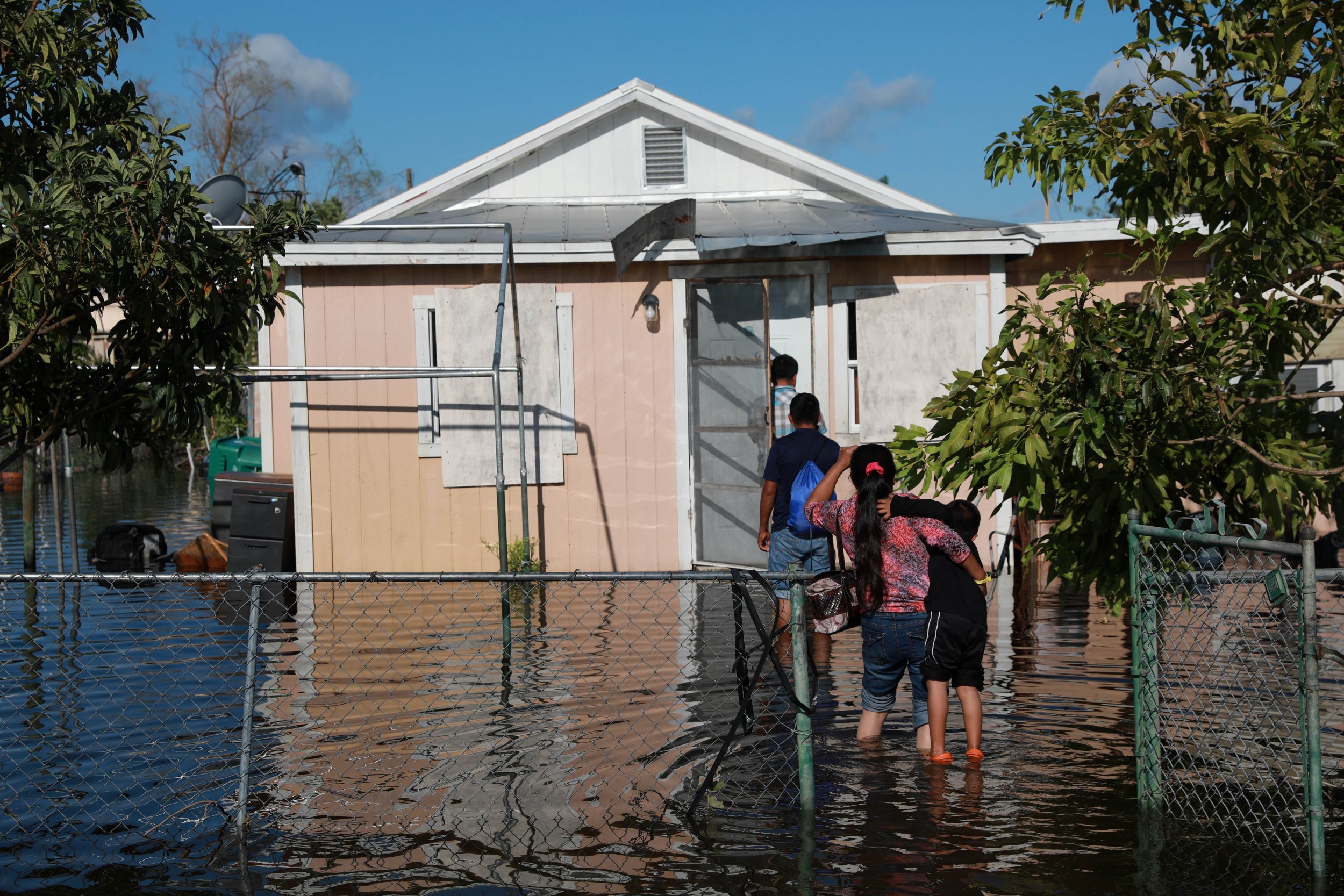 Hurricanes Irma and Harvey survivors will be lucky if billions of dollars in disaster relief agreed by Congress last week last more than a month, according to the former head of the Federal Emergency Management Agency (FEMA.)
"It's not enough," James Lee Witt, FEMA chief for eight years under President Bill Clinton, tells Newsweek of the funds earmarked last week for the recovery effort after the two storms left a trail of destruction across Texas, Florida, Georgia and South Carolina. "It would be lucky if it lasts 30 days with both of these events going on at the same time."
In a rare bipartisan move the House and Senate passed a combined $15.2 billion in hurricane relief mainly targeted at helping victims of Harvey in Texas and Louisiana last week. Congress may agree on Hurricane Irma recovery money for Florida soon.
In Texas, the long-term recovery from Hurricane Harvey "will be $100 billion at least," Witt said. Governor Greg Abbott has put the number at $150 to $180 billion.
Read more: With Hurricane Irma and Harvey Relief Underway, One-Third of FEMA Leadership Positions Unfilled
"I haven't seen early estimates on Florida," Witt added of recovery costs there. Irma was "the first time we've seen a hurricane cover the entire state it was so wide," he said, estimating the cost of recovery will cost much more than the $26.5 billion in damage Hurricane Andrew did to Florida in 1992.
The total costs of damage the government might end up footing the bill for in Texas and Florida "could top $175 billion," Witt said, adding "then you've got the Virgin Islands and Puerto Rico."
Florida Congress members agree with Witt's assessment. "Fifteen billion dollars is only going to last us a few weeks," said Democratic Florida Senator Bill Nelson after touring the damage with Republican Senator Marco Rubio on Monday. "By the middle of October, we'll have to do another emergency supplemental appropriation," Nelson told reporters.
As flood water recedes in Texas after Hurricane Harvey and storm surge and flooding in Florida dies down "now the most important thing is getting people signed up for assistance," Witt said.
"They have an opportunity here to build back better and safer and use individual assistance program," he insisted. The government is offering a 90 percent federal cost-share for debris removal, 100 percent reimbursement for hurricane preparations, and direct financial assistance for those in the hardest hit areas in Texas and Florida. Witt urges everyone who could qualify to apply online as soon as they can.
Brock Long, the current head of FEMA, said Monday that there are still 200,000 people in shelters from the storm in Florida and that "it's going to be a long frustrating event for Floridians." On Tuesday FEMA said 25 percent of homes in the Florida Keys were destroyed by Hurricane Irma and 65 percent have major damage.
Long's response to these historic natural disasters "has been right on," said Witt, adding that Long's leadership is a "big plus" for FEMA. Communication is key, he added, and right now people need good public information about what's going on to keep "that frustration level down" as people pass through the shock, frustration, and anger they often feel after a disaster.
A key thing survivors need to know, Witt said, is to be careful when returning to their homes with their families.
"A flood is worse than anything. Because you get all that mud and mulk in your homes and business. It would be better if the parents went first," he said, but "sometimes it just doesn't work that way." Children are some of the most vulnerable in disaster situations, he said.
In Houston The New York Times carried out a series of tests of flood waters and published their findings Monday of high levels of E. coli, a bacteria commonly found in sewage, in water inside flooded homes.
"There's pretty clearly sewage contamination, and it's more concentrated inside the home than outside the home," said Lauren Stadler, an assistant professor of civil and environmental engineering at Rice University, who tested water for the paper.
"I know some kids were playing in the floodwater outside those places. That's concerning to me," she said. The Environmental Protection Agency, Associated Press, CNN, and Texas Commission on Environmental Quality have all tested water and expressed concern about contamination.
People thinking of returning home with their children or elderly family members before their house can be cleaned should think twice, Dr. David Persse, the chief medical officer of Houston, told The Times .
"It's very dangerous," Witt said of the possibility for contamination. He urged people to take precautions. "They need to remember to wear masks and gloves and rubber boots," he said. "Particular when they start ripping down walls and insulation out. If they haven't had a tetanus shot in a while, they need to get a tetanus shot just in case they get cut or step on a nail or something sharp" as bacteria looms throughout the disaster zone.
Children may need even greater amounts of care and attention to understand what's happened, said Witt, who works with the children's nonprofit The Hero in You Foundation. He urged storm victims to create a family plan and give their children a number—preferably out of state—to family friends they can reach in case they get separated from each other during the recovery.
"It's important that young kids know what to do," Witt said, urging FEMA's chief Long to "explain that to children."
"Many of the floods that I saw are pretty traumatic on kids," he said, noting that "a lot of times in disasters, the parents get so involved in trying to recover and trying to get assistance they forget about the kids in extent of explaining to the kids what happened."
Children need an outlet to vent their frustration too. During North Dakota's Red River flood in 1997, Witt said he saw teachers from an evacuated school getting their kids to write poems and draw pictures about how the flood impacted their lives.
Just like their parents, Witt said, kids "need to explain how they feel and how it affected them, and it helps them to get through that."