Hurricane Irma Could Slam Trump's Mar-A-Lago Resort, Caribbean Mansion, Florida Golf Course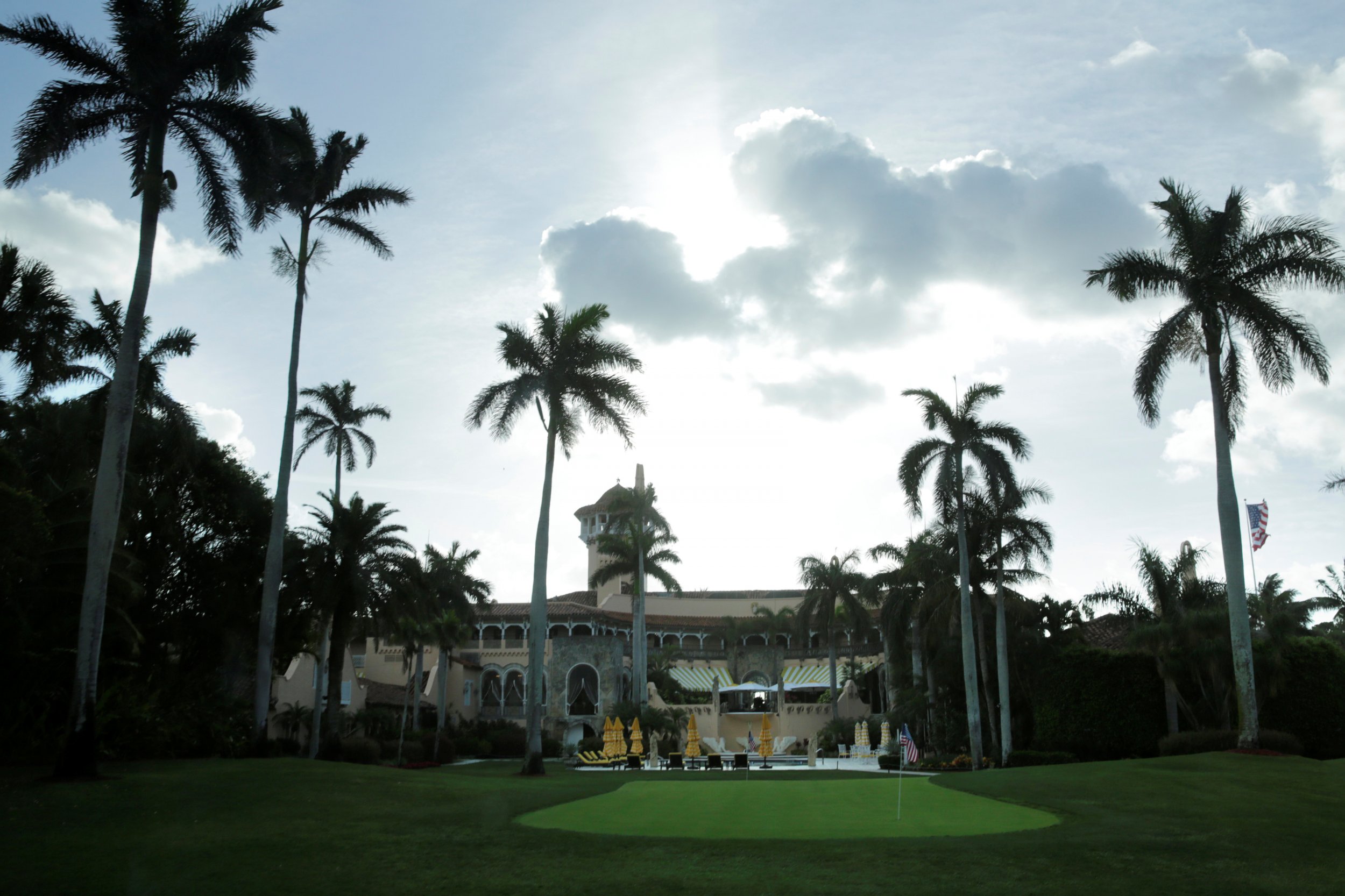 As the powerful Hurricane Irma makes it way through the Caribbean and toward the United States Wednesday, President Donald Trump has warned Americans of its potential wrath. In fact, the president's own properties could be at risk of being slammed by the storm.
Irma, a Category 5 hurricane, is a dangerous storm. Trump declared a state of emergency in Florida, Puerto Rico and the U.S. Virgin Islands Tuesday night. Irma is the most powerful Atlantic Ocean hurricane in recorded history, a fact Trump alluded to Wednesday morning.
"Watching Hurricane closely. My team, which has done, and is doing, such a good job in Texas, is already in Florida. No rest for the weary!" Trump tweeted before following up in a second tweet, "Hurricane looks like largest ever recorded in the Atlantic!"
That massive storm could slam an extremely valuable Trump property in the Caribbean about 200 miles east of Puerto Rico. According to the Miami Herald, "Trump owns a multi-million dollar mansion on the Caribbean island of St. Martin—and Category 5 Irma is heading straight for it."
The 11-bedroom home—which the president has said he rents out—is located on Plum Bay and is currently up for sale for $16.9 million, The Washington Post reported last month. That actually represented a steep reduction, since the mansion had reportedly been listed for $28 million.
But Trump's so-called "winter White House"—where he spends many a weekend—could be in danger of getting hit by Irma as well. It's not entirely clear where Irma will head—a hurricane's path is notoriously difficult to predict exactly—but much of Florida could potentially be in the storm's path later this week. Mar-A-Lago, the aforementioned winter White House, is located in Palm Beach, Florida, which is bracing for the potential danger posed by Irma. "Take [the] Storm Seriously" urged the front-page of the local Palm Beach Post Wednesday morning. Palm Beach County is under a state of emergency.
One of Trump's marquee golf clubs, Trump National Doral in Miami, could be affected by Irma as well. The club tweeted Wednesday that it was "monitoring Hurricane Irma" but "all resort operations are as normal until further notice."
It's unclear just yet, which areas of Florida, if any, will be affected by Irma, but Florida Gov. Rick Scott urged the state to be ready and asked people to prepare. "Irma is shaping up to be bigger than Andrew," he posted to Facebook, referencing a storm that ravaged the state in 1992, killing dozens. "We don't know exactly where this is going to hit. It looks like it's going to bear down right in the middle of Florida."