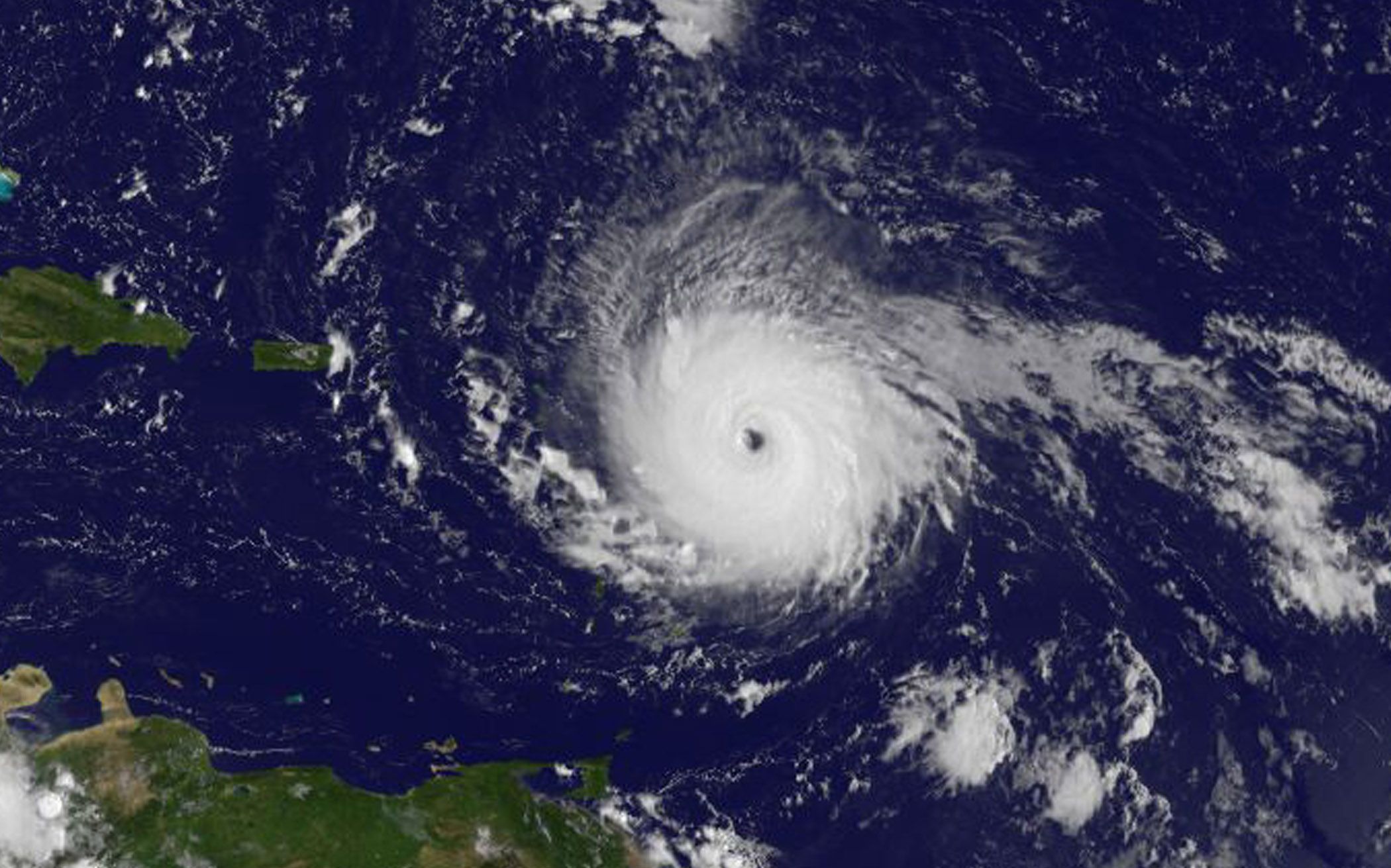 As Hurricane Irma approaches Florida, rumors, fake news and hoaxes are circulating on social media. Below, Newsweek reviews some of the most popular tall tales doing the rounds, and examines why they should not be believed.
"Sharknado"
Earlier in the week, a fake image of a news ticker reading "Irma Now Contains Sharks" emerged on social media.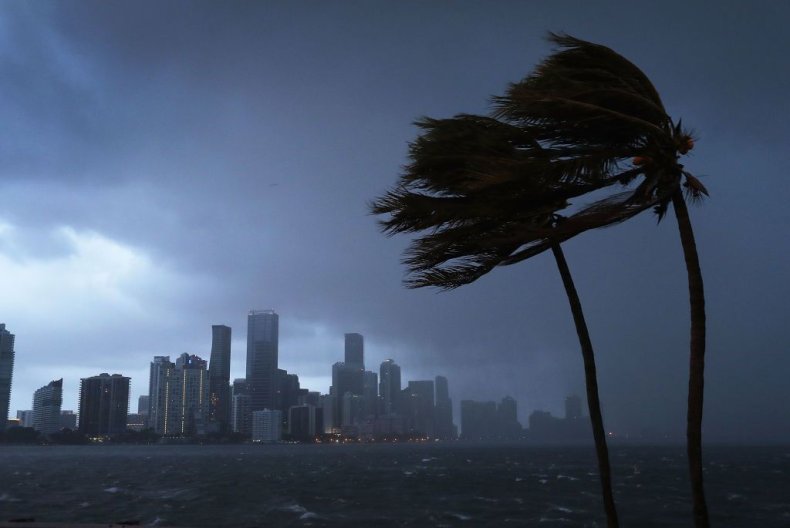 The image seems to be a reference to 2013 movie Sharknado and, judging by the watermark on the right of the image, was created by BreakYourOwnNews.com, a site that allows users to create fake news images. Many sharing the image on social media accepted it as fact.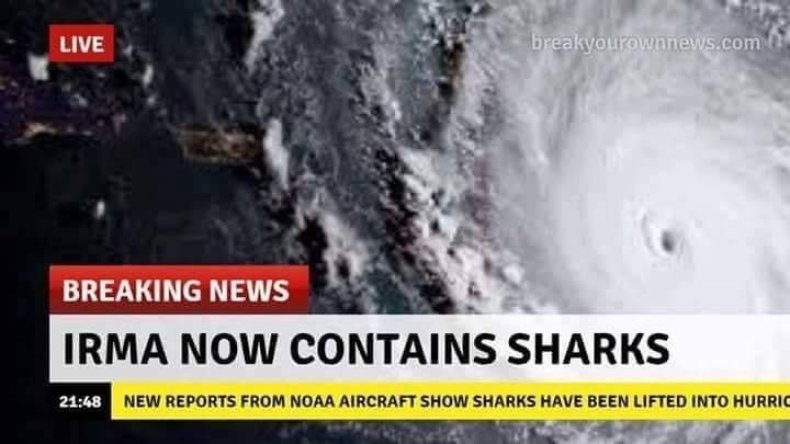 "Although there have been reports of tornados lifting (and later dropping) various animals, the scenario depicted in the Sharknado series, where a tornado causes dozens of great white sharks to rain from the sky, is far-fetched," notes fact-checking site Snopes.
Fleeing pets
In addition to its other disaster-management duties, the Federal Emergency Management Agency (FEMA) has set up a website to debunk false rumors that are being spread as the storm nears.
The FEMA says that reports claiming that hotels must accommodate pets belonging to evacuees are not true. Hotels must accept service animals, but they are not required to take in pets, and evacuees with pets are advised to check hotel policy before arrival. Emergency shelters, on the other hand, are required to take the pets and service animals of evacuees.
Another section says the rumor that residents should not remove debris until their homes are inspected by FEMA or insurance adjusters is false, and making temporary repairs to storm-damaged property will not disqualify you from federal disaster assistance.
Opening your window during a hurricane does not protect it
According to a long-held belief, opening a window slightly will help equalize pressure in a property so its roof will not be blown off.
This belief emerged among scientists seeking to explain why some properties in the path of tornados exploded and others did not. They hypothesized that air pressure was to blame, with high air pressure in some properties causing the damage. Scientists believed the problem would be alleviated by opening a window a crack.
In fact, the opposite is the case, with open windows more likely to cause damage to properties blasted by hurricane force winds.
"Windows should be tightly shut to prevent any of the wind from entering the home. What does enter will seek to exit, in the process blowing out a roof or ceiling, collapsing a gable end or a garage door," notes Snopes.
"Wherever the home's weak point is, such rogue winds will find it and assault it."
Dishwashers do not protect valuables
There are several viral messages circulating on Facebook and Twitter, reports The Washington Post, that advise those in the hurricane's path seeking to protect their belongings to hide them in a dishwasher, claiming that the appliance is waterproof.
In response to an inquiry from a Buzzfeed reporter, a major washing machine manufacturer advised against the move.
Category 6 Hurricane
Social media has been awash with rumors that by the time Hurricane Irma hits the Florida coast, it will have grown into a Category 6 hurricane.
There's one big problem with this claim—there's no such thing as a Category 6 hurricane.
An article titled "Category 6? If Hurricane Irma Becomes the Strongest Hurricane in History, It Could Wipe Entire Cities off the Map," published last week on the blog The Economic Collapse, was shared more than 2 million times on blogs and Facebook pages such as Sons of Liberty Media and Freedom Outpost, the BBC reports.
The story was then repeated by Alex Jones, host of conspiracy site Infowars.
One U.S. meteorologist set the record straight.