With Hurricane Irma, Florida Could See 'Catastrophic Flooding' Because of Infrastructure Shortcomings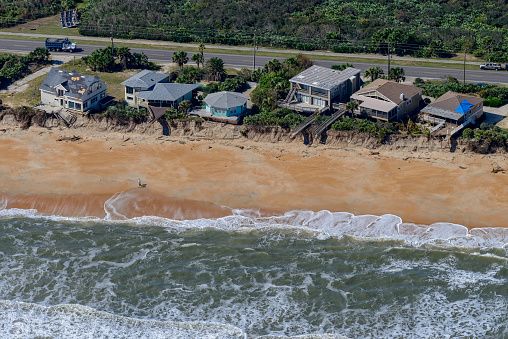 As Hurricane Irma barrels toward Miami and the Florida coast, Governor Rick Scott is warning that some flood control systems "have not been adequately repaired" since Hurricane Matthew hit the state in 2016, increasing the danger that same towns could be under-prepared.
The National Hurricane Center forecast shows Florida facing one of the strongest storms ever recorded in the Atlantic, and experts say that rising sea levels and inadequate flood control systems could increase the danger that Florida towns could be overwhelmed by the storm.
On the heels of Hurricane Harvey, which saw 60 people killed in Texas last week, Florida officials are taking no chances. Officials are pleading with residents to obey evacuation orders and prepare for the worst.
Harold Wanless, a professor of geological sciences at the University of Miami, studies the impact of rising sea levels in the region. He said the incoming Hurricane could cause "catastrophic damage" due to Florida's proximity to sea level.
"We're just ridiculously low," he said. "It's most of the area. If we have a Category 5 storm with a high surge, we can have catastrophic flooding."
Wanless said some residents are still waiting to see where the storm will land. "You can go to most grocery stores now and there's no water available," he said. "We're starting to be aware. For a lot of people, I think this is new, and they don't quite know what to do, but they know to get water."
Scott said infrastructure shortfalls could cause severe flooding along the St. Johns River, which borders several heavily-populated counties in eastern Florida. While the district awaits possible aid, local officials have opened up flood-control structures to offset anticipated flooding and battle potentially high waters.
"We appreciate the Governor's swift action requesting federal assistance and resources to help take additional emergency protective measures for Florida's communities," said Teresa Monson, a spokeswoman for the St. Johns River Water Management District. "The district continues to take steps to prepare for the storm."
Those steps might not be enough. The Florida chapter of the American Society of Civil Engineers warned in a 2016 infrastructure report that only 25 percent of stormwater drainage systems in Florida were adequately prepared to meet "urgent needs" for capturing excess water, while the erosion of Florida's beaches could leave the coast without protection against storm damage.
Miami-Dade ASCE official Ricardo Vieira said flash-flooding will present some problems for coastal cities, but a larger concern could be severe winds damaging infrastructure and power lines.
Randy Smith, a spokesman for the Southwest Florida Water Management District, said while Hurricane Irma looks to be a record-breaking storm, his region feels prepared to drain flood water back to the Atlantic.
"We've been making adjustments to the water levels for over a week," Smith said. "We're as ready as we can be for it."