Where is Hurricane Irma Going Next? Florida Evacuates as Storm Death Toll Rises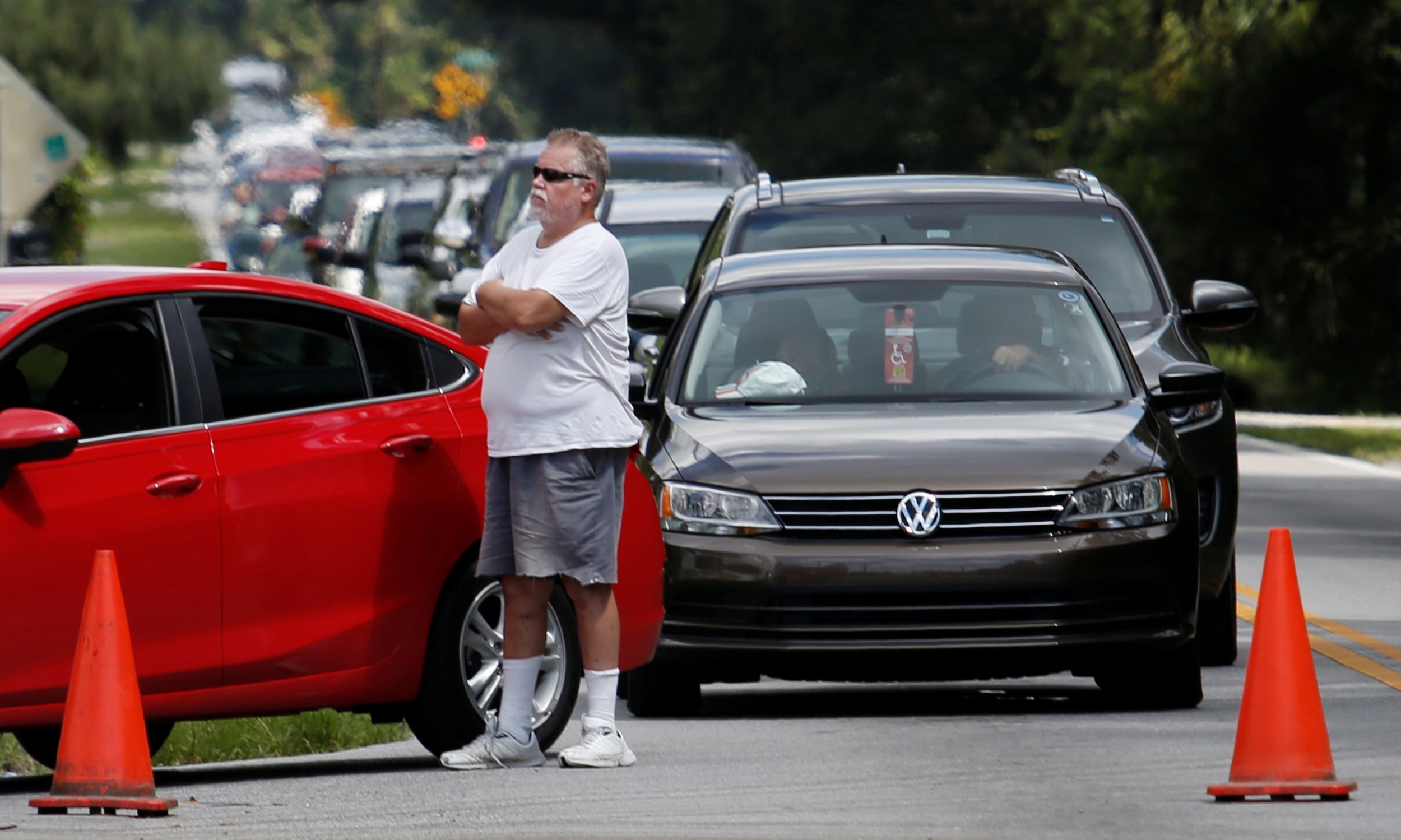 Hurricane Irma's path of destruction continues with the Category 5 hurricane now having killed over a dozen people across the Caribbean.
The storm devastated the Turks and Caicos Islands and struck Haiti before making its way to the fringes of the Bahamas. It is expected to hit eastern Cuba later on Friday.
Then on eary Saturday it will bear down on Florida, where mass evacuations have been ordered as the state seeks to mitigate the impact of the strongest storm ever recorded in the Atlantic basin.
What's the latest forecast for Hurricane Irma?
Two days after making landfall, Irma has barely slowed down. Wind speeds have dropped from 180 mph to 160 mph, but the storm is still classed as a Category 5 hurricane, meaning that it could cause potentially catastrophic damage to affected places. Irma is likely to remain a Category 4 or 5 hurricane by the time it reaches Florida.
In its latest update at 2:00 A.M. Eastern time, the National Hurricane Center said that storm surge warnings were in place for Florida Keys and a segment of the state's southernmost tip, including Miami. The warnings mean that there is "danger of life-threatening inundation" during the next 36 hours.
Irma is forecast to move toward the southeastern Bahamas on Friday morning, before moving between Cuba and the Bahamas later in the day. It is expected to hit Florida on Saturday.
How much damage has been done?
Irma has caused catastrophic damage in some places, such as Barbuda, where it first made landfall early on Wednesday. The island's prime minister, Gaston Browne, said that 95 percent of buildings on the island had been damaged. The hurricane has also done significant damage to St. Martin, left much of Puerto Rico without power, and killed four in the U.S. Virgin Islands, the Guardian reported.
The Red Cross says that 1.2 million people have been affected by Irma so far, but that the toll could spike to 26 million.
What's happening in Florida?
Irma is forecast to bring strong winds to Florida by Saturday morning at the earliest. The hurricane could bring storm surges of up to 10 feet in Florida Keys, threatening the 73,000 residents of the archipelago.
The hurricane could spark one of the largest mass evacuations in U.S. history, as officials in Florida urge people in at-risk areas to leave their homes before the weekend.
Mandatory evacuations have been ordered for parts of Miami-Dade County, Broward County, Palm Beach County, parts of Brevard County, and Monroe County; Miami-Dade, Broward and Palm Beach together have a population of around 6 million people.
Florida Governor Rick Scott told people to take action before it was too late. "We cannot save you when the storm starts," said Scott at a Thursday press conference, CNN reported. "So if you are in an evacuation zone and you need help, you need to tell us now."
Governor Scott also ordered all schools, colleges, universities and state offices to close Friday through Monday, in order to make more space available for hurricane shelters.
The evacuations stand in stark contrast to the tactics used by officials in Houston in August when the state was battered by Hurricane Harvey. Houston state officials chose not to evacuate due to fear of creating gridlock and leaving people exposed on the roads when Harvey hit.
What other U.S. states are at risk?
Beyond hitting Florida at the weekend, it is too early to know the precise path that Irma will take. But some forecasts show that winds and storm surges whipped up by the hurricane will hit Georgia, South Carolina, North Carolina and Alabama by late on Sunday or Monday.
Georgia Governor Nathan Deal has issued a state of emergency in 30 counties in the state and ordered the evacuation of much of the state's east coast. The evacuation order kicks in on Saturday morning. Governor Deal also authorized the deployment of 5,000 National Guard members to help in the emergency response.
"The state is mobilizing all available resources to ensure public safety ahead of Hurricane Irma," said Deal.
South Carolina Governor Henry McMaster has declared a state of emergency and requested federal funding to assist in dealing with the hurricane's impact. McMaster has said he expects to issue evacuation orders early on Saturday but has so far held off doing so.
In North Carolina, Governor Roy Cooper has also declared a state of emergency in 100 counties and encouraged residents to prepare emergency kits.
President Donald Trump has urged everyone in the path of Irma "to heed the advice and orders of local & state officials!"