Hurricane Irma: Where Is It Going, Will It Hit the U.S., and Will It Be as Bad as Harvey?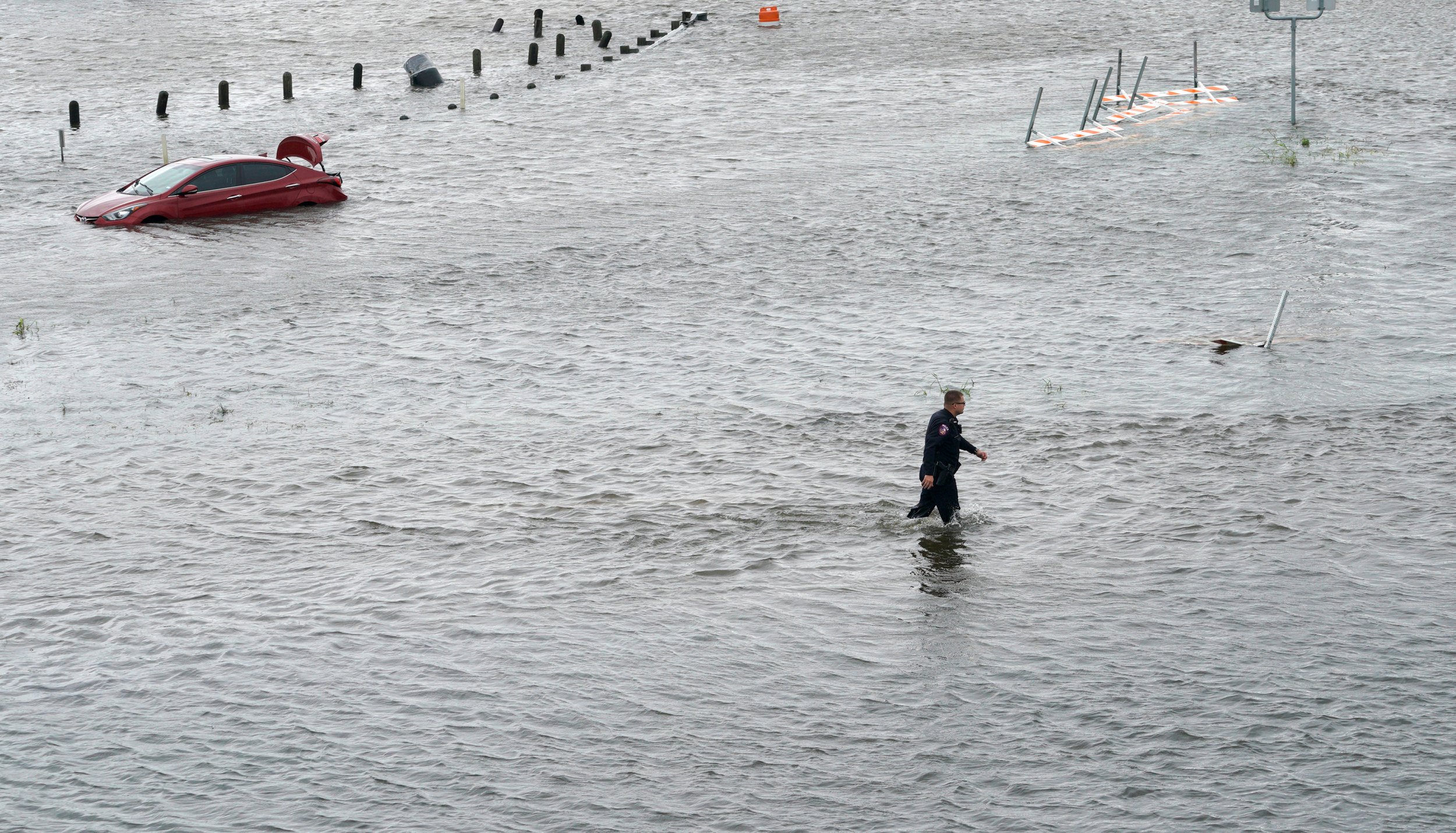 With Texas and Louisiana still recovering from the devastation wrought by Hurricane Harvey, officials are now turning their attention to another storm that could potentially pose a threat to the U.S. mainland.
Hurricane Irma is currently moving westward across the North Atlantic Ocean and is expected to bring stormy conditions to several islands in the Caribbean and potentially threaten the East Coast by next weekend.
Here's what you need to know.
Where is Hurricane Irma going?
The category 3 hurricane is expected to affect the northeastern Leeward Islands in the Caribbean in the coming days, according to the latest advisory issued by the National Hurricane Center (NHC) Monday. Hurricane Watch warnings are in effect for multiple islands, including Antigua, Barbuda, and St. Kitts and Nevis. The NHC also said that the storm could impact the British and U.S. Virgin Islands, the U.S. territory of Puerto Rico, Cuba, the Bahamas, Hispaniola and the Turks and Caicos during the week.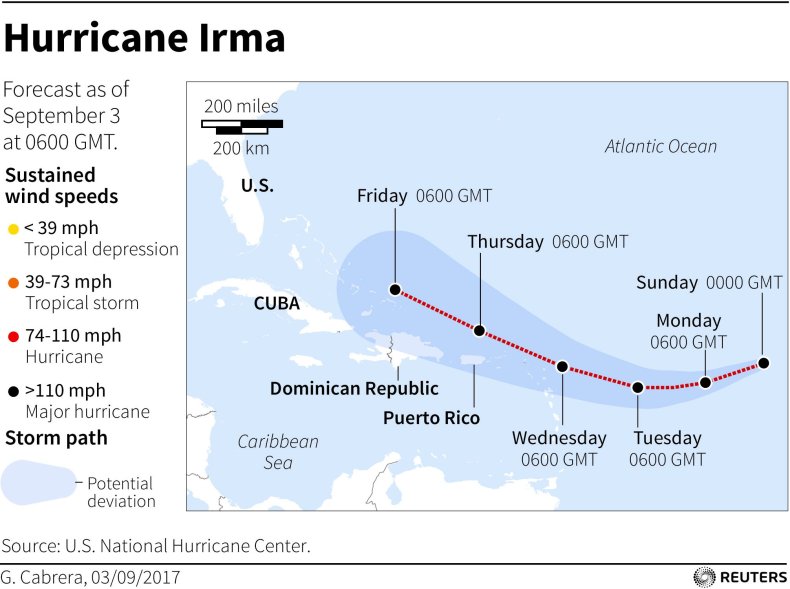 It is too early at present to predict whether the hurricane will affect the continental United States, according to the NHC. Some models have the storm hitting Florida by next weekend; others have it reaching North Carolina; and yet others have it curving back out to sea and avoiding the United States altogether.
What are the conditions likely to be like?
Irma had maximum sustained winds of 115 miles per hour Monday morning, and these were expected to strengthen through Tuesday night, the NHC said. It warned of hurricane conditions within affected areas by Tuesday night and of life-threatening surf and rip current conditions affecting the northern Leeward Islands on Monday.
In Antigua and the Dominican Republic, officials ordered for precautionary measures—including the pruning of trees to reduce the chance of branches hitting power lines and the clearing of blocked sewers—to be taken, CBS News reported.
What is being done to prepare?
Officials in the states that could be affected are taking no chances. In North Carolina, the local Red Cross has stopped any more volunteers being sent to Texas to help with relief efforts in the wake of Harvey, which has been blamed for more than 40 deaths and may have caused up to $180 billion worth of damage, according to Texas Governor Greg Abbott.
"With this East Coast threat of Irma coming late this week, we're really concerned," Barry Porter, the Red Cross's regional executive officer, told local television station WNCN-TV. Porter added that it was the first time since 2004 that the Red Cross had faced the prospect of multiple hurricanes hitting the United States.
Read more: After meeting Hurricane Harvey victims, Trump got back to retweeting Hillary Clinton memes
Florida Governor Rick Scott urged families to make necessary preparations ahead of any potential impact from Irma, including preparing a disaster supply kit. These kits should include water; non-perishable foods; blankets and pillows; clothing; first aid items; toiletries; flashlights and batteries; a battery-operated radio; cash; and important documents like insurance policies, among other things.
Will it be as bad as Harvey?
At present, it seems unlikely that Irma will have a similar impact to Harvey. The lack of consensus on the strength of the storm—some experts predict that it could reach a Category 5 hurricane, while others are not so sure—and on whether it will actually even impact the continental United States means that meteorologists are involved in a waiting game to see how the storm plays out.
But that doesn't mean precautions shouldn't be taken. Irma is one of a type of hurricanes known as a Cape Verde hurricane, which forms in the eastern Atlantic, close to Cape Verde, an archipelago considered part of Africa, CNN reports. These storms do have the potential to become large and intense: an example of a similar storm was Hurricane Ivan, a Category 5 major hurricane that killed 25 people and caused $18 billion worth of damage, with Florida and Alabama the hardest-hit areas in the United States.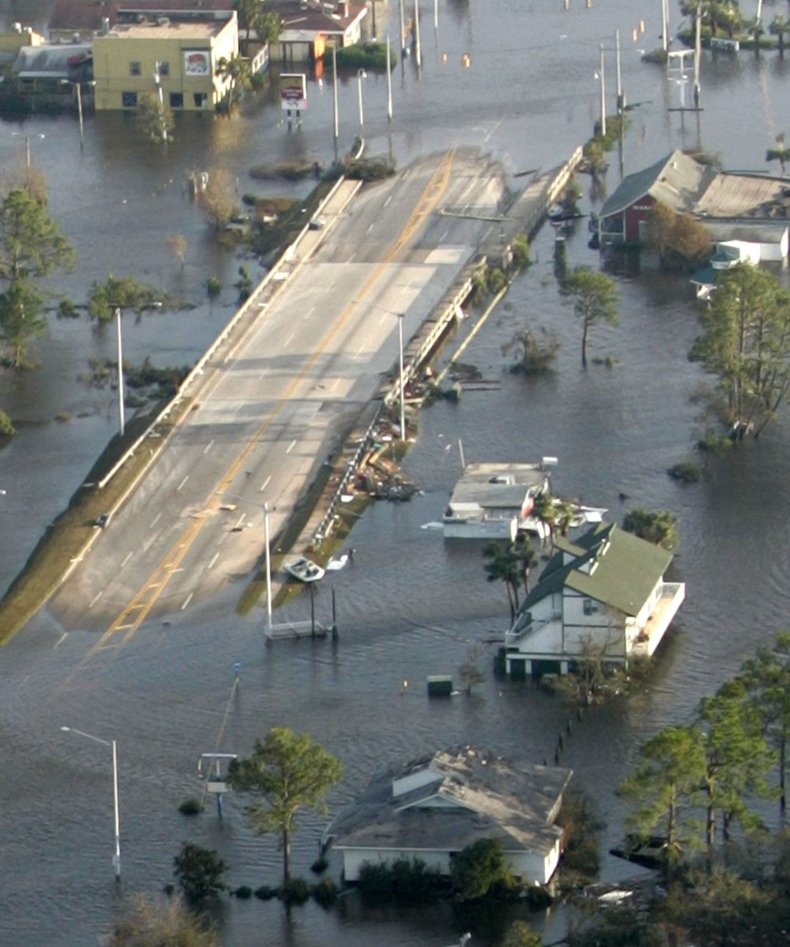 Will there be any more hurricanes this year?
Unfortunately, it's a distinct possibility. Irma comes slap-bang in the middle of the Northern Atlantic hurricane season, which generally runs from the start of June to the end of November and peaks in late August and September.
The National Oceanic and Atmospheric Administration predicted in May that there would be 11-17 named storms (including Tropical Storm Arlene, which formed outside the season in April), up to four of which would become major hurricanes. The prediction was higher than the 30-year historical average for the Atlantic Basin, which is 12 named storms and three major hurricanes. So far, there have been 10 named storms, including Irma; two of these, Harvey and Irma, are classed as major hurricanes (i.e. Category 3 or above).