Hurricanes Like Irma Increase Risk for Sexual Assault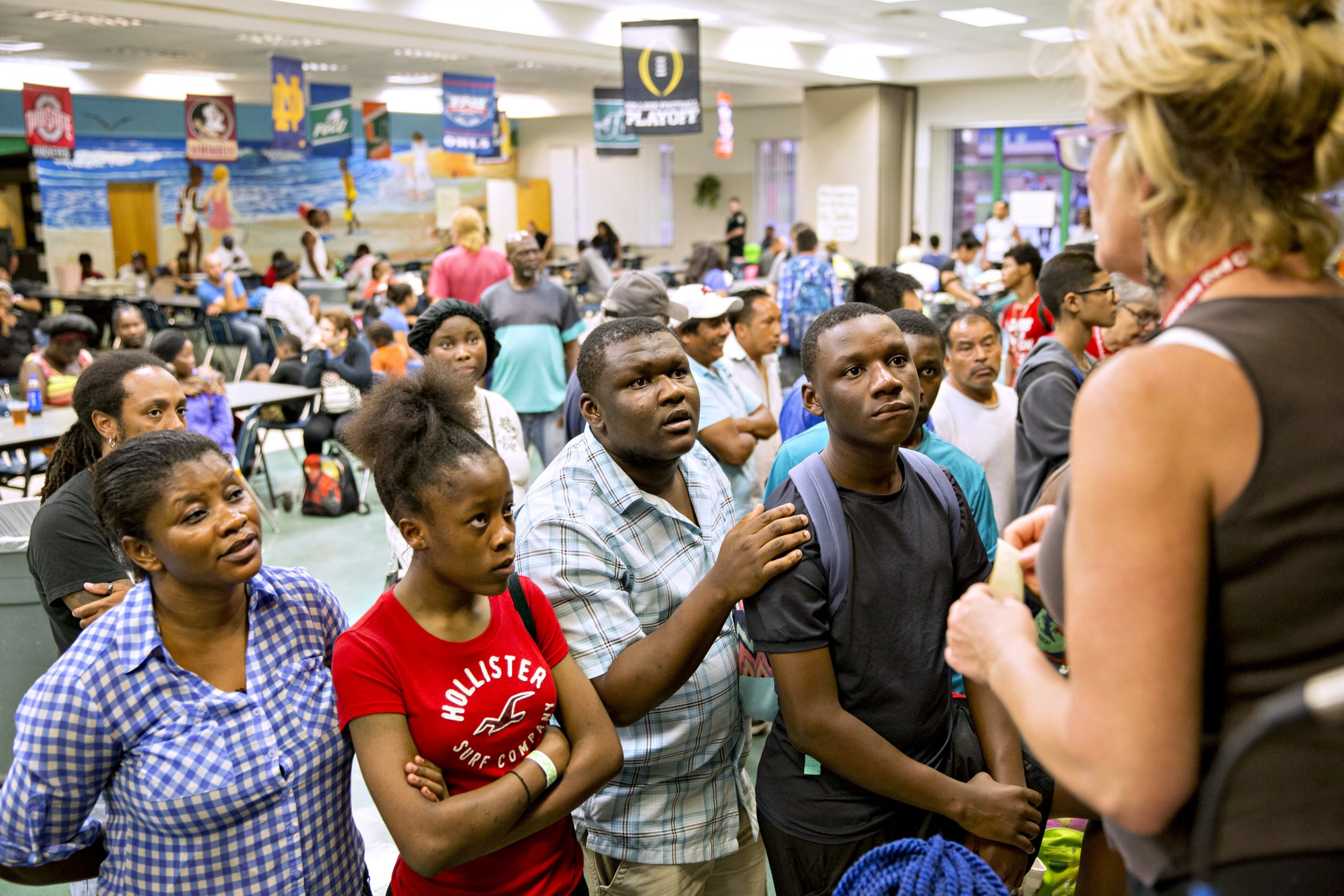 Officials are well aware that incidences of rape and assault become more common in the wake of hurricanes such as Irma and Harvey. When state-wide evacuations for Hurricane Irma began last week, Florida's Polk County sheriff announced that sex offenders would be banned from all shelters. "We cannot and we will not have innocent children in a shelter with sexual offenders & predators. Period," he tweeted.
It's still too early to tell if law enforcement and first responders in Florida will be successful in preventing a rise in these crimes of opportunity, especially in the hurricane's aftermath when a sense of lawlessness tends to pervade communities. In 2005, in the wake of Katrina, reports began to emerge about the uptick in incidences of rape and sexual assault. Some were victims who failed to evacuate, while others claimed to have been assaulted at shelters set up for evacuees. In one widely reported incident after Katrina, a perpetrator woke his victim in the shelter's communal sleeping area in the middle of the night. He threatened her with a knife then raped her.
"There were some lessons to be learned from Katrina," Chau Nguyen of Houston Area Women's Center told Newsweek. She says improved security and additional training for Harvey's disaster response appear to have prevented incidents of sexual assault from occurring at shelters in Houston. She has not heard of any problems, at least not yet.
In the days leading up to evacuations, Nguyen helped lay the groundwork to secure shelters with nighttime monitors, and worked with other advocacy groups to get law enforcement on the same page. This hasn't historically been the case.
After Katrina, the National Sexual Violence Resource Center and other organizations developed an anonymous database of self-reported sexual assaults and found rape crisis centers in cities along the Gulf Coast reported receiving an average of more than 100 calls about incidents of assault and rape from Katrina evacuees. Women and girls accounted for 93 percent of the victims. Many more probably occurred but went unreported, since emergency response and law enforcement were stretched thin by countless pressing needs from the public.
Jane Henrici, a senior research affiliate with the Institute for Women's Policy Research says a closer look determined that disaster relief groups were not prepared to sufficiently respond to incidents of sexual violence during Katrina. Essentially, responding to individual crises such as rape typically isn't part of the standard protocol for on-the-ground aid in natural disasters. First responders trained with the Red Cross, for example, are only instructed to encourage sexual assault victims to report the incident to law enforcement or to call 911. They're not given training to provide appropriate medical care or emotional support.
Henrici says during Katrina, responders were more likely to do nothing at all and even avoid intervening in such incidents. Some of the problem appeared to be bureaucratic. Incidents of sexual assault are always legally complicated and require mountains of paperwork and documentation that invariably detracts from other overwhelming needs like rescuing evacuees.
"There was a perception on a part of women that they were not going to be protected when things occurred," says Henrici. "Women with whom I spoke with heard it was happening or knew it was happening, and they remained traumatized."
In the years that have followed since Katrina, advocates and public health experts have tried to understand what went wrong in an attempt to develop better protocol as destructive hurricanes become more frequent. These efforts resulted in a planning guide funded by a grant from the Office on Violence Against Women, U.S. Department of Justice and the U.S. Centers for Disease Control and Prevention. Louisiana Foundation Against Sexual Assault and the National Sexual Violence Resource Center published the guide online that provides for range of guidelines to ensure safety.
Recommendations include ensuring that evacuees, first responders, volunteers and shelter staff are provided with information about how to report an incident by making the information mandatory at shelter orientations. Katrina also helped to establish that it's critical to have appropriate mental health and medical support at shelters. That includes a sexual assault forensic examiner, along essential medical equipment, such as rape kits, on the premises. Better preparedness also means ensuring that FEMA and other disaster teams are staffed with at least one person who is certified to conduct forensic exams on rape victims. "You have to prepare and train people," says Henrici. "And you recognize that violence is a public health issue."