After Florida, Hurricane Irma Is Bearing Down on Georgia
The worst of Hurricane Irma appears to have passed.
After a relentless weekend during which the hurricane blitzed parts of Florida, leaving more almost 6 million homes without power, Irma has been downgraded to a Category 1 hurricane as it moves northward toward Georgia.
But that does not mean that the threat is over. Authorities in Georgia are warning residents to seek secure shelter and mobilizing resources as Irma threatens to bring winds of nearly 75 miles per hour and up to 15 inches of rainfall to parts of the state.
Where Is Irma Now?
Irma was located around 60 miles north of Tampa, according to the National Hurricane Center's (NHC) latest forecast at 5:00 a.m. ET. The storm is moving north at a speed of around 18 mph and is forecast to move into southern Georgia this afternoon.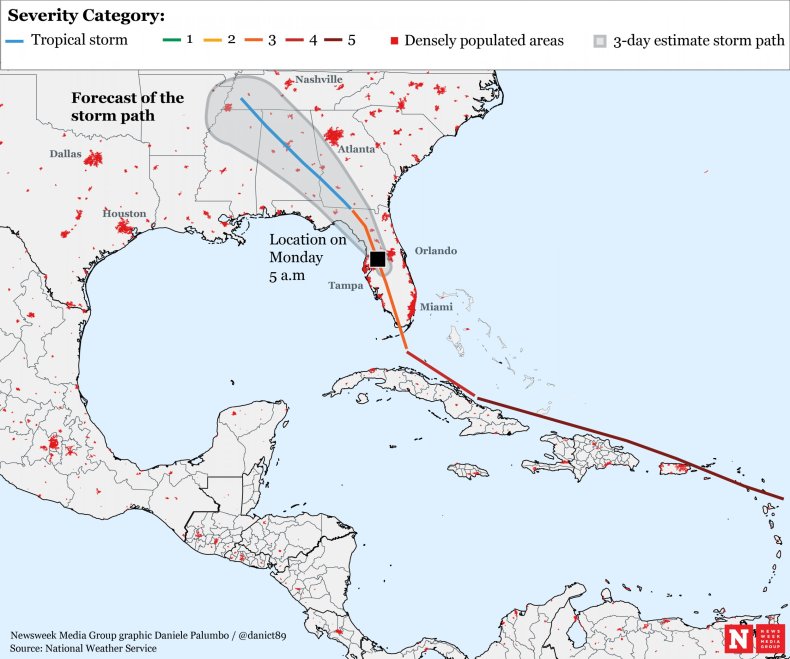 How Strong Is Irma?
Irma weakened from a Category 3 to a Category 1 hurricane early Monday, but authorities warned that does not mean the danger has passed. Category 1 storms are still capable of damaging the roofs of well-built homes, snapping large branches from trees and damaging power lines.
Read more: Hurricane Irma live updates—Category 1 storm hits Tampa and approaches Georgia
Storm surge warnings are still in effect along Florida's western coast, meaning there is a threat to life from rising waters flooding coastal areas. Strong winds are also forecast in northern Florida and southern Georgia, accompanied by heavy rainfall and the possibility of tornadoes in both states. Tropical storm warnings are in place across much of Georgia, including the capital Atlanta.
What Is Happening in Georgia?
Georgia Governor Nathan Deal expanded an existing state of emergency Sunday to include all 159 counties in the state. All state offices except essential services will be closed Monday and Tuesday, and Deal urged Georgia schools to close for the coming days. The state has also opened parks to function as evacuation shelters, and 3,000 National Guard troops have been mobilized to help those affected by the storm.
The storm had already cut power to more than 150,000 customers in southern and middle Georgia by Monday morning, and outages were likely to continue across the state, the Atlanta Journal-Constitution reported.
Deal urged residents to secure their homes and shelter in place through Tuesday, and to avoid traveling by road. The governor added that President Donald Trump had called him Sunday to offer federal resources should Georgia need them, Fox 5 reported.
Is the Worst of Irma Over?
The hurricane is gradually getting weaker. The NHC said that Irma could drop to a tropical storm later on Monday and by Tuesday afternoon, it may have weakened further to a tropical depression—i.e., a low-pressure area accompanied by thunderstorms and winds below 39 mph.
It seems highly likely that Florida will be the worst-hit state by the hurricane; some experts are predicting that Irma will be the costliest storm in the state's history, outstripping Hurricane Andrew, which caused $26.5 billion of damage and left 65 people dead in 1992. At least five deaths have been linked to Irma so far and prompted evacuation orders for 5.6 million people before making landfall twice on Sunday.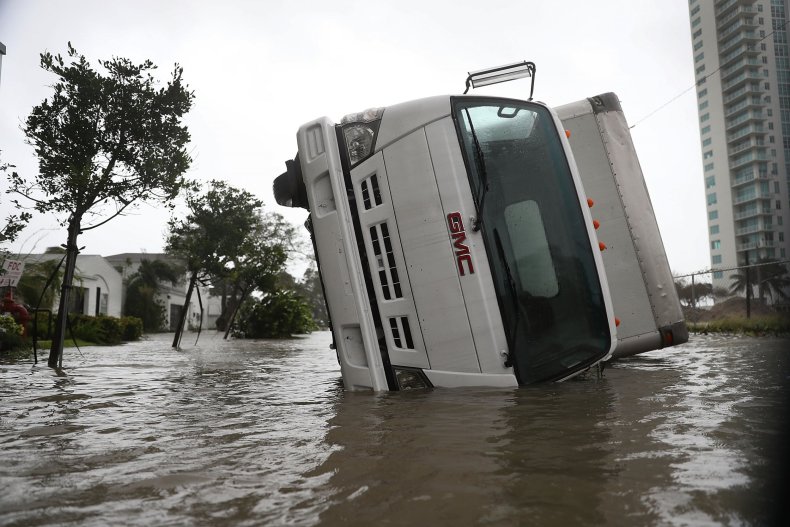 Trump approved a major disaster declaration for Florida Sunday after a request from the state's governor, Rick Scott. Trump added that he would be visiting Florida "very soon," The Hill reported Sunday.
Where Else Is At Risk?
As well as Georgia, Irma is affecting Alabama and South Carolina with tropical storm conditions, while North Carolina, Tennessee and Mississippi may also suffer some of the storm's impact. A storm surge warning is in effect from the South Santee River in South Carolina down to Fernandina Beach in Florida. Tropical storm warnings are also in place for much of eastern Alabama and coastal parts of South Carolina, while forecasters are warning of high winds in North Carolina and Tennessee.