Irma, Jose and Katia: The Three Major Storms in the Atlantic
Hurricane Irma hit the Caribbean island of Barbuda on Wednesday as forecasters warned of two more tropical storms building in the North Atlantic.
Irma, a category 5 hurricane, is already the strongest storm ever recorded in the Atlantic basin, with winds of up to 185 miles per hour.
The eye of the storm passed over Barbuda and Irma has since made landfall on the French-governed islands of St. Martin and St Barthélemy.
Authorities in Florida area already preparing for the potential impact of Irma, which is forecast to move through the Virgin Islands, Puerto Rico, the Dominican Republic, Haiti, Cuba and the Bahamas by Friday, before potentially hitting the southeast coast of the U.S. mainland over the weekend.
Local officials announced evacuation orders in the Florida Keys, a series of islands lying off the state's southern tip, to start on Wednesday.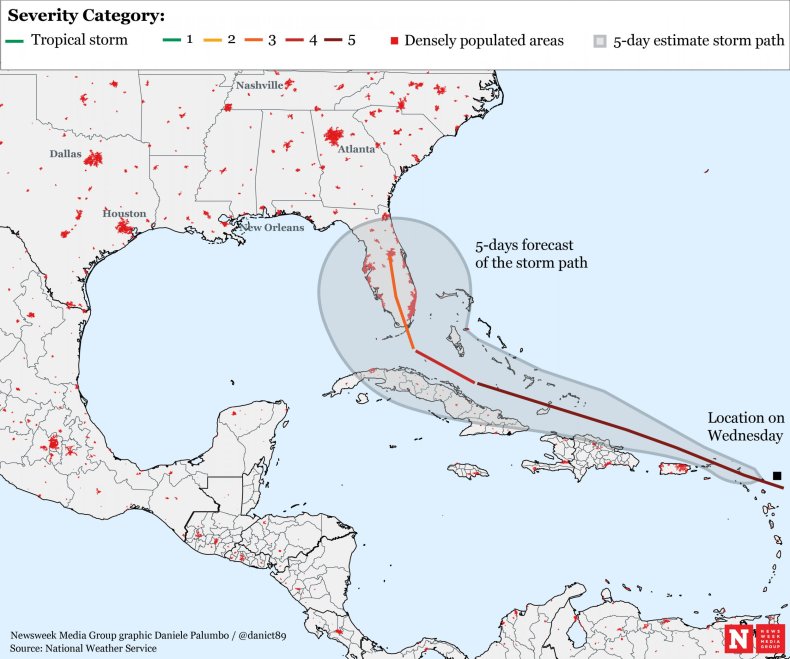 But two other storms, Tropical Storm Jose and Tropical Storm Katia, are also on their way, with the former expected to become a hurricane by Wednesday evening.
Tropical Storm Jose
Jose became the 10th named storm of the Atlantic hurricane season on Tuesday. It currently has wind speeds of around 60 mph, but the National Hurricane Center (NHC) predicts it will become a hurricane later on Wednesday.
Jose is currently out at sea but is heading west at a speed of around 13 mph. The NHC has not currently put out any watches or warnings, but has said that authorities in the Leeward Islands—a group of islands also known as the Lesser Antilles—in particular should monitor the storm. Some of the Leeward Islands, such as Barbuda and the U.S. Virgin Islands, have either been affected or are expected to be hit by Irma.
Tropical Storm Katia
A tropical depression that formed in the Gulf of Mexico on Tuesday has strengthened overnight to become Tropical Storm Katia by Wednesday morning. With maximum wind speeds of 40 mph, it is currently located off the east coast of Mexico.
Fortunately, the storm is moving very slowly and is predicted to remain offshore on Friday morning, the NHC said, but could hit Mexico by the weekend. It will lead to heavy rain and flooding in eastern Mexico and the NHC said that a tropical storm watch could be issued for parts of the state of Veracruz later on Wednesday.
There is no doubt that Hurricane Irma remains the biggest threat of the three named storms; there is a possibility that Jose may not make landfall, while Katia remains relatively localized. But particularly for those in the Caribbean, which is most at risk from Irma and Jose, an end to the Atlantic hurricane season can't come too soon.