Hurricane Irma Looting: Teen Looters Reflect One Year After Police Involved Shooting, Investigation Ongoing
The teenage pals breached a neighbor's million-dollar Florida home with a tug of the hurricane shutter and a hammer-whack to one of the large glass-paneled windows. Once inside, Dylan Lemon and Jean Coello, both 17, ripped off the home security alarm panel and flipped the surveillance cameras facedown. Thinking the coast was clear, each stuffed a suitcase and duffle bags found in the garage with an iPad, a laptop, a PlayStation, fashion outfits and $50,000 worth of baubles inside a 50-pound safe that popped opened when they dropped it.
Only, one camera was overlooked. And it captured the pair, clad in hooded sweatshirts and baseball caps, rifling through the house. It also sent an alert to its homeowners, who had evacuated and embarked on a trip to Cancun, Mexico, before Hurricane Irma made landfall. The couple managed to team up with their teenage daughter, who was still stateside, to reach local authorities.
Lemon and Coello were working away and readying to split with their ill-gotten goods before they were startled by a thunderous pounding on the front door.
That door-knock wasn't Hurricane Irma storming outside.
"It was a knock and then a bang, and I looked at Jean for one millisecond and I was like, 'Ahhh!' and then told him, 'I'm going,'" Lemon remembered deciding.
So Lemon, the 6-foot-2, 185-pound defensive end on the Cypress Bay High School varsity football squad, dropped the riches and sprinted out the backyard.
"It was, like, the fastest I ever ran in my whole life," Lemon said.
He leaped over the shallow end of the outside pool stairs and crashed through a mosquito netting surrounding the patio.
Then he dropped.
"I got shot in the [right] hip by a rubber bullet," Lemon said. "I felt my whole back explode when I got shot again."
However, that second shot was no rubber bullet.
Lemon said a deputy fired a live round with an AR-15-style rifle as he was trying to make his getaway.
The teen said he was unarmed.
"I knew I was hit from behind because everything from my waist down was instantly paralyzed. I felt a hole go through my body and through my spine."
Lemon said the slug traveled into his stomach and he was forced to see his own innards.
"I saw my guts coming out a little bit; it was pretty bad," he said.
Seconds later, Lemon recalled a barking K-9 closing in and chomping down on this left hind leg, then dragging him along the patio, back to the deputies.
He recalled the officers surrounding him and one asking, "Is the lady in the house?"
The question puzzled Lemon because the home was empty.
Incapacitated and bleeding from two ruptured femoral arteries, Lemon was rushed to a local hospital, where he managed to survive.
His buddy Jean Coello said he chose to stay put by hunkering down in the garage. He was later found and arrested.
"Once I noticed they had the dogs, I went to the garage and said to myself, 'That may be the safest place,'" Coello said.
A probe has been opened by the Florida Department of Law Enforcement (FDLE), Newsweek has learned.
In a statement, the agency confirmed that there was "an active investigation of the officer involved shooting" but wouldn't offer any more information.
As for the deputies who shot Lemon with the rubber bullet and the one live round, a Broward County Sheriff's Office spokeswoman confirmed that each remained on "regular active duty."
Since the burglary, the teens pleaded guilty to forced entry and grand theft for attempting to rip off the empty home as Hurricane Irma raged.
Months later, on November 30, 2017, their cases were adjudicated, according to a Broward County court official.
Each was ordered to be placed on probation, which was contingent on them completing 250 hours of community service, Lemon and Coello confirmed.
On the anniversary of Hurricane Irma, the looters, now 18, and the homeowners exclusively recounted to Newsweek their version of the botched storm heist.
The homeowners were awoken in the middle of the night, while vacationing hundreds of miles away in Cancun, when a home security application on their mobile phone pinged and revealed surveillance footage of the thieves stealing from them. Today, they laud their 18-year-old daughter, who from San Francisco and over the phone, managed to guide local Florida authorities (including a Special Weapons and Tactics Team, or SWAT) to catch the thieves.
Worst-laid plans
As Hurricane Irma's eye started taking aim at central and southern Florida last September 10, the word was out that law enforcement wouldn't tolerate looters.
The hurricane tallied $50 billion in damage to Florida and forced its law enforcement to do double duty: saving the stranded and needy while stopping thievery after one of the largest evacuations in Florida's history.
In Broward County, where Lemon and Coello were confronted, Sheriff Scott Israel held a press conference to try to spook would-be Irma opportunists.
"If you looted and we find out who you are, you will go to jail," he said.
Lemon and Coello were oblivious. The night was about scoring goods to sell off for cash.
Once inside the house, located on Monterey Court in the well-heeled Weston Hills Country Club gated community, it was completely dark inside because of the storm-sealed windows.
For two hours (they said it felt like 40 minutes) during the wee hours of Sunday, September 10, the grubbing thieves thought they were invincible, swiping the family's belongings from indoors as the powerful storm whipped up punishing 110-mph gusts and timbering palm trees and pouring rain from every direction.
Why did they choose that particular house?
For Lemon, who has called the posh neighborhood home for all of his life, it was within "running distance" from his house.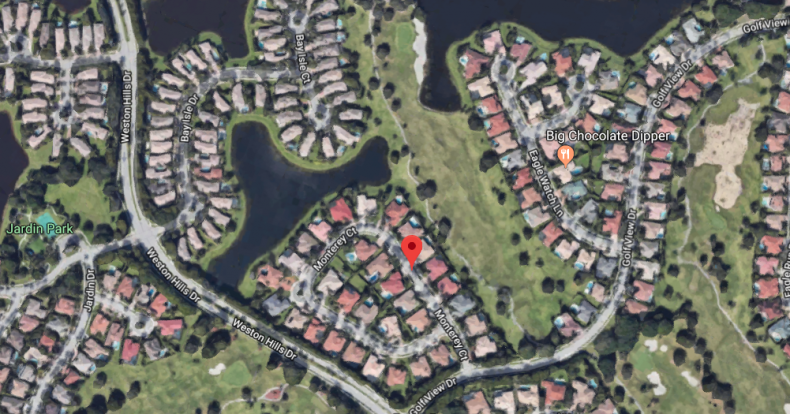 It started with getting tipped off the night before by a neighbor who was supposed to be looking after the property while the family was away.
Initially, they ginned up the idea of using the home as a spot to hang out.
"He just said, 'If anybody wanted go back there and make out or whatever, you can go there,'" Coello recalled. "He also told us, 'Just don't f--- up the pool.'"
But things turned from girls to greed.
Coello had been saving up for a Kawasaki motorcycle that would set him back at least $10,000.
"At that point I was close to buying the motorcycle, but I needed more money for the gear," he said.
Admittedly, Lemon also wanted disposable income, too. He figured the hurricane made the home a prime target.
"Our friend told me, 'No one is going to be there, and they're not there for the hurricane!'—that's why I chose it," he said.
With nobody there and Irma bearing down, Lemon said it "caused a rush," and they agreed to go into the house.
"We both wanted to do it," Lemon said.
A phone call and a couple of text messages later, the Sunday-morning burglary scheme was a go.
"He called me and texted me and that was it," Coello said. "You kind of have to go in with your mind set."
At around 1 a.m., Coello met Lemon at his home.
"It was really windy and very rainy at that point," Coello recalled. "It was like a tropical storm."
It was also hours before the worst of Irma, which at one point gained enough strength to become a Category 4 hurricane.
There wasn't much planning involved.
In fact, Coello admitted he just relied on crude tools.
"I used my iPhone flashlight to get around the home," he said. "It was good enough."
He said neither of them brought any weapons.
"I guarantee I wasn't armed, and I don't think Dylan was, either," he said. "He knows better."
Lemon said he didn't have any weapons but did bring along a "big hammer" that he used "to help to break the glass."
They thought they'd bypassed the alarm system and also moved every camera lense downward.
"I went behind the cameras and put each of them facedown," Lemon said. "I did it to two. But there might have been more cameras."
Caught on camera
There was one camera both Lemon and Coello overlooked.
And the commotion in the house prompted the security system to give notice to the homeowners.
The couple originally tried to catch a flight to Chicago but was waylaid by the hurricane. They decided to take a sojourn in Cancun.
In the middle of Sunday night, their alarm system phone app pulsed. They assumed it was storm-related.
"I have one camera located in the dining room and one located in the kitchen, and a third one in the living room," the husband, who requested that he and his wife remain anonymous, said just after the burglary occurred last year.
The lone camera that Lemon missed was trained on the front door.
"They didn't realize we were watching," he said.
His wife told Newsweek that she saw two teens "going back and forth and up and down the stairs" but didn't figure out what they wanted until they returned home.
"They were trying to get anything they thought was sellable," she said.
"I saw a PlayStation and a computer as something that would be useful," Coello said, adding that he also grabbed some games and other electronics.
Lemon remembered filling duffle bags with the husband's "Gucci suits."
But Lemon and Coello ultimately found the couples' 50-pound safe, which the husband said housed important documents as well as expensive jewelry.
"The camera was watching them as they came out of the master bedroom trying to carry the whole safe," the husband said. "They didn't know how to open it."
The safe, according to Lemon, had a turn-dial lock.
Without the combination, he and Coello attempted to gain entry another way.
"It just, like, opened by smashing on the ground," Lemon said. "I just lifted it up and, facing the ground, threw it against that part, and it popped off."
They peered inside and found a couple of Rolex watches, diamond necklaces, diamond bracelets and rings.
The probable cause affidavits from the looting incident suggested the estimated value of the jewelry in the safe was $50,000.
By this point, the homeowners tried and failed to call the Broward County Sheriff's Office from Cancun.
"Our first instinct was to call 911," the wife said. "But from Mexico you can't call 911."
She said they reached the alarm company, but it was just its call center.
That's when a light bulb went off: They decided to dial their daughter, who was in San Francisco.
"We called her, and she called 911 for us," the wife remembered. "She was on the phone with the dispatcher for two hours, the poor thing."
In fact, the daughter was her parents' eyes and ears, conveying from California to the Broward County sheriff's dispatcher what they were seeing on the surveillance app.
"We were watching the camera and talking to her at the same time, and she was reporting to the dispatcher," her mother said.
The dispatcher managed to scramble deputies to the property at around 3 a.m. to a "burglary in progress," according to Lemon and Coello's probable cause affidavits obtained by Newsweek.
The papers suggested that the daughter told the dispatcher her family "evacuated their home due to Hurricane Irma" and that an alarm company sent her parents "a notification."
The deputies arrived at the home, and Lemon's affidavit detailed how they "set up a perimeter and announced their presence."
Coello recalled hearing the deputies outside, after they knocked on the front door, shouting "Get down!"
While he sort of complied by ducking in the garage, he said, "Dylan kept running."
That's when Lemon's affidavit suggested he "exited the rear of the residence in an attempt to flee and was subsequently shot by law enforcement during apprehension."
Coello, according to his affidavit, "exited through the garage where he was met by deputies and taken into custody without incident."
The investigators managed to question Coello after he was read his Miranda Rights. The affidavit stated he "confessed to his and [Lemon's] involvement in the burglary."
Below both Lemon and Coello's probable cause affidavits is the same addendum, reading: "OCCURRED DURING A DECLARED STATE OF EMERGENCY."
Far away, the homeowners learned that one of the burglars was shot.
"We heard he tried to escape after he didn't attend to the police orders," the wife said. "I think there was a SWAT team there, too, and they took him down."
Asked if she thought the decision to use lethal force and fire live ammunition was warranted, the homeowner said the deputies probably had their reasons.
"I think the police take this kind of action because they have no other option," she said.
She felt it was a "sad situation" given the harsh consequences they've been through.
"Their future may be compromised because of this bad choice that they did," she said.
Irma may have caused some damage to their roof, but they recovered all of their belongings, and the homeowners are grateful Lemon lived.
"I was kind of relieved that nothing worse happened," she said.
Second chance at life
It was 10 a.m. when Gilbert Lemon said he was interrupted while watching Hurricane Irma coverage on his television.
He opened his front door to be greeted by two Broward County investigators.
"They asked me who I was and then told me that Dylan had been in an incident," the 53-year-old medical supplier and real estate entrepreneur said. "They told me, 'He was shot and [the bullet] went all the way through the body and didn't hit anything.'"
He also would learn that his son was shot while looting during the storm.
"I knew that he was guilty, because I knew Jean had already admitted to it and told the police that they did it," Gilbert said. "An investigator told me that Dylan and Jean had broken into a back patio door and went into the house, and my son was shot coming out of the house and it was through and through—and he was going to be okay."
The focus was less on the crime and more about his son's survival.
Having been a vendor to Broward General Hospital, the father learned quickly that his son was on a ventilator after undergoing surgery, and another surgery was planned in the days ahead.
When he arrived at the Intensive Care Unit, Gilbert said he conferred with both the trauma surgeon and a neurosurgeon.
But it was the neurosurgeon who broke some more bad news.
"He told me Dylan was not going to walk again," he recalled. "And he said there was too much damage to his spine and that they weren't going to do any more surgeries.
"It was nothing to do."
The rationale was that Lemon's prospects to walk were nil, so there was no reason to perform a critical spinal fusion surgery.
Five days later, Dylan proved the neurosurgeon wrong.
"He starts feeling things in his feet and moving parts of his legs, and they decide after tons of screaming at them to do the spinal fusion surgery," he said.
With metal brackets implanted in his back and relieving the clotting in some of Lemon's nerves, his son came out of his coma.
His first words were emoting anguish and love.
"I remember waking up and feeling how sorry I was," Lemon said. "Then I saw my dad and said, 'I'm so sorry, Dad. I'm going to be different. I'm going to be a preacher.'"
The spiritual trope for Lemon was welcomed by his father, who said that pre-shooting, his son barely said "I love you."
Now he says it every day.