Hurricane Isaias Makes Landfall, Heavy Rains Now Expected Up The East Coast
Hurricane Isaias made landfall on Monday night along the Atlantic border of South Carolina and North Carolina with Category 1 winds and potentially life-threatening rainfall. This was after several days of the storm sauntering off the southeastern coast of the United States.
The storm is now expected to make a northeastern trek along the inland, and oceanic, border of the U.S. until the storm either fizzles out on land or makes its decent into sea.
The northern eyewall touched land around 10:45 p.m. ET Monday night, according to The Weather Channel. The National Hurricane Center announced at 11:10 p.m. that it made landfall at Ocean Isle Beach, North Carolina.
Isaias packed winds of 85-plus mph as it began touching land, and the outer bands of storms reached well into North and South Carolina, eastward into Tennessee, most of southern Virginia and the extreme eastern parts of Kentucky.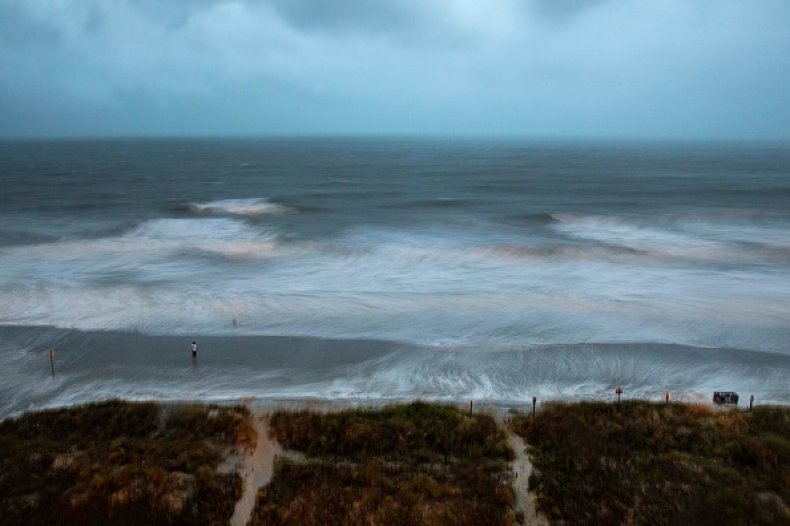 Forecasts have the storm approaching coastal cities in North Carolina, the Hampton Roads area of Virginia that include Virginia Beach and Norfolk, and then towards Washington, D.C., Philadelphia, New York City and then the New England states.
Meanwhile, officials in North Carolina have declared a state of emergency. President Donald Trump said earlier today he was working with states to get needed assistance to them.
As of 9 p.m. on the east coast Monday, there were at least 1,100 miles of the coastline under some sort of tropical alerts, according to The Weather Channel.
There were more than 15,000 customers without power in North Carolina already as the storm began crawling across land
The eyewall of the storm hit just north of Myrtle Beach, South Carolina late Monday night with winds clocked more than 80 mph in most places as the it finally hit the mainland United States. It slowly developed in the eastern Caribbean just six days ago as a storm with no true eyewall or direction. The projected path went from the Gulf of Mexico and southern states through as far east as fizzling into sea.