Hurricane Isaias Update, Tracker as Probable Path of Tropical Storm Covers Entire East Coast
Tropical Storm Isaias is now a hurricane, though this is a Tropical Storm Watch in effect on the Florida east coast, with tropical storm conditions expected on Saturday. The east coast of the U.S. is also facing the risk of impact from winds, heavy rainfall, and storm surge late this weekend.
Hurricane Isaias will produce heavy rains and potentially life-threatening flash flooding and mudslides across the Dominican Republic, northern Haiti, Turks and Caicos, and the Bahamas, according to a forecast from the National Hurricane Center, as of July 31, at 12 a.m. ET.
A Hurricane Warning is in effect in portions of the southeastern Bahamas overnight, central and northwestern Bahamas late Friday and Saturday, where hurricane conditions and dangerous storm surge are expected. The National Hurricane Center says that preparations to protect life and property should be rushed to completion.
Then on Saturday, tropical storm conditions are possible along portions of the Florida east coast where Tropical Storm Watch is in effect. Storm surge watches are not currently needed for this area, but they may be required on Friday if the forecast track shifts closer to the coast.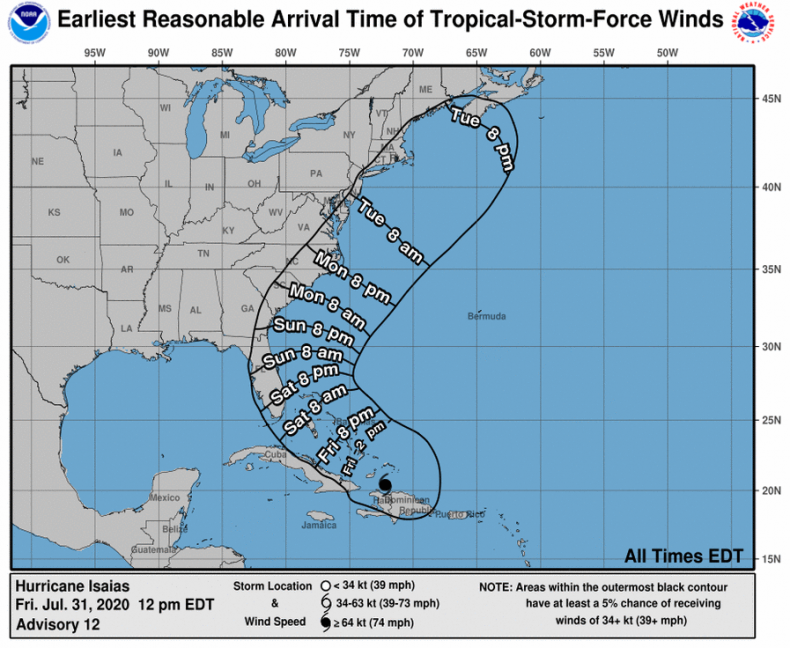 Late on Friday night, South Florida and east-Central Florida may be affected by heavy rains which could potentially result in isolated flash and urban flooding, especially in low-lying and poorly drained areas.
Additionally, there is a risk of impact from winds, heavy rainfall, and storm surge late this weekend from the northeastern Florida coast and spreading northward along the remainder of the U.S. east coast through early next week.
According to the National Hurricane Center, the details of the track and intensity forecast remain uncertain, and it is too soon to determine the magnitude and location of these potential impacts, but interests along the entire U.S. east coast should monitor the progress of Isaias and updates to the forecast.
The Florida Division of Emergency Management is recommending that Floridians have at least seven days worth of disaster supplies and a family plan.
Florida residents can create a plan online and can consult the FL Division of Emergency Management website for an emergency supply checklist, which includes items like a two weeks' supply of medication, a first aid kit, a radio, flashlight, cash, food and water, important documents, phone numbers, and COVID-19 supplies like face masks and hand sanitizer.
Florida residents are also encouraged to determine an evacuation point when putting together a family plan.
In a press conference on Thursday, Gov. Ron DeSantis said: "While we can't be certain of the exact track of the storm, and we certainly can't be sure about the intensity it's expected to reach, we do expect to see impacts to the state of Florida, even if the storm remains off our shore, which is the current forecast."