On Hurricane Katrina's 10th Anniversary, Half of New Orleans Remains in Ruins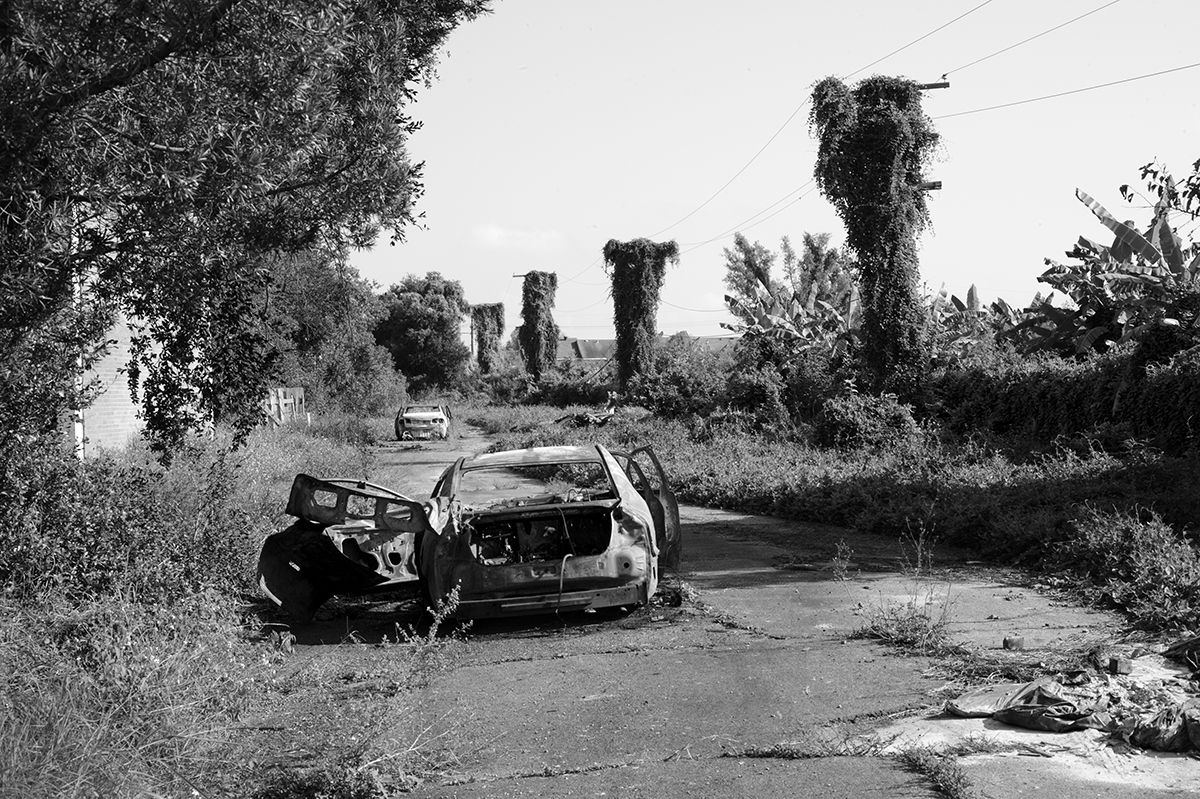 The cat's claw vines tumble from the rooftop of an abandoned house, grabbing onto every inch of what's left of this Victorian cottage in the Tremé neighborhood. The ruined shell is a remnant of Hurricane Katrina, but this heavy, humid day with portents of a thunderstorm in the air isn't a few months after the storm, or even a few years. It's been a decade.
In July, I rode with David Spielman, a lean, 65-year-old freelance photographer with intense blue eyes, through neighborhoods that still bear the savage marks of the storm. The car bumps over roads so rutted and broken they threaten to destroy axles and pose grave risks to shock absorbers. Spielman has roamed the city ever since the storm hit, shooting more than 10,000 images of the post-Katrina world. "This is a struggle that many, many areas of the city will continue to go through for a very long time," he says. His work depicts the havoc that Katrina wrought and what the city, despite the tens of billions of dollars in aid, insurance payouts, many success stories and an abundance of good intentions, has been unable to undo.
On either side of the ruined streets are vast stretches of overgrown grass and shrubs, with only cracked concrete driveways or slabs to recall the houses that once stood there. In the area called Press Park, remnants of brick and concrete townhomes that were built by the city still stand. When Katrina rendered them uninhabitable, it was a second blow to the residents, because the homes had been built on a toxic landfill. They have received no redress from the city. Chain-link fences guard what's left. Graffiti is everywhere. Stray dogs hunt for shade. An elementary school stands empty. But every so often we come across a cluster of rebuilt and carefully maintained one-story homes on Press Park's perimeter. They are huddled together, with tidy lawns and mostly late model cars. The houses are not elevated, so they remain vulnerable to flooding. This isn't a neighborhood in recovery; it's a casualty that is staggering along. Spielman has made it his quest not to let this part of the hurricane's legacy go undocumented, even as the city touts its recovery around the 10th anniversary.
His photographs, taken from 2005 to 2015, capture scenes of destruction in almost every neighborhood. Photograph after photograph depicts empty, derelict buildings: homes, schools, businesses, churches, hospitals. The collection, a visual narrative of the storm's aftermath, now lives in Spielman's new book The Katrina Decade: Story of an Altered City, published in July. " One of the critical things I wanted to show is that it happened everywhere. I have just a few pictures of the Lower 9th Ward because so many people became convinced that that was the only place that the damage was located. The enormity is something that everyone is overwhelmed with once they get out of the French Quarter. This was equal-opportunity flooding."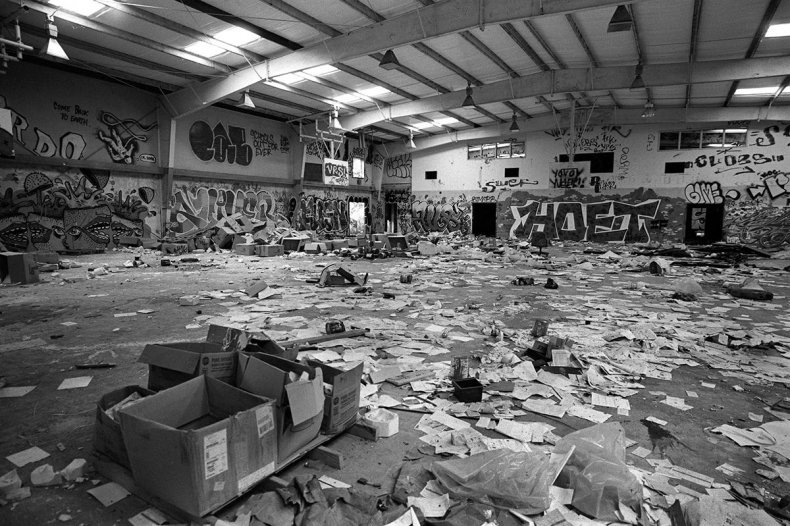 The Eerie Silence
In late August 2005, Katrina, ominous and enormous, barreled toward the Gulf Coast. Shortly after 10 a.m. on the 28th, the National Weather Service issued a warning that most of area would be uninhabitable, even deadly, for weeks.
Most people who could leave New Orleans did so. Spielman chose to stay and ride it out. He had already been through many hurricanes in his 30 years in New Orleans. A Tulsa, Oklahoma native, he was drawn to the city's rich culture in the early '70s, when the city experienced an explosion of growth after years of slow development. New Orleans was rediscovering its singular heritage of music, food, rituals, art and architecture. Oil money fueled the boom, but in the mid-'80s, it all went bust, a victim of falling fuel prices. The city was marooned in the doldrums for about 20 years, until Katrina arrived to shake things up.
On that August day, Spielman went to help a small group of nuns, the Poor Clare Sisters, prepare for the storm. They were old friends and neighbors of his in the Uptown area of New Orleans. Uptown was usually spared the brunt of flooding during hurricanes, because it is two feet above sea level, high for the city. He boarded up the third-story windows of the century-old monastery, a solid brick building with 18-inch-thick walls and heavy cypress shutters. When the eight women asked if he would like to shelter there, he said yes, feeling it and they were safe.
Late that night, when the hurricane was at the height of its power and the electricity had been knocked out, the building shook and the shutters rattled in the utter darkness. At one point the occupants heard a tremendous crack—a 60-foot pine tree had snapped like a pencil. When they opened the convent doors the next morning. debris was everywhere—shingles, broken glass, tree limbs and so many power lines they looked like Silly String. His first thought was, "Oh boy, this is going to be 10 days of hell, no power, intense heat, and a lot of physical labor helping people clean up."
Spielman headed out on foot. It was eerily quiet: no sounds—not even birds or insects. "I was out running checking on some friends' houses," he recalls, "trying to get a lay of the land." A small group of two or three people came up to him, looking for advice on how to get out of town. They said they'd seen looting, and when a photographer at the scene raised his camera, shots were fired. That was his first inkling of what was to come.
Communications, even cellphones, were down and they had no way of knowing that a key levee along the Industrial Canal, which connects the Mississippi to nearby Lake Pontchartrain, had been breached. At least 50 more levees were about to go.
Whisked Away to the Morgue
Later that day, Spielman saw cops sitting in patrol cars, watching as stores were ransacked and, in some cases, even helping themselves to goods. It appeared to Spielman that the police had capitulated. "It dawned on me that this was going to be a devastatingly difficult period, so I started thinking about how I could get the nuns out. They agreed to go to a convent in Texas, and one of the last things I told them was please do not stop and help anyone. They said they would be very careful, and drove away, not knowing if they would ever see the place again."
Spielman sat, alone and bewildered, in the deserted monastery, wondering how he would capture what was unfolding in front of him. "And that's when I started putting together my plan—to approach it in the way the WPA photographers of the Dust Bowl and the Depression went about their business." He would take the long view, sticking with the story well after the national media disappeared. "It was very important for me to find the images that would be really telling and different," he recalls. His goal was to stay neutral, "looking only for the most powerful and complete images that didn't need a caption or explanation."
Spielman was without power for 40 days in brutal heat. Gas was at such a premium that those who had it were at risk of attack. And the wreckage had created a maze, blocking so many streets that maneuvering through them in a vehicle required endless backtracking and detours. With his Leica camera in hand, he traveled the neighborhoods that make up the residential fabric of New Orleans: Central City, Tremé, Press Park, Bywater, the Seventh Ward. They were almost empty, their residents whisked away to Houston or Atlanta or elsewhere, or in nearly 700 cases, to the morgue.
"Right after the storm, I felt so inadequate as a photographer," says Spielman. "Standing in any of the locations there were images right in front of me, more images to the left and right of me and dozens of images behind me. What warranted being shot? How could one photographer handle this once-in-a-lifetime event?"
It wasn't until Spielman rode along on a rescue chopper that the breathtaking scale of the event truly unfolded. "It's something that even I still have trouble grasping. We were flying over parts of the city that I had been to hundreds and hundreds of times and I couldn't recognize them. Stores, landmarks, neighborhoods were gone—underwater." Whole sections of the city had been obliterated. In just a few days, the population of New Orleans dropped from more than 485,000 to about 230,000, as victims who been caught in the destruction evacuated.
The older, wealthier and best-known parts of the city, including the French Quarter and the Garden District, were largely spared, as were a few other areas that comprise the "sliver by the river," which have the benefit of a few extra feet in elevation. Today, when visitors come to New Orleans, they see the same exuberant architecture and lush gardens for which the city is famous. But Jack Davis, a journalist and preservationist, calls the French Quarter a "set" and says, "There is the New Orleans that has been rebuilt and proudly displayed for the world, and those parts look better than they did before the storm, but that's probably less than half of the city's territory."
Forever Diminished
At the hurricane's 10th-anniversary mark, New Orleans is in overdrive marketing the successes of the Katrina recovery. New industries, including tech companies and feature film productions, are bringing in welcome tax revenue. Tourism is doing well—there are more restaurants now than there were pre-Katrina. The billions of dollars in aid that were pumped in after the storm still inflate the economy, and now the BP settlement, a result of the 2010 oil spill, promises an infusion of another $45 million.
On a recently launched website called Katrina 10: Resilient New Orleans, Mayor Mitch Landrieu lauds the "Great Wall of New Orleans," the new $14.5 billion levee system completed in 2013 by the Army Corps of Engineers, the same group that built the system that failed during the storm. But the efficacy of the new construction is debatable. The system is only designed to protect New Orleans up to a Category 3 hurricane, and officials are still seeking federal funding to upgrade it to be able to handle a Category 5. A year after completion, critical sections of the levees had already sunk by as much as 6 inches. Engineers acknowledge that the walls will need to be repeatedly built up, because New Orleans is sinking as a result of the very engineering that seeks to protect it. The levees prevent soil buildup, and a combination of erosion and compression compounds the problem. The coastline, which is the first line of defense against storm surges, is eroding while the city looks for the money and expertise to address that issue, too.
After the initial shock of Katrina wore off, many New Orleans residents spoke of a chance for a new beginning. For some, that's come true, but for others, it's too late. Real estate prices have risen so much in parts of the city near downtown that working-class and poor families have been forced into suburban developments (where, ironically, elevation rates are even lower).
As of 2014, New Orleans' population had reached about 79 percent of its pre-storm levels. It's unclear how many of those are new residents and how many are returnees, because no one kept track of the displaced. At least 30,000 abandoned buildings remain, though no precise number is available. The city used the post office's list of undeliverable addresses to count vacant buildings, but the U.S. Postal Service stopped tracking them in 2010. Now New Orleans is a sort of lost and found of abandoned homes, with owners often nowhere in sight. The city has begun holding small auctions of blighted buildings, but there are many that are beyond saving, having been left too long. A patchwork of nonprofits hack at the problem, rehabbing houses and often selling them at below market prices, but they don't make much of a dent in the inventory. The city also has been engaged in a four-year fight with FEMA over who would pay to demolish unsalvageable buildings. It recently received the funds to knock down just 338.
The decrepit buildings can be seen in almost every neighborhood, good and bad. It's not uncommon to see a collapsing house next to a freshly painted "shotgun double," the narrow vintage houses unique to the area. The blight may look like typical urban decay from decades of neglect—and New Orleans certainly had problems before the storm—but the majority of the derelict buildings are Katrina victims, wiped out in less than a week and left to fight it out with nature, which seems to be winning. Even in its most exclusive enclaves, the city exhibits an air of incipient decay. The relentless heat and humidity is overtaking the empty houses, bringing down walls and creating a welcoming environment for mold and vermin. Scavengers have urged the destruction along, taking everything that may have held some value, including window frames, gutters and anything made of copper. In Press Park, the city replaced the sewer grates with plastic traffic cones because new grates would have disappeared in days.
"Some of our neighborhoods are forever diminished," Spielman says. "It's heartbreaking. These beautiful buildings have collided with a disaster."
Spielman still lives in the Uptown area of New Orleans. Despite what he's witnessed, he holds out hope for the city, though it's tempered with resignation. "Some days you saw the very best in people and then on other days the absolute worst," he says. "Again and again I see signs of progress and then of slow or no progress. It seems to be the full spectrum of the human condition."
Nancy LeBrun is an Emmy, duPont Columbia and Peabody award-winning writer and documentary producer.
This story was co-produced with Latterly magazine, an independent publisher of international storytelling.