Hurricane Lane Hawaii Path Latest: Category 5 Warning Issued on Big Island as Storm Approaches
Hurricane Lane has triggered warnings from authorities as it barrels toward Hawaii's Big Island, posing a higher but still uncertain danger ashore.
Lane intensified to a Category 5 storm overnight, accelerating its maximum sustained winds to 160 miles per hour and edging closer to Hawaii on Tuesday night, according to the Central Pacific Hurricane Center. The hurricane may weaken to a Category 3 storm as it nears the Big Island later in the week and it may drop to category one by Friday, when it could approach Honolulu.
The storm's impending activity is uncertain, however, and authorities have issued hurricane warnings for the whole of the Big Island and less severe hurricane watch notices for both Maui and Honolulu Counties, which include the islands of Maui, Lanai, Molokai, and Kahoolawe and the city of Honolulu itself.
At present, Lane poses a "potential threat to life and property," according to weather authorities, and how it maneuvers over its projected path will determine how severe the danger becomes.
All schools and offices on Hawaii Island, Maui County are closing as the community braces for possible impact, Governor David Inge announced on his website, urging residents to sign up for alerts on new developments via their local county's alert center.
"Effective Wednesday, August 22, all after-school activities and programs including inter-scholastic athletic events are canceled for the rest of this week and will resume on Monday, August 27," the state's Department of Education added in a statement. "All school-related inter-island travel this week will be canceled as well."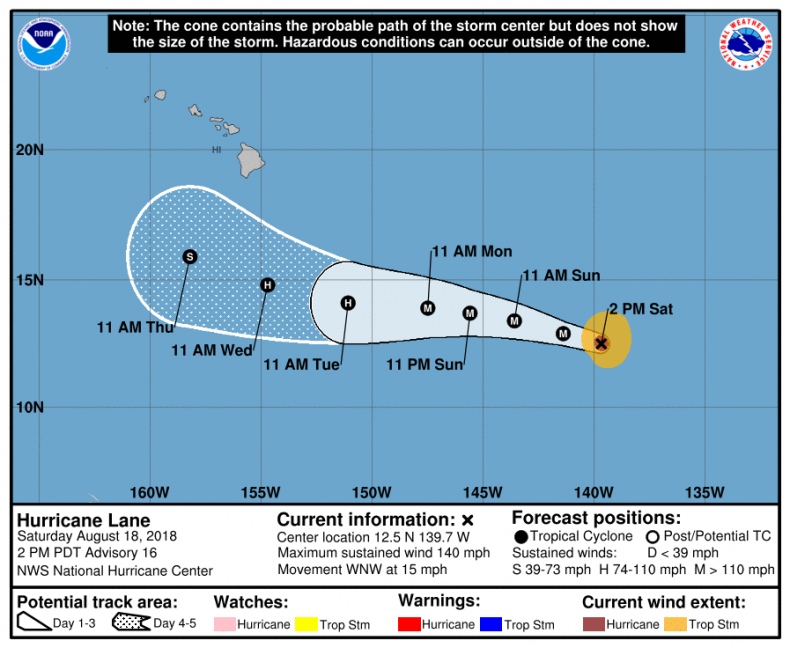 Inge added that he has also granted administrative leave for non-essential state employees in Hawaii and Maui counties.
The extent of the impact Lane will have now hinges on the turns it takes on its path in the coming day. A move along the southern portion the hurricane's projected path, would place it far enough from the islands to cause only peripheral impacts such as increased rainfall, windy conditions, high surf and rip currents, according to the Weather Channel. If Lane instead takes a sharp northwestern turn, it raises the chances of more severe and direct impact on at least patches of the islands' landscape.
Lane will be the fifth category five hurricane to hit the Central Pacific since the 1950s, following Patsy in 1950, John, Gilma and Emilia in 1994 and Ioke in 2006. NOAA has no record of a hurricane track making landfall in either Maui or Honolulu or moving within 65 nautical miles of their coasts since Hawaii's statehood.
This article has been updated with the governor granting administrative leave for all non-essential state employees in Hawaii and Maui counties.