Hurricane Lane Latest: Hawaii Storm Warnings Lifted but Flooding Still Major Concern
The worst of Hurricane Lane appears to be over after storm warnings and watches were lifted on Saturday.
But officials are still preparing for flooding across the Hawaiian islands as the aftermath of the hurricane, which was ultimately downgraded to a tropical storm, continues. The National Weather Service said the wet weather would likely continue through to at least Tuesday.
"Tropical Storm Lane continues to track westward this evening around 225 miles southwest of Honolulu," the service said. "Although Lane will continue to weaken along this track, the threat for heavy rainfall remains in the forecast through the rest of the weekend. Drier more typical trade wind weather is expected Wednesday through next weekend."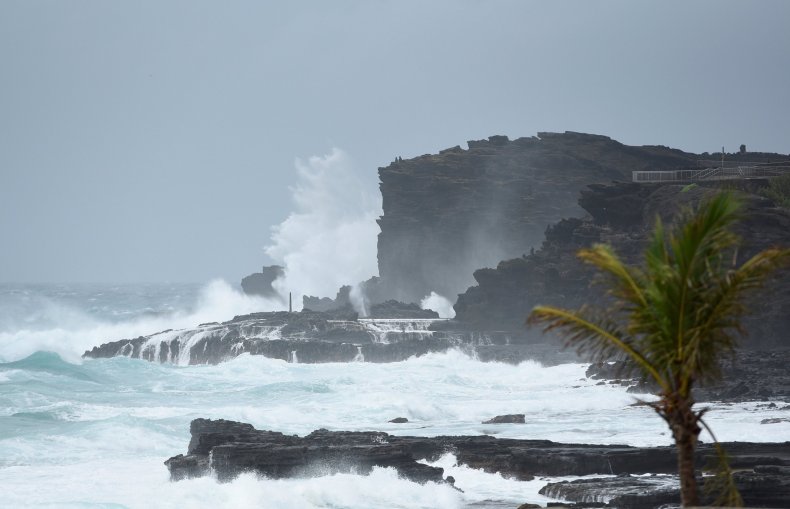 The Island of Hawaii (known as the Big Island) was berated by torrential rain last week, leading to severe flooding, landslides and road closures. Hurricane Lane was originally expected to hit Hawaii, which would have made it the first cyclone to pass land in 26 years. It ultimately missed and traveled west, making torrential rain the biggest concern.
U.S. President Donald Trump even declared a state of emergency for Hawaii when the cyclone was expected to hit. The hurricane has since diminished from wind speeds of 125 miles per hour to around 50.
Brock Long, chief of the Federal Emergency Management Agency, said it was still important to monitor emergency announcements. "We're going to see torrential rains occur over the next 48 to 72 hours," Long tweeted on Saturday. "If you're in Hawaii, it's critical that you heed the warnings of local officials & stay aware of your surroundings.
Even though #Lane has weakened, rain is still a threat. Never walk, swim or drive through flood waters, and stay off the roads unless absolutely necessary to allow emergency workers to help others.
Despite those words, surfers in Hawaii have seized the chance to ride giant waves created by Hurricane Lane. Speaking to Reuters, surfer Will Rozier said he could barely sleep on Thursday night. "I couldn't even sit down and eat breakfast. I had to throw it all in my car and drive down to the beach and eat it while I was watching the waves and the sun rising," 24-year-old Rozier said.
Rozier admitted to the dangers of surfing the deadly waves, but said for experienced locals it was a chance too good to pass up. "If you're inexperienced, you want to stay away from these surf breaks, but for everybody out here, we're running to the ocean."