Hurricane Lane: How Will Storm, Rain Affect Hawaii's Kilauea Volcano?
Hawaii's been dealt a difficult hand from Mother Nature this summer and with Hurricane Lane's impact on land looming, some people are wondering what, if any, effect it will have on the Kilauea volcano.
Kilauea began erupting in May and has since destroyed homes, forced evacuations, and even changed the coastline. Its damage to the land and ocean could be felt for decades to come. Recently, Kilauea has experienced a lull in eruptions, although that isn't uncommon for volcanoes.
But could the heavy rainfall Hurricane Lane is expected to bring to the Big Island put Kilauea out for good? The answer is no. Unlike if you were sitting outside at a campfire in a sudden downpour, rain won't put out an active volcano. A volcano is far more powerful than the rain that even a strong hurricane like Lane could bring. Although the rain won't stop Kilauea from erupting further, that's not to say the hurricane will have zero effect on the volcano.
Hurricanes are rare in Hawaii, and therefore scientists can't say for certain what will happen when a hurricane interacts with an active volcano, but Steven Businger at the University of Hawaii told Smithsonian that the gases and particles emitted by a volcano could intensify the hurricane. Scientists found during Tropical Cyclone Flossie that Kilauea's emissions increased the amount of lightning caused by the storm.
While research also shows that the change in pressure from a hurricane can trigger eruptions and earthquakes, Eric Dunham at Stanford University told Smithsonian that since most volcanic action happens deep underground, he doesn't think changes in air pressure would have a significant effect.
Another possible occurrence Hurricane Lane's winds clashing with Kilauea could spark is the pushing of the laze back onto the island. Laze is the acid rain and air pollution that's caused by lava interacting with cold seawater.
"There would be a lot of vog that would be pushed back towards the caldera which would be extremely dangerous at a time when the volcano was erupting," Dr. Ben Van der Pluijm, professor of earth sciences at the University of Michigan, told the Express.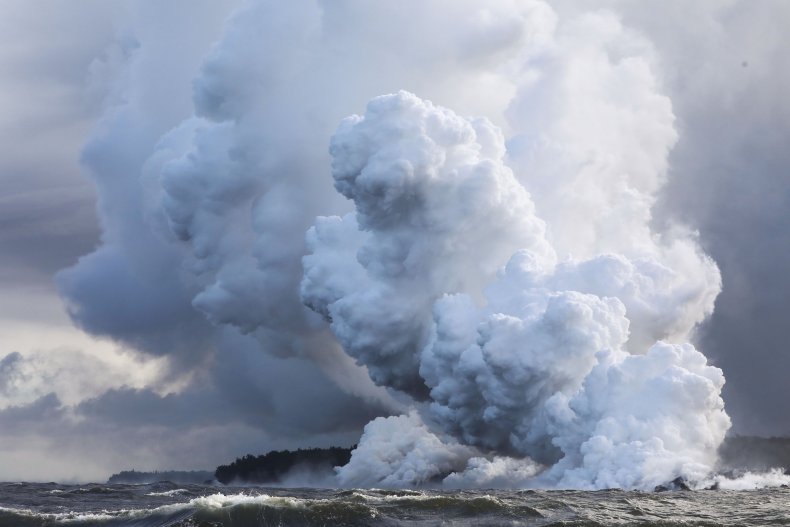 Vog, or volcanic smog, can aggravate preexisting respiratory conditions by irritating skin and the tissue and mucous membranes in a person's eyes, nose and throat, according to the United States Geological Survey. Aerosol particles in vog can also work their way deep into a person's lungs and induce asthma and headaches.
Another complication vog creates for humans is that it can leach lead from roofing and plumbing materials, thereby contaminating drinking water that comes from rooftop rainwater-catchment systems.
Hawaii is currently experiencing heavy rainfall, which has led to multiple landslides, as it braces for Hurricane Lane's approach. The storm is expected to bring life-threatening conditions to the Big Island through Saturday as it passes "dangerously close."
The slow movement of the hurricane increases the threat of heavy rainfall and large and damaging surf conditions. Along with the over 120,000 residents vulnerable to potential flash flooding on the Big Island, a flood advisory was also issued for the island of Maui. Almost a foot of rain had fallen in one area of the Big Island by Thursday morning.
If Hurricane Lane makes landfall, it will be the strongest storm to hit Hawaii since 1992 when Hurricane Iniki hit.