Hurricane Lane Update: The Storm's Track Nears Hawaii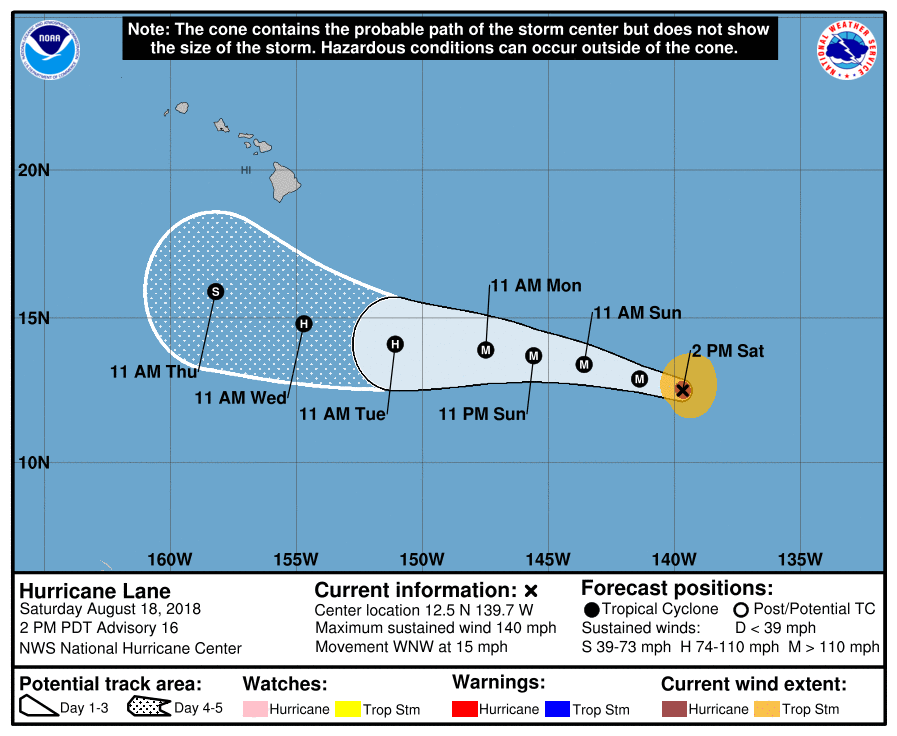 Hurricane Lane could threaten the Hawaiian Islands later this week, but meteorologists say it is still too early to tell what impact the storm will have.
The weather system started as a tropical storm last week far out in the East Pacific and has since strengthened into a Category 3 hurricane. The hurricane is now traveling west and is expected to weaken as it approaches Hawaii, but meteorologists warn that it could still bring heavy rain, high surf and dangerous winds to the islands in the coming days.
According to the Central Pacific Hurricane Center, tropical storm watches could be required for parts of the state sometime early this week. Dangerous rip currents are expected in the Hawaiian Islands for most of this week.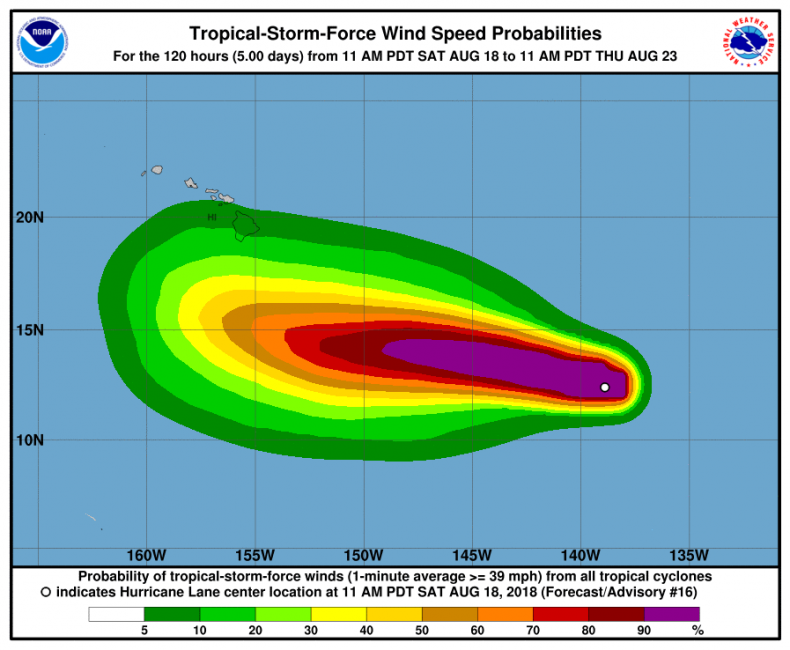 As of Monday, the probability of tropical storm-force winds up to 73 mph is just 30 percent or less. The Weather Channel reported that those probabilities could fluctuate depending on Lane's future path.
The center of Lane is currently situated more than 600 miles southeast of Hilo, Hawaii.
If the storm travels along the center or to the south of its projected path, it could bring rains and dangerous rip currents.
Earlier this month, Category 3 Hurricane Hector followed a similar path. The center of the storm passed a few hundred miles south of Hilo on August 8, sparing the Big Island from dangerous winds.
It's still possible that Lane could deviate from this path. If this new storm system curls farther northwest there could be a higher likelihood of the storm hitting the Hawaiian Islands directly.
On Saturday, the storm reached its maximum intensity as a Category 4 with 140 mile per hour winds.
Lane is the sixth hurricane of this year's eastern Pacific hurricane season.