Hurricane Laura Approaching Louisiana With Fiercer Winds, Bigger Storm Surge Than Katrina
A tumultuous storm season is reaching its first crescendo as Hurricane Laura lurks toward the Texas-Louisiana border late Wednesday night and into Thursday morning. Laura is destined to make landfall as either a Category 4 storm, maybe a Category 5, before the sun rises over America on Thursday.
How bad can it be? Early indications say it could be worst than hurricanes Katrina or Rita, which both wreaked havoc over the Louisiana coast in 2005.
Hurricane Laura had been a rather peculiar, unorganized storm until the last few days, when she went from a disgruntled system over the Lesser Antilles to a slow-moving storm over Hispaniola to a fiery spirit who wanted to make her 2020 presence known as well.
Laura has taken on similar characteristics of recent storms in the Gulf of Mexico that thrashed southern states. There was Rita in 2008, which took a similar path as Laura, pushing water up the Sabine Pass between Texas and Louisiana and knocking out power.
There was Ike in 2008, which went further west and crushed Galveston Island in Texas, sending many residents without power while wiping out structures along the famed seawall.
There was Harvey in 2017, which hit the Texas coastal bend with Category 4 winds—leveling structures in Rockport—before meandering over Houston and dropping 52 inches of rain in some places.
Now there's Laura, which has threatened the U.S. coast in this part of the Gulf of Mexico like none have seen in a few years.
In Louisiana, the governor has said it's likely the storm surge from Laura will be so great that it will approach nearly 40 miles inland, which could shut down Interstate-10.
"In my five years as governor I don't think I've ever had a press conference where I'm trying to convey the sense of urgency I'm trying to convey right now," Louisiana Gov. John Bel Edwards said.
The storm is expected to make landfall overnight, and the storm surge could overwhelm parts of the coasts of southeast Texas and southwest Louisiana, which both serve as industries for oil, gas, fishing and tourism.
Not to mention, many of the houses along those coasts are either low-lying or stand on piers not tall enough to stand the expected wind and waves Laura could surely bring in the dark hours overnight.
Laura's wrath could be more devastating to the southwest coast of Louisiana than Katrina was to its southeast coast in 2005—just a few days shy of Katrina's 15-year anniversary.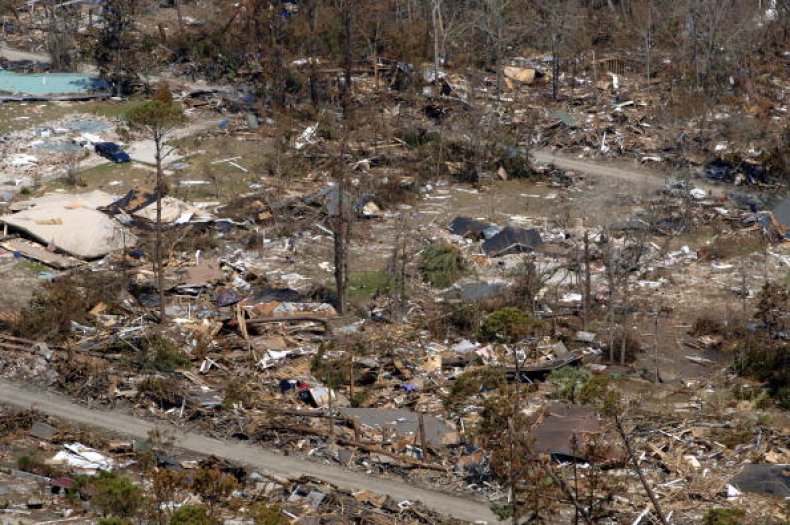 Katrina slowly churned in the Gulf of Mexico, and then quickly turned into a catastrophic storm. However, Katrina's winds and waves in the Gulf, hours prior to landfall, weren't as strong as Laura's, according to buoy readings in the Gulf that measured both storms.
Katrina hit the southwest coast of Mississippi on August 29, 2005, leveling towns, destroying businesses and changing the way of life for citizens. The flooding of New Orleans happened a couple of days after Katrina's landfall when a levee gave way and eventually inundated the city's Ninth Ward.
The path, and potential wrath, of Laura could be much worse as this storm has neared Category 5 strength as she barrels toward land. Land and structures are sure to be damaged along the way in both Texas and Louisiana, but large municipalities like Baton Rouge, New Orleans and Houston are likely to be spared this time.