Hurricane Laura Barrels Towards Texas/Louisiana Border
Hurricane Laura continues barreling toward Louisiana and Texas. It could reach Category 5 tonight, and if it reaches landfall at that level it would become the sixth documented hurricane to ever hit the U.S. at this level.
Hundreds of thousands of residents in Texas and Louisiana were ordered to evacuate ahead of the storm, which is expected to bring heavy rain and strong winds. The most dangerous part of the hurricane could be its storm surges, which experts predict might reach as high as 20 feet in some areas in Louisiana and up to 15 feet in Texas.
"It's really just unimaginable numbers and certainly not survivable in some locations so we really hope people are evacuating and doing everything they can to get out if they haven't already," Joel Cline, a tropical program coordinator for the National Weather Service, told Newsweek.
The anticipated storm surges are reminiscent of those experienced during Hurricane Katrina, which struck Louisiana as a Category 3 storm on August 29, 2005, 15 years and two days after Laura is expected to make landfall.
While Category 5 is the highest level a storm can reach under the Saffir-Simpson Hurricane Wind Scale, this isn't necessarily guaranteed to cause the most amount of damage. The Saffir-Simpson scale measures sustained wind speed, which helps forecasters and emergency workers gauge potential property damage and loss of life.
But storm surges can often cause the most damage, like the ones seen after Katrina made landfall in Louisiana and Mississippi at a Category 3 status. And the deadliest recorded hurricane in U.S. history was just a Category 4 when it killed anywhere between 6,000 and 12,000 people after hitting Galveston, Texas, in September 1900, according to History.com.
"The massive storm surge produced by Katrina, even though it had weakened from Category 5 intensity the previous day to Category 3 at landfall in Louisiana, can be generally explained by the huge size of the storm," according to a National Hurricane Center (NHC) report.
Since 1924, there have been 35 documented hurricanes in the North Atlantic to have reached Category 5 sustained wind speeds of 157 miles per hour or more. Hurricane Laura could become the sixth storm to actually make landfall in the U.S. as a Category 5.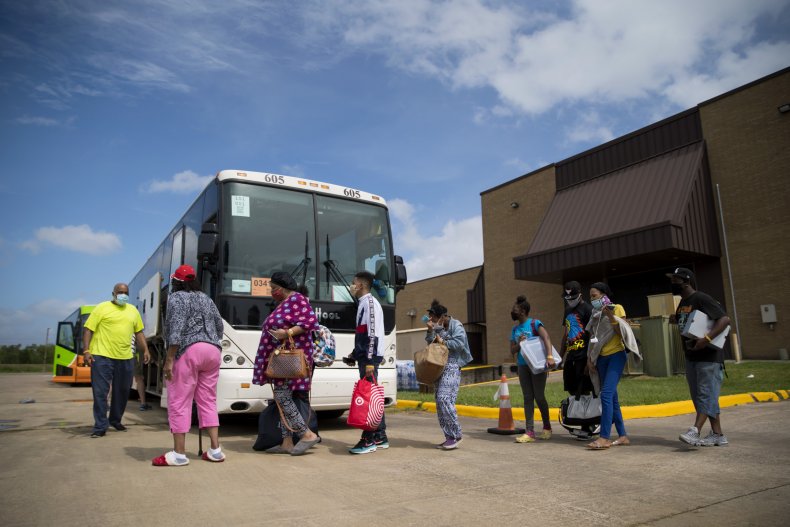 The other five storms include the San Felipe II Hurricane, which hit Puerto Rico in 1928, killing 300 people. The Labor Day Hurricane in September 1935 was the first recorded Category 5 storm to land on the continental U.S. It killed more than 400 people in the Florida Keys, including many World War I veterans who had boarded a rescue train that was attempting to take them to safety when it derailed.
Hurricane Camille struck the Mississippi Gulf Coast in August 1969 as a presumed Category 5 storm. Officials could not determine what its maximum sustained wind speeds reached, as the hurricane was so powerful that it "destroyed all the wind-recording instruments in the landfall area," according to the National Weather Service.
In August 1992, Hurricane Andrew landed in southern Florida, reaching sustained wind speeds of 165 miles per hour and killing 61 people. More than 26 years later, in October 2018, Hurricane Michael struck Florida's panhandle with wind speeds of 160 miles per hour. It was one of eight hurricanes in the North Atlantic that year, according to History.com.
Hurricane Laura rapidly strengthened to a Category 4 hurricane Wednesday and is expected to produce a "catastrophic storm surge, extreme winds and flash flooding" over eastern Texas and Louisiana when it makes landfall as soon as Wednesday night, according to the most recent NHC update.
Cline told Newsweek that he predicted Laura's storm surge would come "well before the winds and rain," urging residents to evacuate if they're told to do so. While every storm is different, "what occurred in Katrina and what is forecast in Laura are very similar numbers," he said.
The hurricane was already reaching the upper end of a Category 4 storm around 2 p.m. EST on Wednesday, with sustained wind speeds of 140 miles per hour, the NHC report had stated. The minimum wind speed for a Category 5 hurricane is 157 miles per hour, according to the Saffir-Simpson scale.
Correction (8/26/2020, 10:00 p.m.): An earlier version of this story said Hurricane Laura had reached Category 5; it has not yet reached that level. We regret the error.