Hurricane Laura Crushes Louisiana Coast As Cat 4 Storm in Historic Fashion
The southwest corner of Louisiana got hammered Thursday morning as Hurricane Laura made landfall as a devastating, and possibly catastrophic, Category 4 storm.
The eyewall of Laura made landfall in Cameron Parish, just south of Lake Charles. Laura packed winds of 150 mph when it hit land. The rain and wind will eventually deteriorate as the storm continues inland north and then eastward, as forecast by the National Weather Service.
There are hurricane warnings and tornado warnings in the immediate areas of landfall, but also forthcoming tornado and flood warnings for areas within the path of the storm on land.
The storm, in its entirety, had a circulation that ranged from southeast Texas all the way east past Baton Rouge. The storm has already spawned tornadoes in its path, and heavy rain is expected as well.
Aside from winds, the storm surge of Laura could surpass any storm that has made landfall in Louisiana history—and that's a lot. The National Hurricane Center predicted a storm surge of 20 feet or more for Laura, which would be a record for storms in the last 65 years—whether or not the eye of the storm hit the coast of Louisiana, according to the New Orleans Times-Picayune.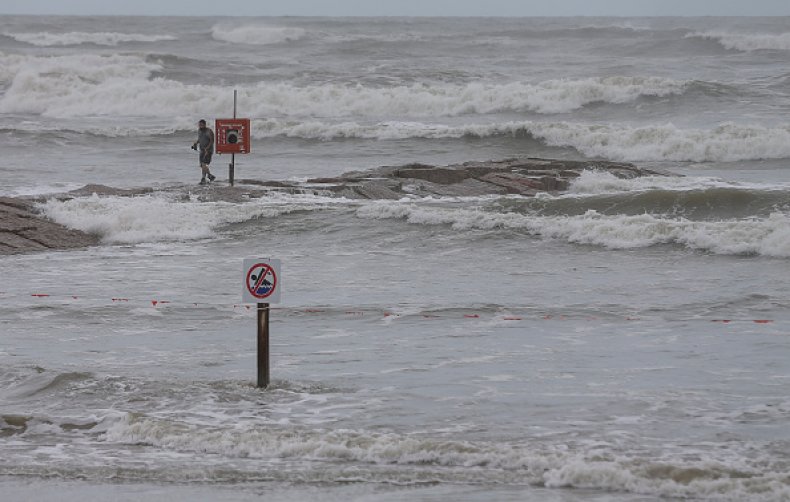 With 20 feet of storm surge expected from Laura, here are the other big named storms to hit Louisiana (with storm surge):
Flossy, 1956: 13 feet
Audrey, 1957: 12.4 feet
Carla, 1961: 7.6 feet
Hilda, 1961: 10 feet
Betsy, 1965: 15 feet
Camille, 1969: 16 feet
Edith, 1971: 8.29 feet
Bob, 1979: 5.02 feet
Danny, 1985: 8 feet
Elena, 1985: 6.5 feet
Juan, 1985: 8 feet
Bonnie, 1986: 5.2 feet
Florence, 1988: Unknown
Andrew, 1992: 6.48 feet
Opal, 1995: 5 feet
Josephine, 1996: 5.5 feet
Danny, 1997: 5.4 feet
Frances, 1998: 5.4 feet
Georges, 1999: 8.9 feet
Isidore, 2002: 8.3 feet
Lili, 2002: 12 feet
Matthew, 2004: 15 feet
Katrina, 2005: 19 feet
Rita, 2005: 18 feet
Humberto, 2007: 4.07 feet
Gustav, 2008: 13 feet
Ike, 2008: 11.8 feet
Hurricane Laura is expected to move northward up the Texas-Louisiana border, and then travel northeast. It's still expected to be a Category 1 storm when it hits Shreveport, Louisiana, late Thursday.
Laura is part of the busiest topical storm season in the Atlantic on record, and she was the strongest storm of this season so far. The hurricane season, by calendar, ends on November 1.
Laura's wrath could be more devastating to the southwest coast of Louisiana than Katrina was to New Orleans and the Mississippi coast in 2005—just two days shy of Katrina's 15-year anniversary.
Katrina slowly churned in the Gulf of Mexico, and then quickly turned into a catastrophic storm. However, Katrina's winds and waves in the Gulf, hours prior to landfall, weren't as strong as Laura's, according to buoy readings in the Gulf that measured both storms.
Katrina hit the southwest coast of Mississippi on August 29, 2005, leveling towns, destroying businesses and changing the way of life for citizens. The flooding of New Orleans happened a couple of days after Katrina's landfall when a levee gave way and eventually inundated the city's Ninth Ward.
The path, and potential wrath, of Laura could be much worse as this storm neared Category 5 strength before touching land. Structures are sure to be damaged along the way in both Texas and Louisiana, but large municipalities like Baton Rouge, New Orleans and Houston are likely to be spared this time.