Hurricane Laura Created 'Crazy' Colored Eddy in Florida's Key West
Hurricane Laura caused the water around Florida's Key West to turn a "crazy" color and for an eddy to form. Aerial images taken by commercial helicopter pilot Bryan Kasch shared images of the sea after the storm had passed the area on Wednesday.
"Some crazy water colors a few days after Tropical Storm (now Hurricane) Laura passed through Key West," he wrote in a Facebook post.
Hurricane Laura formed in the Atlantic Ocean near the U.S. Virgin Islands on August 21. Over the following days, it moved towards the Gulf Coast, eventually making landfall near Cameron, Louisiana, in the early hours of Thursday.
It passed Florida as a tropical storm on August 25. A day earlier, National Weather Service (NWS) Key West put out a warning to say there could be damaging wind gusts and that there may be some coastal flooding, however, Laura ended up passing the Keys with minimal damage.
The images shared by Kasch include an overhead view of an eddy. NWS Key West also shared the images, saying the image was taken from a height of around 500 feet.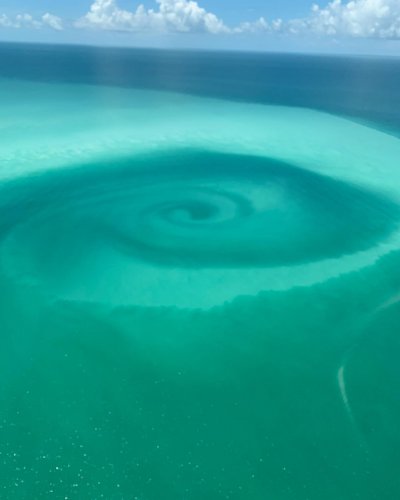 Kasch, who works for Air Adventures Helicopters in Key West, told Newsweek: "I've seen some water color changes before but nothing this intense. [However] I've only been here for seven months so have not experienced any other hurricanes."
According to the U.S. National Oceanic and Atmospheric Administration's National Ocean Service, eddys are circular currents of water created by wider current patterns. "The swirling motion of eddies in the ocean cause nutrients that are normally found in colder, deeper waters to come to the surface," it said.
Eddies are associated with hurricanes, with very large formations containing a layer of warm water that intensifies storms. Research published in 2017 looked at the association between very large eddies and hurricanes, finding one large warm-water eddy, thought to have come from the North Brazil Current, may have helped Hurricane Matthew become more intense as it moved over the Caribbean Sea. Hurricane Matthew was a category 5 storm that hit in 2016 and killed over 600 people.
"Our study is important because tropical cyclone intensity forecasts for several past hurricanes over the Caribbean Sea have under-predicted rapid intensification events over warm oceanic features," lead author Johna Rudzin said in a statement at the time.
Hurricane Laura has weakened significantly since making landfall. It continues to move north and is now above Arkansas. There are currently two "disturbances" being tracked over the tropical Atlantic that have the potential to develop into stronger storms over the next five days, the NWS said.
The next two hurricanes that form during this season will be Nana and Omar, the agency said.