Hurricane Laura Evacuation Map: Residents In Galveston, Port Arthur Under Mandatory Orders To Leave
As Hurricane Laura strengthens towards the Gulf Coast, Texas officials have begun issuing mandatory evacuations in the Houston area.
City of Galveston Mayor Pro Tem Craig Brown issued a mandatory evacuation order for the city early Tuesday morning, instructing all residents to leave the barrier island as soon as possible. City services will be suspended at noon and the city's police and fire departments will not be available once the storm hits, according to the press release.
Texas A&M University has also ordered all students at its Galveston campus to evacuate.
Hurricane Laura is expected to make landfall late Wednesday as a Category 3 Hurricane, the mayor noted in his order.
Brown told Newsweek that residents have until tomorrow morning to evacuate before the storm hits.
"We have buses and even ambulances available to assist with evacuation," Brown said. "Hotel rooms are also reserved in Austin for the evacuees."
He said depending on the intensity of Hurricane Laura and its subsequent damage, residents could optimistically return Thursday but more severe damage would result in a longer period away from home.
In southeast Texas, there are four zip zones for evacuating based on storm threat. Orders have now been issued in all four of the Houston-Galveston area's zones as officials from Jefferson County, Orange County and the City of Port Arthur call for a mandatory evacuations of the area.
On Monday, the Texas Department of Criminal Justice announced that three residential facilities, three of their secure facilities and a portion of a fourth would be evacuated, moving approximately 3,400 individuals.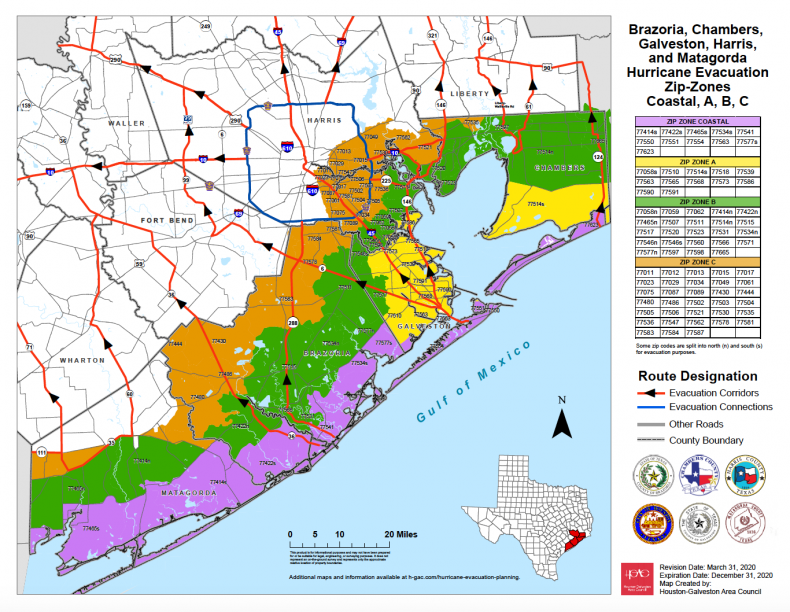 Laura, which began as a tropical storm, has strengthened into a hurricane as it travels northwest with projected winds of 115 mph, according to the National Hurricane Center.
The tropical storm killed at least nine people in parts of the Caribbean, including Haiti and the Dominican Republic. As a hurricane, Laura is projected to move up the border between Texas and Louisiana, where evacuations are also underway, and through Arkansas before traveling eastbound through Kentucky, Washington and Virginia over the weekend.
Anticipation for Hurricane Laura comes after the Gulf Coast avoided Tropical Storm Marco, which collapsed before reaching the U.S. on Monday. Marco is still expected to bring heavy rain to the area but is no longer a threat.
However, Louisiana Governor John Bel Edwards said residents should still be on alert as Hurricane Laura approaches.
"Laura has always been the greater threat to Louisiana. We don't want people to become complacent because we caught a break with Marco," Edwards told The Weather Channel on Tuesday.
The governor declared a state of emergency for Louisiana ahead of last weekend and officially requested a federal emergency on Saturday.
Laura is the thirteenth-named storm of the Atlantic hurricane season. It is the first season on record with this many storms before the month of September.