Hurricane Laura Evacuations Update as Louisiana Governor Warns 'Stay off the Roads'
More than half a million Texas and Louisiana residents are under mandatory evacuation orders as Hurricane Laura made landfall early this morning.
However, it may be too late for people in certain areas to evacuate as forecasters urge people in impacted areas to take cover and the Louisiana Gov. John Bel Edwards has warned people to stay off the roads.
As of 4 a.m. CDT, Hurricane Laura is around 30 miles north-northwest of Lake Charles, Louisiana, and around 50 miles northeast of Port Arthur, Texas.
There is a Storm Surge Warning in effect for High Island, Texas, to the mouth of the Mississippi River, a Hurricane Warning in effect for High Island, Texas, to Intracoastal City, Louisiana, and a Tropical Storm Warning in effect for East of Intracoastal City, Louisiana, to the mouth of the Mississippi River.
There are mandatory evacuation orders in areas of Louisiana and Texas, though people in impacted areas are being urged to take cover in interior rooms and to remain in place as the hurricane passes.
Forecasters at the National Weather Service are urging those in the path of the hurricane to take cover: "TAKE COVER NOW! Treat these imminent extreme winds as if a tornado was approaching and move immediately to the safe room in your shelter. Take action now to protect your life!
"The safest place to be during a major landfalling hurricane is in a reinforced interior room away from windows. Get under a table or other piece of sturdy furniture. Use mattresses, blankets, or pillows to cover your head and body. Remain in place through the passage of these life-threatening conditions."
Louisiana
It may be too late to evacuate in parts of Louisiana as the state's governor warns people to stay off the roads.
Edwards said: "Much of our state is in the path of Hurricane Laura tonight. Whether you evacuated or are at home, you need to stay off the roads.
"This is a time for all of us to be praying for the best, while we're prepared for the worst. God bless you and your families. Be safe tonight. #Laura."
Mandatory Evacuations in Louisiana
Calcasieu Parish
Cameron Parish
Jefferson Parish (Grand Isle, Jean Lafitte, Lower Lafitte, Crown Point, and Barataria)
Lafourche Parish (South of the Leon Theriot Flood Gate and other low-lying areas)
Plaquemines Parish (Eastbank of Plaquemines Parish and the Westbank from Phillips 66 Alliance Refinery to Venice)
St. Mary Parish (Areas south of the Intracoastal Waterway, including Ashton, Freetown Road, Glencoe, Louisa, South of Louisiana Highway 83 at Cypremort Road, residents along Kelly Canal)
Terrebonne Parish (Areas outside the storm protection system, which includes all areas south of the Morganza levee system and a voluntary evacuation for the community of Pointe-aux-Chenes)
Vermilion Parish (Pecan Island, Intracoastal City, Esther, Forked Island, and Mouton Cove, South of Highway 14 to include South Erath, South Delcambre, and South Gueydan.
Evacuation Centers in Louisiana
Tourist Welcome Center: US 65 & 84, 1401 Carter St. (US 84), Vidalia, LA
Tourist Welcome Center, 836 I-20 West, Tallulah, LA
Paragon Casino, 711 Paragon Place, Marksville, LA
Sammy's Truck Stop, I-49, Exit 53, 3601 LA 115 W, Bunkie, LA
Med Express Office, 7525 US 71, Alexandria, LA
P.E. Gym LSU-Shreveport, One University Place, Shreveport, LA
Pickering High School,180 Lebleu Rd., Leesville, LA
Mowad Civic Center, 5th Ave. and 10th St., 1 blk. Off US 165, Oakdale, LA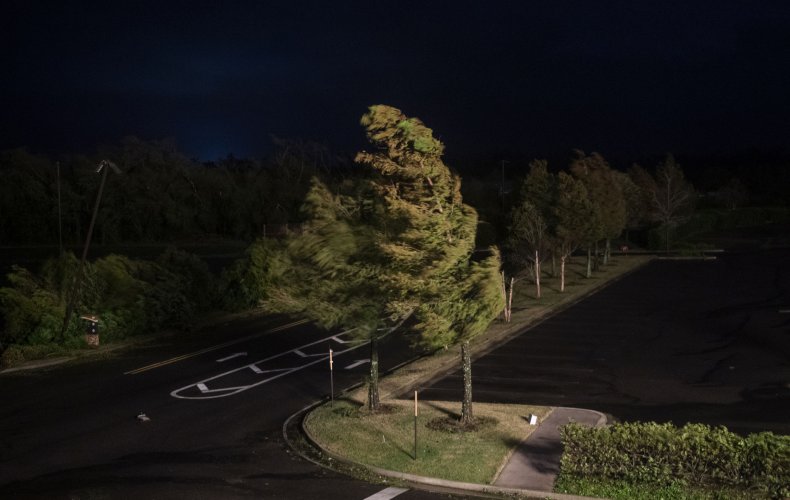 Texas
Thousands of Texans have been issued mandatory evacuation orders, with thousands having left under voluntary evacuations. Nim Kidd, chief of the Texas Department of Emergency Management said: "You are safer seeking shelter in Dallas, Austin, or San Antonio than you are in the path of this dangerous storm."
In a press release issued on Wednesday, Texas Gov. Greg Abbott also urged Texans in southeast Texas to leave their homes while they could: "The power of Hurricane Laura is unprecedented, and Texans must take action now to get out of harm's way and protect themselves.
"The conditions of this storm are unsurvivable, and I urge Southeast Texans to take advantage of these final few hours to evacuate, secure their property, and take all precautions to keep themselves and their loved ones safe.
"The State of Texas is prepared to respond to the storm, and we are working alongside federal and local officials to keep Texans safe."
Mandatory Evacuation Orders in Texas
Bolivar Peninsula
Galveston, City of
Hardin County
Jasper County
Jefferson County
Newton County
Orange County
Port Arthur, City of
Voluntary Evacuation Orders in Texas
Baytown, City of
Brazoria County
Chambers County
Clear Lake Shores, City of
Dear Park, City of
Dickinson, City of
El Lago, City of
Harris County, Zones A and B
Jamaica Beach, City of
La Porte, City of
League City
Liberty County
Lynchburg, City of
Mont Belvieu, City of
Nassau Bay, City of
Pasadena, City of
Polk County
Port Arthur, City of
Seabrook, City of
Taylor Lake Village, City of
Tiki Island, City of
Webster, City of
Reception Centers for Evacuees
San Antonio: 254 Gembler Road, San Antonio, TX 78219
Austin: Circuit of the Americas, 9201 Circuit of the Americas Boulevard, Austin, TX 78617
Dallas-Fort Worth: Mesquite Reception Center, 15515 E. IH-20, Mesquite, TX 75181
Ellis County: Knights of Columbus Hall, 850 S IH-45, Ennis, Texas 75119