Hurricane Laura Path Update as Forecasters Urge People to 'Take Cover Now'
Hurricane Laura's eyewall will continue to move inland across southwestern Louisiana over the next few hours after making landfall as a Category 4 hurricane near Cameron, Louisiana.
The National Hurricane Center is urging people to "take cover now" and to treat these imminent extreme winds as if a tornado was approaching and move immediately to the safe room in their shelter: "Take action now to protect your life!"
"The safest place to be during a major landfalling hurricane is in a reinforced interior room away from windows. Get under a table or other piece of sturdy furniture. Use mattresses, blankets, or pillows to cover your head and body. Remain in place through the passage of these life-threatening conditions."
How fast is Hurricane Laura moving?
At 2 a.m. CDT, Hurricane Laura was around 10 miles southwest of Lake Charles, Louisiana, and 40 miles east of Port Arthur, Texas. The hurricane has maximum sustained winds of 140 mph and is moving north at 15 mph.
A hurricane warning is in effect from San Luis Pass, Texas, to Intracoastal City, Louisiana, and a hurricane watch is in effect from east of Intracoastal City to west of Morgan City, Louisiana.
Hurricane-force winds are expected in portions of the hurricane warning area, with catastrophic wind damage expected where Hurricane Laura's eyewall moves onshore on Thursday morning.
Additionally, hurricane-force winds and widespread damaging wind gusts are also expected to spread well inland into areas in eastern Texas and western Louisiana early on Thursday.
The Lake Charles, Louisiana airport reported a sustained wind speed of 85 mph with a gust to 128 mph while a University of Florida observing tower near Lake Charles reported a sustained wind of 86 mph with a gust to 112 mph. A Texas Coastal Ocean Observing Network site at Sabine Pass on the Texas-Louisiana border recently reported sustained winds of 74 mph with a gust to 90 mph.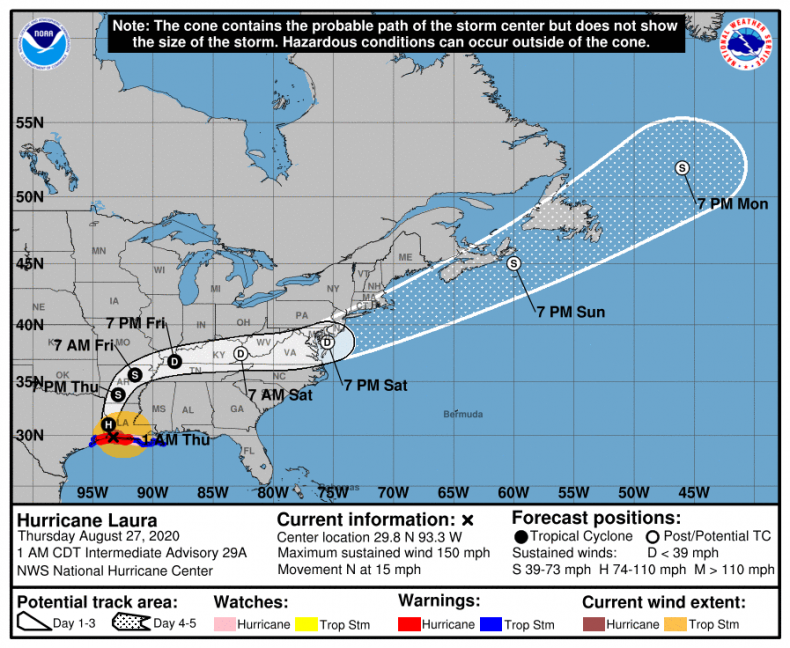 How many miles wide is Hurricane Laura?
NASA satellite imagery on August 25 showed Hurricane Laura to be 350 miles in diameter. Laura's eye was forceast to make landfall with a 30-mile wide tornado, according to MSNBC meteorologist Bill Karins.
The National Hurricane Center is warning of unsurvivable storm surge with large and destructive waves that will cause catastrophic damage from Sea Rim State Park, Texas, to Intracoastal City, Louisiana.
This surge could penetrate up to 40 miles inland from the immediate coastline and floodwaters will not fully recede for several days after the storm. A storm surge warning is in effect for Freeport, Texas, to the mouth of the Mississippi River.
Widespread flash flooding along small streams, urban areas, and roadways is expected to continue into Thursday from far eastern Texas into Louisiana and Arkansas. This will also lead to minor to moderate freshwater flooding.
The heavy rainfall threat and flash and urban flooding potential will spread northeastward into the middle-Mississippi, lower Ohio, and Tennessee Valleys area on Friday night and Saturday.
Where is Hurricane Laura headed?
Louisiana Gov. John Bel Edwards said in a tweet late on Wednesday: "Much of our state is in the path of #HurricaneLaura tonight. Whether you evacuated or are at home, you need to stay off the roads.
"This is a time for all of us to be praying for the best, while we're prepared for the worst. God bless you and your families. Be safe tonight. #Laura."
Texas Gov. Greg Abbott said in a press release: "The power of Hurricane Laura is unprecedented, and Texans must take action now to get out of harm's way and protect themselves.
"The conditions of this storm are unsurvivable, and I urge Southeast Texans to take advantage of these final few hours to evacuate, secure their property, and take all precautions to keep themselves and their loved ones safe.
"The State of Texas is prepared to respond to the storm, and we are working alongside federal and local officials to keep Texans safe."