Hurricane Laura Photos Show Huge Damage to Lake Charles
Hurricane Laura caused widespread damage in Louisiana's Lake Charles after making landfall in the early hours of Thursday. Photos from the city show that houses and businesses have been destroyed, with downed trees and power lines adding to the damage.
Residents of Lake Charles have been told that they will be living with the after-effects of the hurricane for weeks.
Louisiana Mayor John Bel Edwards warned of the dangers left in the wake of Hurricane Laura, saying on Twitter: "Now is not the time to let your guard down.
"Laura has left hazards like flooded roads, downed power lines and displaced wildlife in our communities that no one should take lightly. Everyone needs to remain vigilant and be safe."
After the initial impact, Lake Charles is now facing the long-term effects of Hurricane Laura, including heavy damage to its water and power supplies.
The city's water plants were hit by Hurricane Laura and now most homes in Lake Charles have no access to water, while hundreds and thousands of people are currently without power.
According to Entergy, more than 240,000 customers in Louisiana are without power. More than 88,000 of these customers are in Calcasieu Parish, where Lake Charles is located.
The Mayor of Lake Charles, Nic Hunter, said in a Facebook post that he cannot estimate when Lake Charles residents will have their power and water restored, but residents can expect to live in these conditions for weeks.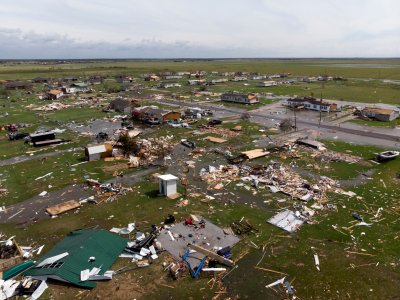 Entergy has also said that they expect the restoration process to take weeks. In a statement released at 8 p.m. local time on Thursday, the energy company said: "Given the intensity of this storm and the additional need for our crews to follow COVID-19 precautionary measures, hardest-hit areas may experience outages for weeks.
"In addition, restoration may be hampered by flooding, blocked access, or other obstacles.
"A storm team of about 9,900 has been secured to assist with restoration efforts in Louisiana. We have brought in special equipment, including high water vehicles and drones that help us more quickly assess [the] damage."
In his Facebook post, Mayor Hunter thanked city workers and shared a message of hope for the people of Lake Charles: "Your City Employees worked their tails off today.
"Both public safety and other essential employees that stayed over have performed with passion and professionalism. I thank all of them again. We are putting the pieces back together as quickly as possible.
"We took a major blow from Hurricane Laura, no doubt, but as I look around Lake Charles, I see things that are fixable, things that can be rebuilt, even better. We've done this before and we'll do it again. We'll do it because it's in our DNA as Lake Charles."