The average price for a gallon of gas in the United States nudged up by two cents this week, and another slight increase could occur should Hurricane Lee maintain its current track.
As of Tuesday morning, Hurricane Lee was classified as a Category 3 hurricane with sustained wind speeds of 115 miles per hour. The National Hurricane Center reported that the storm was moving west-northwest at about 7 miles per hour. A map created by the NHC shows the storm turning toward the north by midweek. The storm's wind strengths are expected to weaken but will grow in size after it turns on Wednesday.
Although it is still too early to tell where the storm will make landfall, the current forecast puts the hurricane's track directly over Canada's largest oil refinery. The Irving oil refinery in New Brunswick can produce 320,000 barrels a day.
"Lee forecast now set directly on Irving Oil's NB refinery, the only positive here is strength has been downgraded to a tropical storm on landfall. Let's hope for a very weak storm and thus little impact to their maintenance plan," Patrick De Haan, the head of Petroleum Analysis at GasBuddy, posted on X, formerly Twitter, on Tuesday.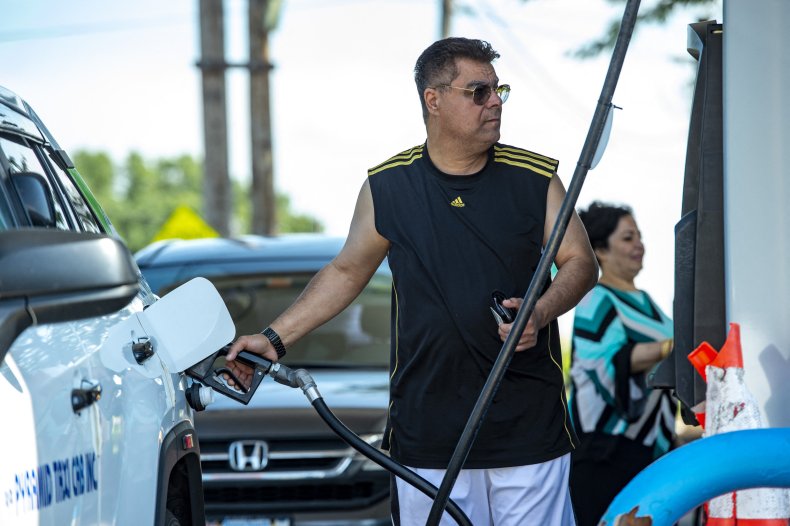 De Haan told Newsweek that the storm could still deviate from the track. If it hits the refinery, it may cause "low-level impacts" on gasoline and diesel prices.
Gas prices are 12 cents higher per gallon of regular gasoline compared to this time last year, according to a report by the American Automobile Association (AAA). The national average is $3.86 for a gallon of regular gasoline, with much of the western United States exhibiting higher-than-average prices.
An ongoing rise in gasoline prices could signal worsening inflation, although severe weather also can have an impact. Hurricanes can temporarily spike prices by disrupting natural gas production and fuel supply.
Other weather-related issues, such as heat waves, also can have a costly impact. Refineries can suffer from a reduction in gasoline supply due to heat-related problems.
Lee's current track has the winds arriving in the northeast U.S. late Friday night into Saturday morning. The NHC noted that it was too soon to tell what damage Lee would bring to the Northeastern U.S. and Atlantic Canada and warned that wind and rainfall hazards would extend "well away from the center" as the storm grows in size.
By the time it nears the United States, tropical storm-force winds could extend up to 300 miles from the hurricane, heightening the risk for damage along the Northeast coast even if the storm doesn't make landfall.