Warnings have been issued as Hurricane Lee continues to travel across the Atlantic Ocean as a very large Category 3 storm, with forecasters warning the storm is likely to remain a "large and dangerous" hurricane for the next couple of days and make landfall at the weekend.
Lee was located about 475 miles south-southwest of Bermuda, with maximum sustained winds of up to 115 mph, the National Hurricane Center (NHC) in Miami said in an advisory at 5 a.m. on Wednesday. The storm was moving northwest at 6 mph.
The hurricane center said that "dangerous surf and life-threatening rip currents" are affecting parts of the southeastern U.S. coast and "these conditions are forecast to spread northward along much of the U.S. East Coast and Atlantic Canada during the next couple of days."
Swells generated by Lee are affecting portions of the Lesser Antilles, the British and U.S. Virgin Islands, Puerto Rico, Hispaniola, the Turks and Caicos Islands, the Bahamas, and Bermuda, it added.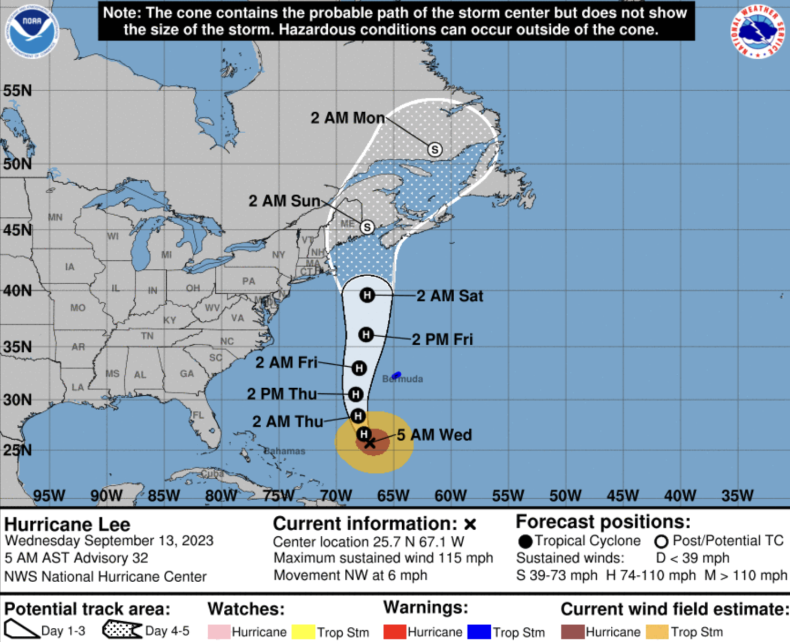 A tropical storm warning is in effect for Bermuda, with Lee forecast to pass west of the island late Thursday and approach the coast of New England or Atlantic Canada later this week.
The hurricane center said Lee is "a very large hurricane," with hurricane-force winds extending up to 125 miles from the center and tropical-storm-force winds extending up to 240 miles.
AccuWeather meteorologists say Lee is likely to make landfall in Nova Scotia, Canada, at the weekend, but say that any westward shift in Lee's track would increase the risk of the storm making landfall of New England.
"Near and east of where Lee rolls ashore, a significant storm surge will occur along with the strongest winds and risk of property damage," AccuWeather said.
According to AccuWeather, winds and flooding from Lee will also affect Rhode Island, eastern Massachusetts, southeastern New Hampshire and central and coastal Maine.
"It remains too soon to know what level of additional impacts Lee might have along the northeastern U.S. coast and Atlantic Canada late this week and this weekend," the NHC said.
"However, since wind and rainfall hazards will extend well away from the center as Lee grows in size users should continue to monitor updates to Lee's forecast during the next several days."
Lee is the 12th named storm of the Atlantic hurricane season, which ends on November 30.
The National Oceanic and Atmospheric Administration has predicted 14 to 21 named storms this season. Six to 11 are forecast to forecast to become hurricanes, with two to five of those possibly becoming Category 3 storms or higher.