Hurricane Lee is expected to bring bad weather to parts of coastal New England, eastern Canada and Bermuda on Friday as the huge storm accelerates north over the west Atlantic. The Category 1 hurricane, which was a Category 5 at its peak, is making headway for portions of Maine, New Brunswick and Nova Scotia over the weekend.
A key message from the National Hurricane Center (NHC) released at 5 a.m. on Friday has warned "hurricane" and "tropical storm" conditions are possible in eastern Maine, New Brunswick and Nova Scotia. The update cautions that conditions in the area are "likely to lead to downed trees and potential power outages."
The message also warns Lee will "become post-tropical and begin weakening by Saturday, but it is still expected to be a large and dangerous storm when it reaches eastern New England and Atlantic Canada." Coastal flooding is likely in the affected areas, expected to begin in New England on Friday afternoon and in Atlantic Canada on Saturday.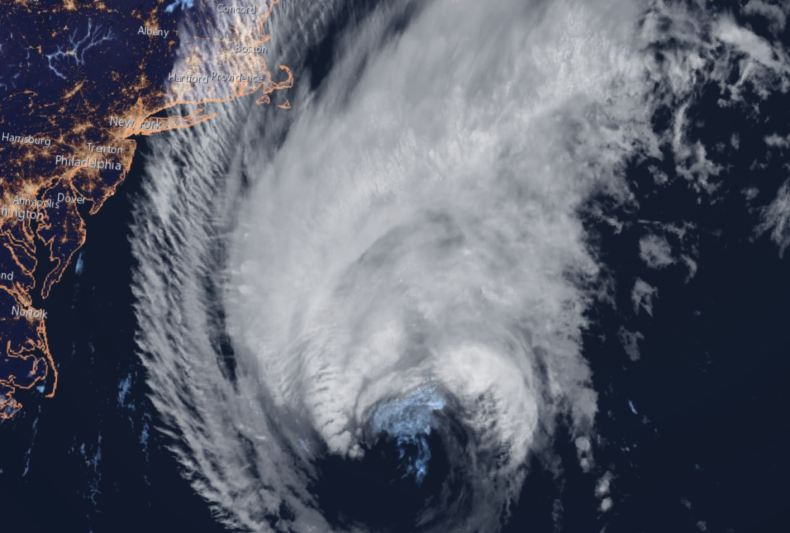 Heavy rainfall is also expected to produce "localized urban and small stream flooding" across the same areas on Saturday night. The heaviest rainfall is expected on Saturday in Maine, with up to two inches forecast so far by the NHC. Neighboring states, including New Hampshire, Massachusetts and Rhode Island, may also experience some rainfall.
Flood maps from the NHC show Nantucket, land around the Cape Cod Bay, and Portland, Maine, have a marginal chance of flooding, up to five percent, whereas further north, areas around and including Houlton, Medway and Presque Isle have a slight chance—up to 15 percent—of seeing flood surges.
In Bermuda, tropical storm conditions are to be expected throughout Friday morning. Lee has already caused power outages on the island, according to CNN.
Having now traveled past the west coast of Bermuda, Hurricane Lee's core remains in the Atlantic Ocean but is traveling northward toward the north western U.S. and Atlantic Canada. While the core is not currently expected to make landfall in the U.S., the NHC has projected Lee will travel over Nova Scotia and New Brunswick in Canada in the coming days as a post-tropical cyclone.
The core of Hurricane Lee remains in the western Atlantic, but will be downgraded by the time it reaches land at around 3 a.m. on Saturday morning, according to maps from the NHC.
The Canadian Hurricane Center issued a tropical storm warning for New Brunswick from the U.S.-Canada border to Fort Lawrence, including Grand Manan Island, the center confirmed in an update at 3 a.m. on Friday. Another tropical storm warning is also in effect for the coast of Nova Scotia from Fort Lawrence to Point Tupper.
President Joe Biden has declared an emergency in Maine, meaning the Department of Homeland Security and the Federal Emergency Management Agency (FEMA) will now "coordinate all disaster relief efforts" to "save lives and to protect property and public health and safety, and to lessen or avert the threat of a catastrophe statewide," according to a statement released by the White House.
Newsweek has contacted the FEMA news desk via email for updates on preparations in the area.