Hurricane Leslie 2018 Path, Track: Madeira Under Tropical Storm Warning
Hurricane Leslie is moving swiftly through the eastern Atlantic, just after Hurricane Michael tore a path of destruction through the southeastern United States. Leslie was located about 250 miles south of the Azores on Friday afternoon, and tracking toward Portugal and Spain.
Leslie, a Category 1 storm, was packing maximum sustained winds of up to 85 miles per hour. A track and path forecast released by the National Hurricane Center showed it moving east-northeast in the coming days. The NHC urged those in Portugal and Spain to monitor the storm's path.
A tropical storm warning was in effect for Madeira Island on Friday, meaning that tropical storm conditions were expected within 36 hours. The NHC said Leslie would pass north of Madeira Island on Saturday, approach the southwestern part of the Iberian Peninsula on Sunday and move inland over the peninsula late Sunday.
Leslie was expected to bring wind, rain and strong surf in the coming days. The storm was expected to bring up to four inches of rain in some parts of Portugal and Spain.
"Swells generated by Leslie will likely affect portions of the Azores, Madeira Island and the Canary Islands through Saturday and will reach the Atlantic coasts of Spain, Portugal, and Morocco over the weekend," the NHC said. "These swells are likely to cause life-threatening surf and rip current conditions."
Leslie is unusual in that it has brought the first tropical storm warning ever to Madeira, Forbes reported, citing Tom Gill of the University of Texas, El Paso. There have not been any recorded tropical storms within 100 miles of the island.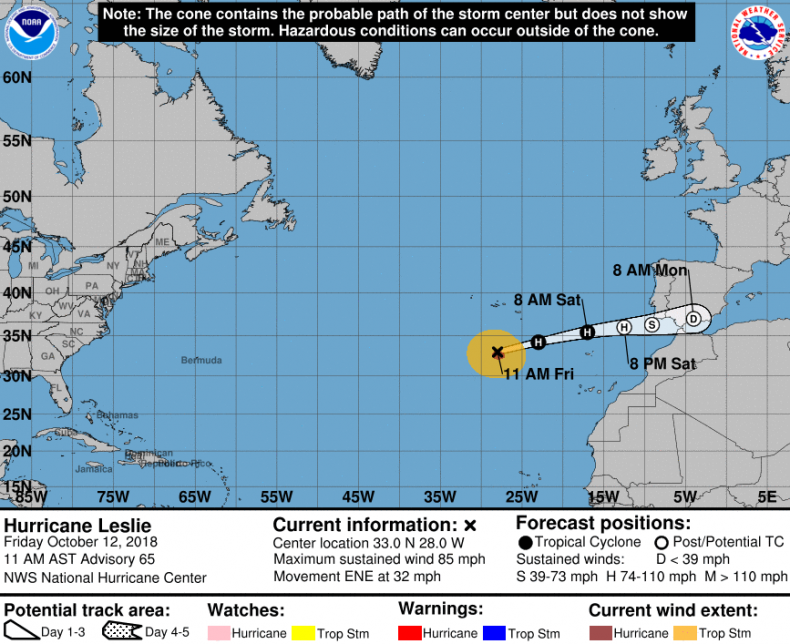 Also located in the Atlantic on Friday was Tropical Storm Nadine. Nadine was almost 800 miles west of the Cabo Verde Islands on Friday afternoon, moving westward slowly. Unlike Leslie, Nadine posed no threat to land and no watches or warnings were in effect.
Nadine was expected to fully dissipate by Sunday.