Hurricane Leslie (Post-Tropical Cyclone) Path, Track: Portugal Landfall, Spain Impact Predicted in Rare Strike
Hurricane Leslie has lived a long and unusual life, dancing around the Atlantic as both a tropical storm and hurricane for weeks. The storm is now about to do something even more unusual. Hurricane Leslie, now Post-Tropical Cyclone Leslie, is on a path for a direct hit on Portugal early Sunday. Spain will also get impact from Leslie's strike.
Wide areas of Portugal and Spain will get 1 to 3 inches of rain from Leslie while some localized areas could get 5 inches with flooding, according to forecasters. Portugal also faces hurricane force winds and residents have been warned to stay inside.
Portugal's weather service has issued "red" warnings for 13 of its 18 mainland districts for late Saturday and Sunday, saying that Leslie's impact will begin at about 6 p.m. Saturday, with landfall likely occurring early Sunday. With the strength of a Category 1 hurricane, Leslie was about 195 miles southwest of Lisbon late Saturday Atlantic Standard Time with maximum sustained winds of 75 miles per hour, with hurricane force winds extending for 60 miles. Leslie was threatening to be one of the strongest storms to hit Portugal in years.
It's rare for hurricanes formed in the in the U.S.-side Atlantic to hit Europe because cooler water and wind shear typically break them down before they hit land. It is reported having happened just five times since records have been kept, the last being Hurricane Ophelia in 2017.
Leslie has had such a long life that the National Hurricane Center issued 70 advisories over its life. The storm powered down from being a hurricane to a powerful post-tropical storm on Saturday, approaching Portugal and Spain. Portugal's National Protection Agency advised residents to "avoid at all costs walking on the street."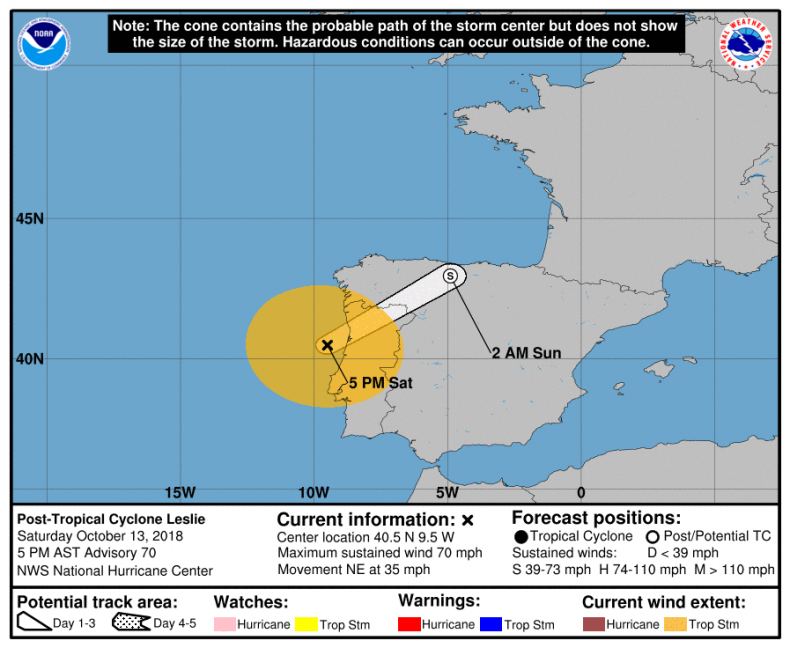 "The air mass ahead of the cyclone has moistened up in the low levels with Faro, Portugal, reporting a dewpoint of 70F/21C, but the dewpoints across central and northern Portugal ahead of Leslie are only in the low-60F range, which is not indicative of a tropical air mass," the U.S. National Hurricane Center said late Saturday afternoon AST. "Thus, the cyclone is now a powerful post-tropical low-pressure system that even has a partial eye noted in the most recent 2000Z Portuguese composite radar imagery."
Still, the storm will deliver a significant impact across Portugal, not used to such storms.
"After landfall, rapid weakening is anticipated, and Leslie is forecast to degenerate into a broad low pressure area over or just north of Spain by late Sunday," the National Hurricane Center said.
Landfall is expected Sunday by post-tropical cyclone Leslie at or near Porto, Portugal at 14000z.
"The passage of LESLIE will be marked by strong wind and precipitation, reason why it is absolutely necessary that all the indications of the National Authority of Civil Protection are followed," Portugal officials warned Saturday.
"Leslie is expected to bring near hurricane-force winds to portions of Portugal later tonight as a powerful post-tropical cyclone," the National Hurricane Center said. "Gale-force winds are also likely to affect portions of northwestern and northern Spain tonight and Sunday.
"Leslie is expected to produce rainfall amounts of 25 to 75 mm (1 to 3 inches) with isolated amounts as high as 125 mm (5 inches) across portions of Portugal and Spain, which could cause flash flooding."