Hurricane Lorenzo Grows in Strength as Storms Karen and Jerry Continue Path Through Atlantic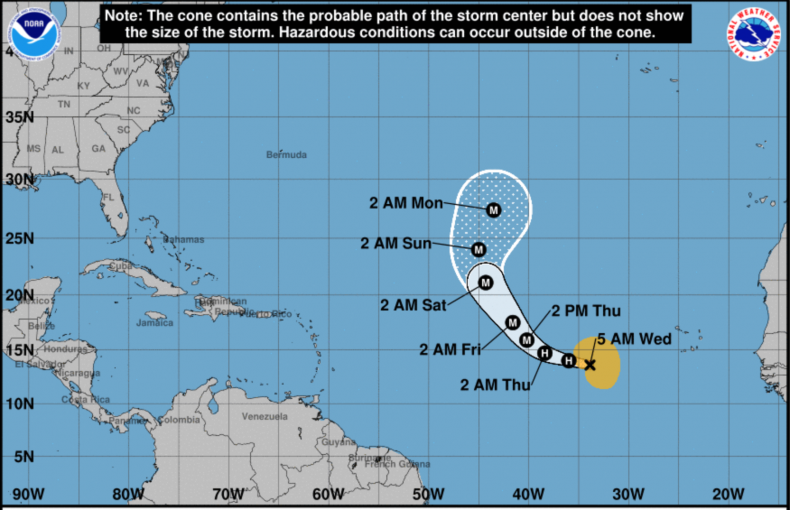 Meteorologists expect this year's fifth hurricane, Lorenzo, to increase rapidly in speed and dangerous potential, while another tropical storm hits Puerto Rico and moves northward.
Hurricane Lorenzo is likely to be a category 3 storm by the end of the week, according to experts from the National Hurricane Center (NHC).
A category 3 hurricane is one with sustained winds between 111 and 129 miles per hour, according to the NHC website. The website also reads that "[d]evastating damage will occur" to structures caught in the hurricane's wake.
Currently, Hurricane Lorenzo is is moving west at a pace of 17 miles per hour with winds sustained at 80 miles per hour, according to the NHC's 5 a.m. update. Its winds can be detected 30 miles from the storm's center, and winds strong as those of a tropical storm are being detected 205 miles away from its center.
"The NHC forecast now shows Lorenzo becoming a major hurricane in 36 hours, faster than previously anticipated," David Zelinsky, NHC hurricane specialist. "Confidence is high that Lorenzo will be a large and powerful hurricane over the eastern and central Atlantic through the rest of this week."
Even so, the storm is not projected to make any contact with the United States, but rather turn northwest by Friday, and turn northeast by Monday morning.
Meanwhile, Tropical Storm Karen has already completed its journey across the ocean and made landfall in Puerto Rico and the Virgin Islands, where it brought heavy winds and rain.
Experts anticipate Karen to grow stronger after its visit to the Caribbean, and predict its sustaining winds will reach up to 65 miles per hour over the course of the week as it too takes a northeastern turn. That wind speed is still not high enough to classify the storm as a hurricane. The low threshold for that is winds moving at 74 miles per hour, according to the NHC website. Karen's winds are currently moving at 45 miles per hour.
"Karen's convection has increased significantly and become better organized since the previous advisory," NHC senior hurricane specialist, Stacy R. Stewart, said.
NHC is also tracking Post-Tropical Cyclone Jerry, which was recently downgraded from a hurricane. Unlike storms Lorenzo and Karen, Jerry is becoming weaker. It is moving at 7 miles per hour toward the island of Bermuda in the central Atlantic and will likely make landfall there Wednesday afternoon.
Bermuda is under a tropical storm warning as Jerry maintains maximum sustaining winds of 45 miles per hour even as it weakens.