Hurricane Lorenzo in Eastern Atlantic: Path, Forecast of Historic Storm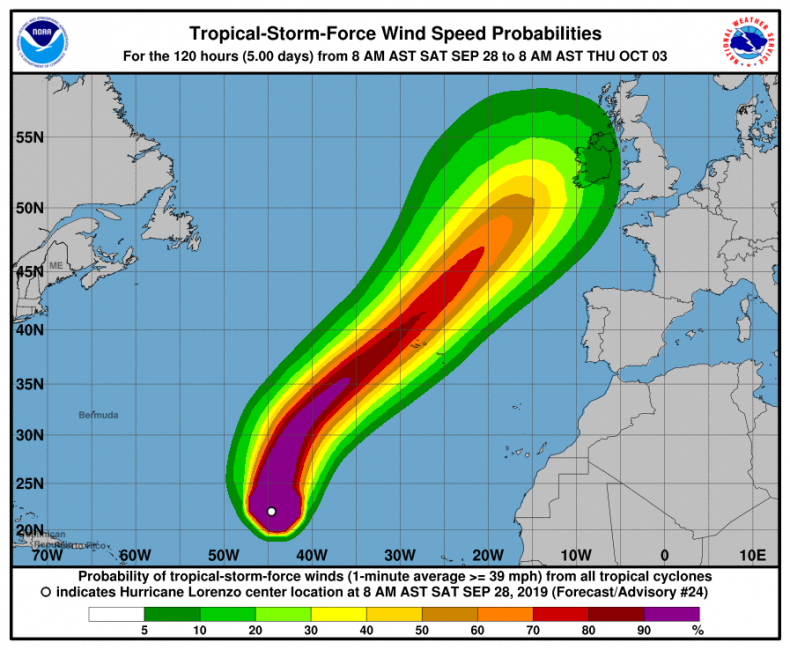 On Thursday, Hurricane Lorenzo became the strongest storm in recorded history to reach the Eastern Atlantic. By Saturday morning the system had weakened slightly from a Category 4 to a Category 3 hurricane, but had broken yet another record: no major storm has ever lasted in the Eastern Atlantic as long as Lorenzo has, according to a report by The Weather Company, and the low pressure system won't dissipate any time soon.
The historic storm is now poised to lash the Azore Islands on its way toward Ireland and the United Kingdom, where models predict it will land Thursday or Friday.
As of Saturday, Lorenzo carried life-threatening wind speeds of 115 miles per hour, with hurricane-force winds stretching 50 miles from the eye of the storm. Even 275 miles from the center of the storm, tropical-storm-force winds can cause damage.
"Swells generated by Lorenzo are affecting portions of the northeastern coast of South America and the Lesser Antilles and are expected to spread westward to portions of the north coasts of the Greater Antilles, the Bahamas, Bermuda, and the east coast of the United States during the next few days," the National Hurricane Center predicted Saturday.
The Azores will start to feel Lorenzo's impact Sunday, when the hurricane will turn northward. "Swells are also expected to build near the Azores on Sunday and Monday. These swells are likely to cause life-threatening surf and rip current conditions. Please consult products from your local weather office," the center advised.
A headline on the news site Azores Today summed up the situation as "Hurricane Lorenzo: Region on Maximum Alert."
The Azores are a small volcanic island chain 3,500 miles east of North America. The islands are a Portuguese territory, and home to 245,000 inhabitants. Its economy is based around farming, an industry highly susceptible to weather events. The 65th Air Base Wing of the United States Air Force is also stationed in the Azores at Lajes Field.
Farther north and to the East, meteorologists in Ireland and the United Kingdom are keeping a wary eye on the record-breaking hurricane. "At this stage its impact on Ireland is uncertain. Met Eireann is closely monitoring the progress of Lorenzo," the Irish national weather service reported.
On Saturday, Irish Weather Online urged caution for the end of the week in a Facebook post, writing: "Storm Lorenzo watch is now in the forecast as models changed the track overnight, bringing the remnant extratropical low straight towards Ireland. Too early to give any definite forecast but charts this morning on some of the most reliable models indicate potential for 120-140 km/hr gusts especially near the west coast but at least 100-120 km/hr in many areas. This could change again closer to the time...Very much a wait and see situation now but the arrival would be early to mid-day Thursday 3rd."