Hurricane Maria Dominica Photos: Historically Strong Storm Causes 'Widespread Devastation'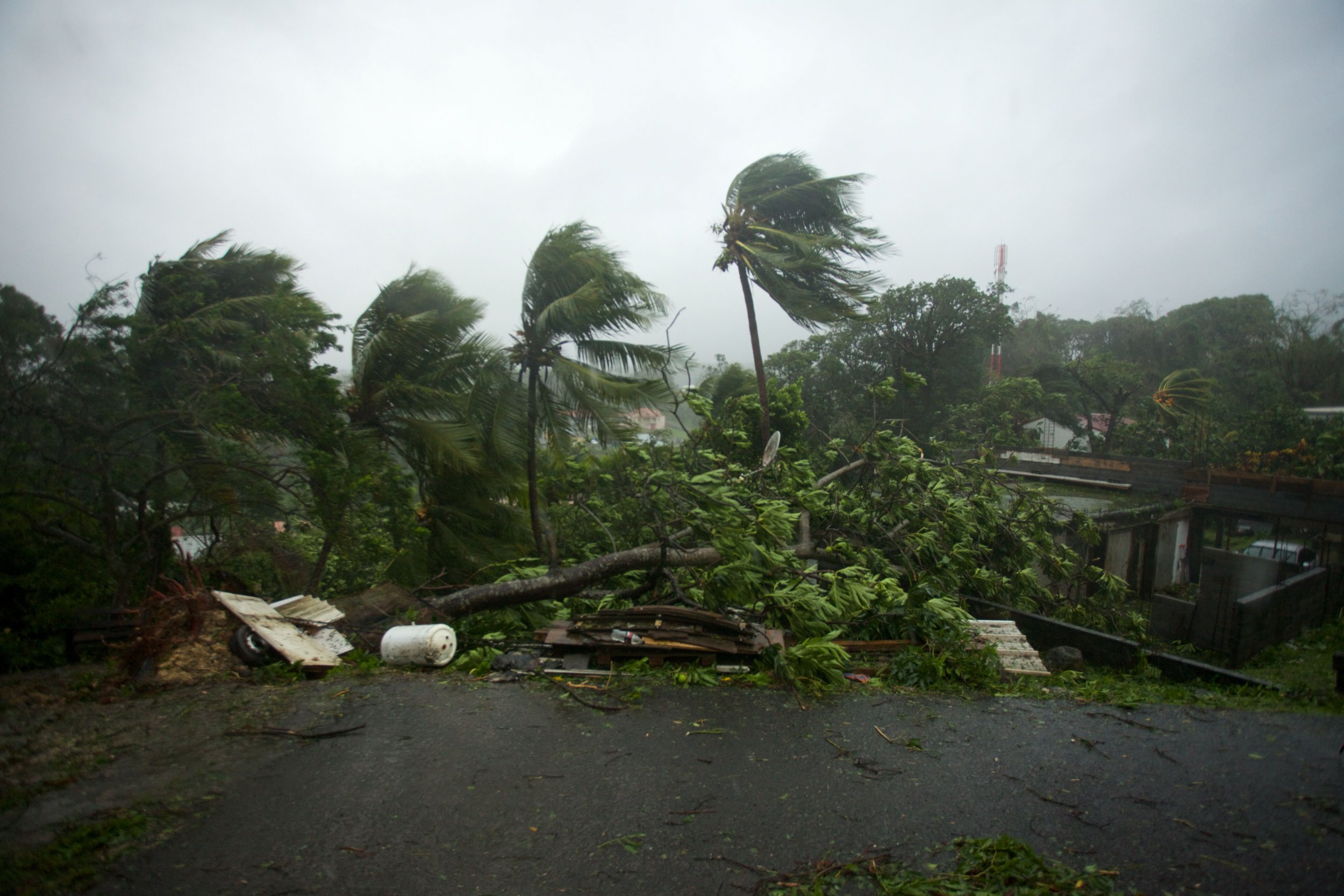 Hurricane Maria slammed into Dominica late Monday, causing "widespread devastation" to the 74,000-resident island as it slowly moved toward Puerto Rico Tuesday with winds of up to 160 miles per hour.
Maria was the strongest storm in history to make landfall in the Caribbean nation, CNN reported. And the danger wasn't over yet.
Related: Where Is Hurricane Maria going next?
"So far we have lost all what money can buy and replace. My greatest fear for the morning is that we will wake to news of serious physical injury and possible deaths as a result of likely landslides triggered by persistent rains," Dominica Prime Minister Roosevelt Skerrit wrote on Facebook. "I am honestly not preoccupied with physical damage at this time, because it is devastating...indeed, mind-boggling. My focus now is in rescuing the trapped and securing medical assistance for the injured."
As of Tuesday morning, Maria was located about 85 miles west of Guadeloupe and 170 miles southeast of St. Croix, according to the National Hurricane Center. It was moving west-northwest at about 9 miles per hour, threatening places like the U.S. Virgin Islands, St. Kitts and Antigua with heavy rains, dangerous storm surges and life-threatening surf conditions.
The system swept over Dominica late Monday, knocking out cell and internet service, the New York Times reported. Though the country had "shut down" in preparation for Maria, as Office of Disaster Management spokesperson Anil Etienne told ABC News, the hurricane targeted a region frantically trying to recover from the recent Hurricane Irma.
"My roof is gone. I am at the complete mercy of the hurricane. House is flooding," Skerrit wrote overnight. "We do not know what is happening outside. We not dare look out. All we are hearing is the sound of (metal) flying. The sound of the fury of the wind. As we pray for its end!"
The extent of the damage to Dominica wasn't immediately clear Tuesday morning. Local news account Kevz Politics reported that school was canceled, police headquarters were flooded and Roseau's hospital, in the island's capital, had lost its roof.
Passing over Dominica did little to weaken the storm, the National Hurricane Center wrote Tuesday morning. It remained a serious threat to many islands in the Atlantic.
"Maria is likely to affect Puerto Rico and the U.S. and British Virgin Islands as an extremely dangerous major hurricane tonight and Wednesday," the center added. "Preparations to protect life and property should be rushed to completion."
There is also a chance, though slim at the moment, that Irma-battered Florida could be hit again.