Hurricane Maria: Latest Path and Forecast as Major Storm Follows Irma's Path Through Caribbean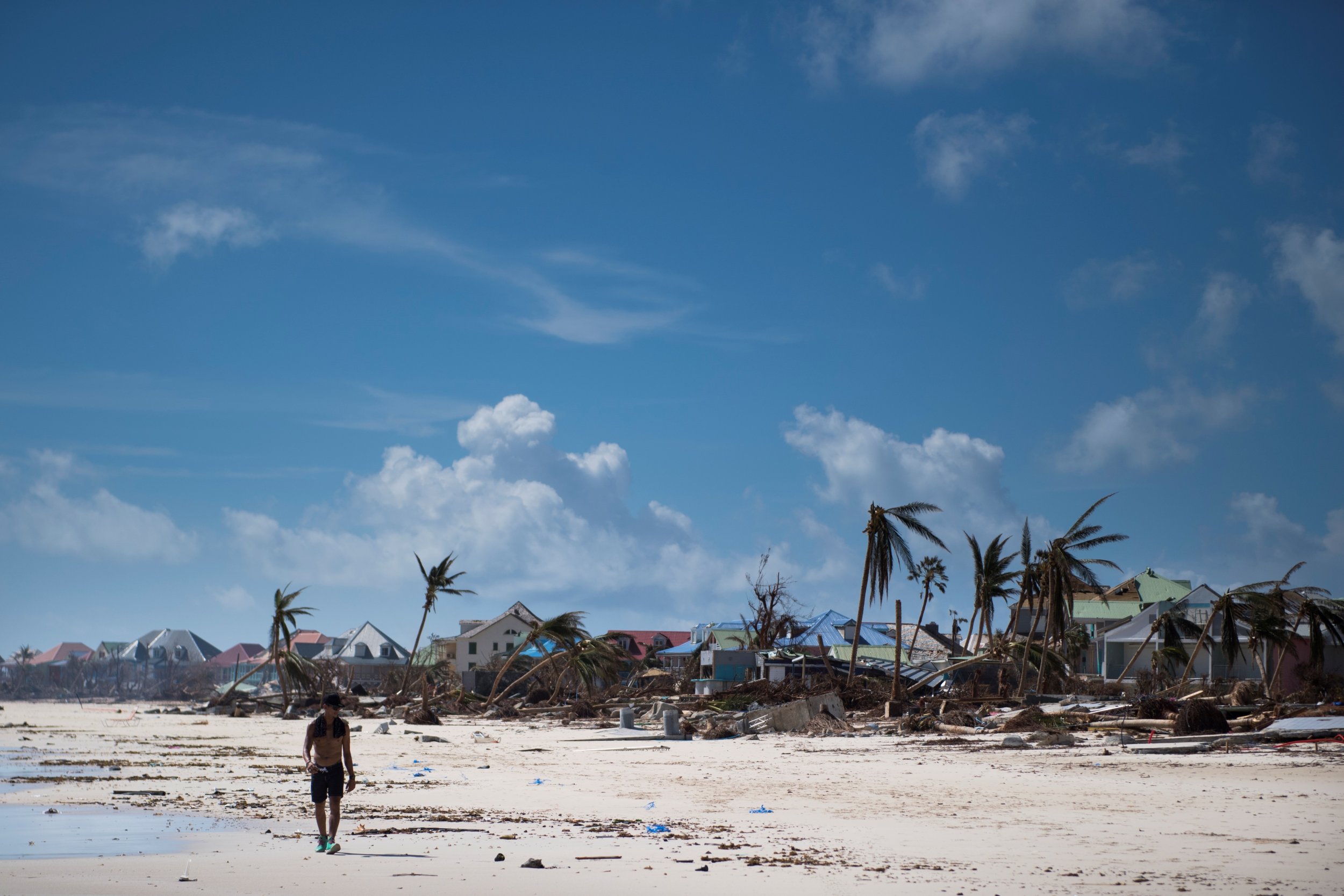 Less than two weeks after Hurricane Irma wrought destruction across the Caribbean and southeastern United States, another major hurricane is threatening the region.
Hurricane Maria strengthened to a Category 1 hurricane on Sunday and is expected to intensify to a Category 3 storm by the time it reaches the Leeward Islands in the northeast Caribbean late on Monday, according to the National Hurricane Center (NHC).
That's bad news for islands such as Antigua and Barbuda and the U.S. Virgin Islands, which suffered major destruction when Category 5 Hurricane Irma swept through the region earlier in September.
Where is Maria going?
Maria is currently located around 100 miles east of Martinique and is moving westward at a speed of 13 mph, the NHC said in its latest advisory at 5 a.m. Eastern time on Monday. The hurricane is expected to reach the Leeward Islands late Monday. The highest-level hurricane warnings are in place in Guadeloupe, Dominica, St. Kitts, Nevis and Montserrat and Martinique, all of which were largely spared the impact of Irma.
A tropical storm warning is also in place for Antigua and Barbuda, which were heavily damaged by Irma; the prime minister of the islands said that over 90 percent of buildings on Barbuda were damaged by the storm. Hurricane conditions are also possible on the U.S. Virgin Islands, where at least three people were killed by Irma, as well as Puerto Rico, the British Virgin Islands and St. Martin, the French-Dutch island that suffered catastrophic damage as a result of Irma.
How strong is Maria?
The hurricane is currently whipping up winds of 90 mph and expected to get stronger. Forecasts predict Maria will bring rainfall of up to 12 inches through Wednesday night, with isolated maximum downpours of 20 inches across parts of the Leeward Islands, including the U.S. Virgin Islands and Puerto Rico. This level of rainfall brings with it the risk of flash flooding and mudslides. The NHC also warned of storm surges of up to seven feet across the Leeward Islands.
Will it be as bad as Irma?
Maria has not yet reached the strength of Irma—which peaked with winds of 185 mph and was the most powerful hurricane ever recorded in the Atlantic basin—but it is still posing a significant threat to the Caribbean. Its impact is likely to be exacerbated by the fact that many islands in the storm's path have barely begun to recover from Irma.
St. Martin, for example, suffered enormous damage. A United Nations assessment estimated that more than 90 percent of buildings on the Dutch side of the island, known as Sint Maarten, were damaged by the storm. The French government said that 11 people were killed on its side of the island, with French President Emmanuel Macron pledging 50 million euros ($60 million) to help with rebuilding French territories in the Caribbean. "St. Martin will be reborn, I promise," said Macron.
Will Maria hit the United States?
It is too early to predict whether Maria will threaten the mainland United States. Maria is currently moving along a similar path as Irma, but forecasters are not yet able to tell whether it will continue on this path later in the week.
What does seem certain is that Maria will have some impact on the U.S. Virgin Islands and the U.S. territory of Puerto Rico. The Puerto Rican government said that 450 shelters, with a capacity of almost 68,000, had been established across the territory and that schools would close from Sunday. Governor Ricardo Rosselló said that Puerto Rico would "continue to offer shelter to our brothers and sisters" from the U.S. Virgin Islands and other islands affected by Irma ahead of Maria.
Are there going to be more hurricanes in 2017?
Unfortunately, the Atlantic hurricane season is not over yet. The season usually runs from June until November, with activity peaking in September. There have already been seven hurricanes, including Maria, in the 2017 season; in 2016, there were only seven hurricanes in the total season, with the last one dissipating in late November.
Hurricane Jose is still threatening to bring strong winds and localized flooding to eastern parts of the United States. Jose was located around 280 miles east of Cape Hatteras in North Carolina at 5 a.m. on Monday and was not moving toward the mainland, the NHC said. But a tropical storm watch is in effect for parts of Delaware, New Jersey, Rhode Island, New York and Massachusetts, with the NHC warning of swells in coastal areas and up to five inches of rainfall.