Where Is Hurricane Maria Going Next? Category 4 Storm Heads Toward Puerto Rico After Devastating Dominica
Puerto Rico and the U.S. Virgin Islands are bracing for impact as Hurricane Maria charts a path across the Caribbean.
Maria made landfall as a category 5 storm late on Monday in Dominica, battering the island with winds of up to 160 mph. Dominica's Prime Minister Roosevelt Skerrit, who had to be evacuated from his house after the storm tore his roof off, said that the damage was "mind-boggling."
President Donald Trump has declared a state of emergency in the U.S. Virgin Islands, while Puerto Rico's government is ordering people to take shelter or face near-certain death.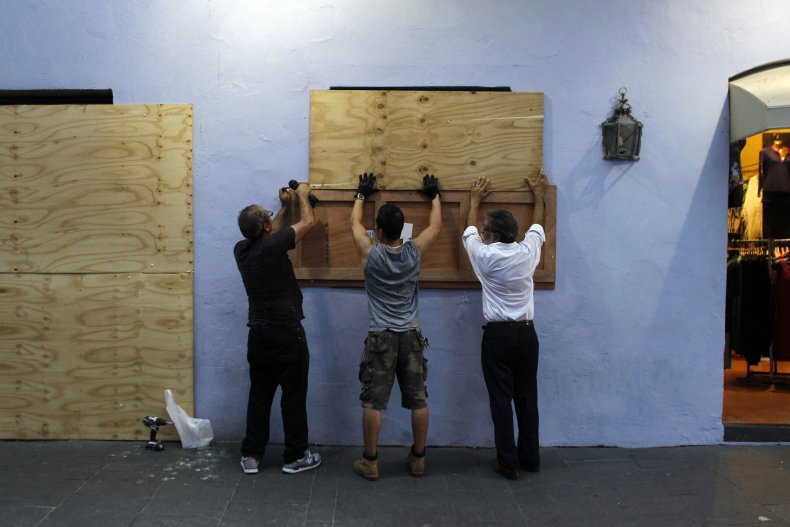 Where is Maria now?
Maria has now passed over Dominica and is located around 45 miles west of the island in the Caribbean Sea, according to an update from the U.S. National Hurricane Center at 2 a.m. Eastern time. The storm is moving west-northwest at a speed of 9 mph.
How much damage has Maria done?
The storm made landfall in Dominica late on Monday, tearing roofs off houses and bringing heavy rainfall. The extent of the damage is not yet clear, but Prime Minister Skerrit gave an insight into his own experience of the storm by posting regular updates on Facebook. "The winds are merciless! We shall survive by the grace of God!" Skerrit said on Monday night as the eye of Maria passed over Dominica. He later said that his roof had been taken off by the winds and his residence was flooding, before posting that he had been rescued.
In the early hours of Tuesday, Skerrit said that Dominica had "lost all what money can buy and replace." Emergency services have not been able to establish a death toll yet, but Skerrit said that his "greatest fear" was that the island would "wake to news of serious physical injury and possible deaths as a result of likely landslides triggered by persistent rains."
Where is Maria going next?
Next in Maria's path are the French territory of Guadeloupe and the British territories of Montserrat and St. Kitts and Nevis; hurricane warnings are in place for all three islands. The government in Guadeloupe ordered all residents to take shelter and not go outside under any circumstances Monday evening, as the territory—which was used as a base for relief efforts during Hurricane Irma—prepared for Maria's powerful winds.
Maria will approach the U.S. Virgin Islands and Puerto Rico by Tuesday night, according to the NHC. Hurricane warnings are in place for both U.S. territories, meaning that hurricane conditions are expected and that "preparation to protect life and property should be rushed to completion."
The British Virgin Islands are also under a hurricane warning, while tropical storm conditions are expected on Antigua and Barbuda, Saba and St. Eustatius, St. Maarten, Anguilla, St. Lucia and Martinique, many of which were badly hit by Hurricane Irma.
How strong is Maria?
Since lashing Dominica, Maria has been downgraded to a category 4 hurricane, which still means that it can cause catastrophic damage. Wind speeds have decreased only slightly to 155 mph, and the NHC predicts that Maria will remain a category 4 or 5 storm as it heads towards the U.S. Virgin Islands and Puerto Rico.
Maria is also likely to bring massive and life-threatening storm surges to the islands in its path. Puerto Rico and the U.S. Virgin Islands can expect surges of up to nine feet, while up to 25 inches of rainfall is possible in parts of Puerto Rico and isolated pockets of rainfall of 20 inches are predicted in the U.S. Virgin Islands, according to the NHC.
What about the United States?
It is too early for forecasters to say definitively whether Maria will threaten the continental United States. The storm is tracking along a similar path to Hurricane Irma, which whipped through the Caribbean before crashing into Florida, causing at least 34 deaths in the state and leaving around 10,000 people still homeless.
Current NHC forecasts have Maria ending the week over the Bahamas, out in the Atlantic Ocean to the east of Florida, sparing the Sunshine State from Maria's direct impact. But that has not stopped concerned Floridians speculating about the possibility that they could be hit by another major hurricane.
The threat is very real, however, in the U.S. Virgin Islands. When delcaring the state of emergency, President Trump authorized the federal government to assist with funding and resources to the islands, which have a population of over 100,000. The U.S. Virgin Islands government has imposed a curfew from 10 a.m. on Tuesday and urged citizens to stockpile food, fuel and other resources ahead of the storm.
In Puerto Rico, Governor Ricardo Rossello told USA Today that Maria would "essentially devastate most of the island" and urged citizens that the impact would likely be worse than that of Irma. Around 450 shelters are open on the island and Puerto Rico's public safety commissioner, Hector Pesquera, issued a stark warning on Monday to those in homes not able to withstand the winds. "You have to evacuate. Otherwise you're going to die. I don't know how to make this any clearer," he said, according to The Guardian.​