Hurricane Maria: Puerto Ricans Must Take Elderly Relatives to the U.S., Senator Says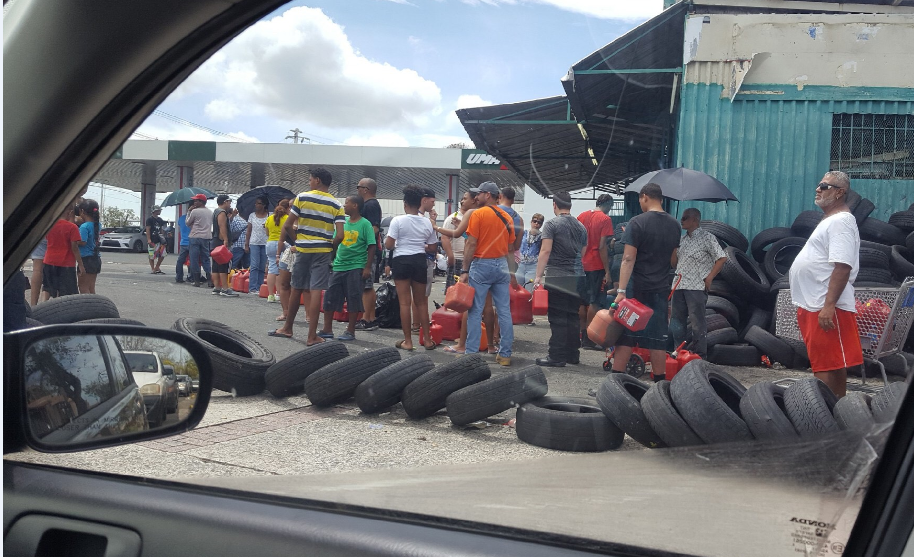 Many Puerto Ricans are still fighting for survival following the ravaging effects of Hurricane Maria as the island geared up for President Donald Trump's visit Tuesday.
Meanwhile, a senator from the island is calling on Puerto Rican nationals living in the United States to bring their elderly relatives to the American mainland—at least temporarily.
"I ask younger Puerto Ricans to bring elderly loved ones to the U.S. [and elsewhere], especially those who live alone in Puerto Rico, even on a temporary basis until we resolve the electric crisis," Senator Abel Nazario of Puerto Rico, who used to be the mayor of Yauco, tells Newsweek.
"Nobody can guarantee the health of the elderly in need. Each family is going to do their part too," he says, adding that family members living outside of the island should send electric generators if they want to contribute.
Puerto Rican senior citizens who rely on electric-run dialysis or oxygen tanks are at higher risk of dying, Nazario adds. "Diagnosis centers and emergency rooms cater to basic needs, but we're unsure whether this is going to continue in the next two weeks," he says.
When asked about the stalled death toll, which still remains at 16 after the catastrophe, Nazario says efforts to update a tally of victims have been challenging since Puerto Rico's main highways and streets are filled with debris, so reaching areas where there could be potential casualties is difficult.
"The U.S. has dispatched machinery to clean up the streets, but it will take up to 30 days to reach mountainous areas," Nazario says.
Puerto Rico is slowly restoring power in places such as Santurce, Culebra and Mayagüez, but the electric grid in cities like Orocovis, Yauco and Morovis, which relied on wooden electric poles, has been destroyed.
A report by Puerto Rico's Center for Investigative Journalism said, "The dead are at the hospital morgues, which are at capacity and in remote places where the government has yet to go, and in many cases, their families are unaware of their deaths." The report went on to say that the corpses keep "piling up" at the morgues of the island's 69 hospitals, of which "70 percent are not operating."
At the governmental level, Puerto Rico has three priorities to ease emergency efforts, Nazario says. "First, we want to help hospitals and medical centers. Ports and airports come second so that we could bring in aid," he says. "Water plants and power generation are our third concern."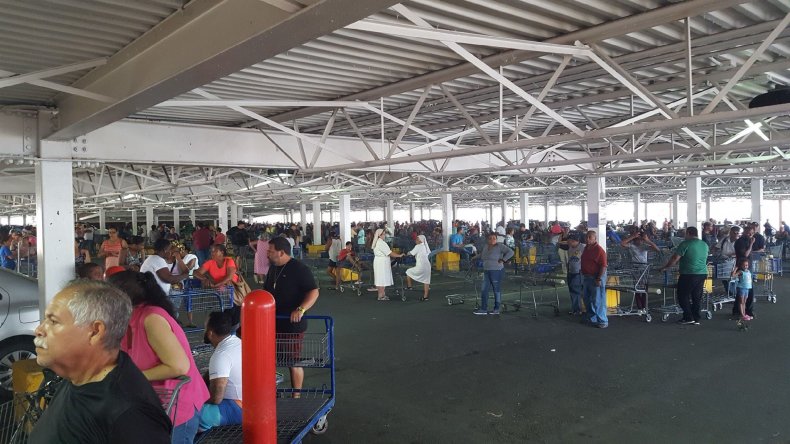 Nazario says Puerto Rico will be working on several legislative fronts. First, it will request Trump to extend the 10-day waiver on the Jones Act, which facilitates the shipment of Hurricane Maria aid to the island. Also, Puerto Rico is expecting that the federal government and Federal Emergency Management Agency waive any expenses Puerto Rico could incur in emergency efforts and will request the U.S. Department of Agriculture to approve the shipment of seeds to revamp affected crops in the aftermath of Hurricane Maria.
"The U.S. has a moral compromise [with Puerto Rico]."
Puerto Ricans have struggled to find basic food and fuel, as they have to make long lines in supermarkets and gas stations. "I've seen people waiting in line for eight hours just to get $20 in gasoline," Jay Estrada, a San Juan resident, tells Newsweek. "We have been eating canned food because we can't refrigerate meat. The Walmart near me is closed because it was vandalized during the hurricane."
The aftermath of Hurricanes Irma and Maria stoked fear and uncertainty among Puerto Ricans. "I am sure there will be massive layoffs from the national government because it has become the largest employer in the island," Estrada says. "It is impossible to sustain such a large payroll."
Residents on the island are moving into the United States in droves. Between September 21 and 28, 18 flights from San Juan arrived at Miami International Airport with 2,700 people on board, The Miami Herald reported.
"Puerto Ricans have been leaving for the U.S. in the past three to four years, but foreigners are coming to Puerto Rico to buy properties while only paying 4 percent of tax exemption," Estrada says.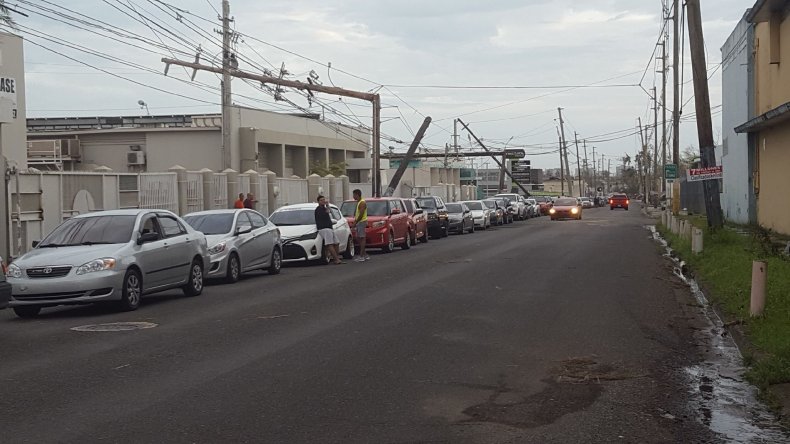 Like many Puerto Ricans, Estrada expresses discomfort in the way they have been treated by the U.S. government throughout the years, especially when they are asking Washington to take a more active role in Puerto Rico's hurricane recovery. "We are U.S. citizens without all the benefits. We pay for social services and have fought for the U.S. in every war. But we don't have representation and cannot vote for president."
Regardless of the ongoing debate over whether Puerto Rico should become the 51st U.S. state or an independent country, Estrada says the U.S. has an inherent responsibility to assuage the effects of Hurricane Maria.
"The U.S. has a moral compromise, and they should help us solve this problem. This is not a political matter. We're good people who wake up every day to work hard," he adds.
Last Saturday, a group of Puerto Rican intellectuals living in the U.S. wrote a statement to denounce "the different legal, political, financial, and logistical predatory forces behind the current 'second-class-citizenship' impasse that is increasing the risk and expendability of Puerto Rican lives after Maria's catastrophic wake."
The collective is also urging decision-makers and politicians to exempt Puerto Rico permanently from the Jones Act and repeal the PROMESA law—which set up a board to oversee a process to restructure the island's debt—as well as other measures that have hindered recovery initiatives.
"The recent statements by Trump are unworthy of any president. In the midst of a humanitarian crisis, he demands payment of the credit debt. Immediate action must be taken," the statement read.