Hurricane Michael: Aerial Photos Show Unimaginable Devastation in Mexico Beach on Florida Coast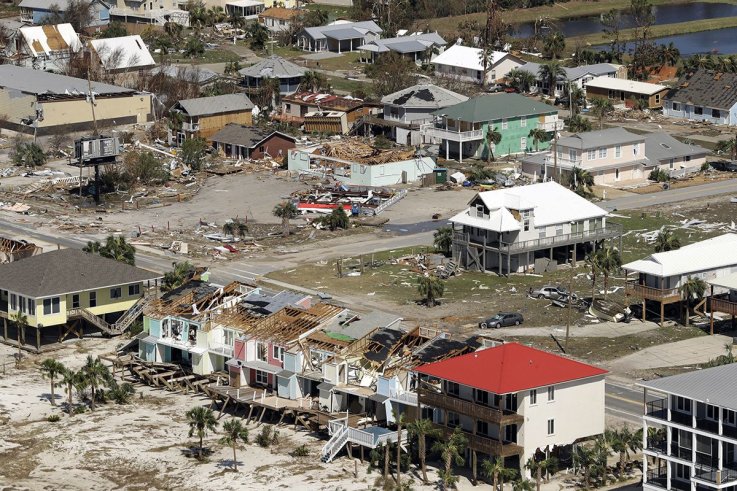 These aerial photos show unimaginable devastation after Hurricane Michael—one of the most powerful storms in U.S. history—slammed into the Florida Panhandle, killing at least seven people.
Evidence of the storm's violence is visible in shattered Florida coastal towns, where rows of homes were ripped from foundations and roofs were torn off schools by the near-record-force storm.
Michael smashed into Florida's northwest coast near the small town of Mexico Beach on Wednesday with winds of 155 mph, pushing a wall of seawater inland.
The storm tore entire neighborhoods apart, reducing homes and businesses to piles of wood and siding, damaging roads and leaving scenes of devastation that resembled the aftermath of a carpet-bombing operation.
U.S. Army personnel have been using heavy equipment to push a path through debris in Mexico Beach, allowing rescuers through to search for trapped residents, survivors or casualties, as Blackhawk helicopters circled overhead. Rescuers from the Federal Emergency Management Agency (FEMA) used dogs, drones and GPS in the search.
With a low barometric pressure recorded at 919 millibars, a measure of a hurricane's force, Michael was the third strongest storm on record to hit the continental U.S., behind only Hurricane Camille on the Mississippi Gulf Coast in 1969 and the Labor Day hurricane of 1935 in the Florida Keys.
Michael weakened overnight to a tropical storm but marched northeast, toppling trees with 50 mph winds and bringing "life-threatening" flash flooding to Georgia and Virginia, the National Hurricane Center (NHC) reported.