Hurricane Michael Aftermath: Damage to Panama City, Power Outages, Fatalities Reported
Hurricane Michael, the first known Category 4 hurricane to ever hit the Florida Panhandle, left a wake of destruction behind in the state. When the sun rose Thursday morning, Floridians—many without electricity—could see the damage caused by the brutal rain, wind and flooding: homes and businesses destroyed, trees toppled and streets flooded.
At least two people have been reported dead. A child from Seminole County, Georgia, and a man in Greensboro, Florida, were both killed when debris fell on their homes.
The storm made landfall on Wednesday afternoon, moving quickly through Florida and into southeastern Alabama and southwest Georgia around 5 p.m. EDT, according to the National Hurricane Center (NHC). By Thursday morning, the storm had weakened to a tropical storm as it made its way over South Carolina.
As Michael continued its path up the East Coast, more than 350,000 people in Florida were left in darkness, their power knocked out by the extreme conditions of the storm. In Georgia, more than 182,000 customers were still without power on Thursday morning. Outages also spanned 10 counties in Alabama, leaving more than 50,000 people without electricity.
Florida Governor Rick Scott urged people to stay off the roads to ensure their safety and give first responders the space they need to carry out recovery efforts following the storm. While restoring power could take days, Scott explained that crews were already at work and reminded residents to never touch a downed power line.
"If you are using a generator, it needs to be at least 15 feet from your home and away from all doors and windows," Scott tweeted. "Please stay safe! Restoring power as quickly as possible is a top priority."
In Panama City, Florida, near where the hurricane made landfall, streets were flooded, Michael's winds threw furniture from inside businesses into the street and tree branches and debris littered roads. Some businesses had roofs ripped off, and others were entirely demolished during the storm. The storm also decimated trailer homes and toppled signs and telephone and light poles.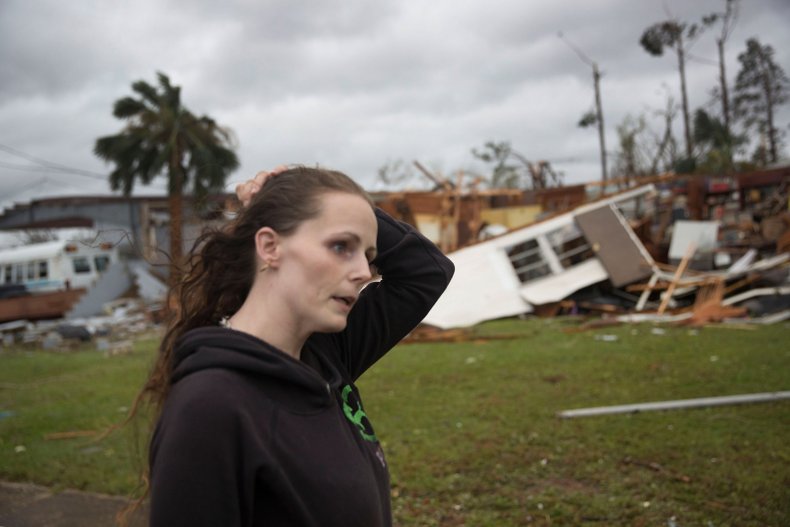 Mexico Beach, Florida, also bore the brunt of the storm's landfall, with waters that rose practically to the tops of palm trees and homes, submerging vehicles. Whole houses were ripped apart, some carried away from where they stood by floodwaters.
The storm's lethal wrath earned it a place in history as the third strongest to the United States mainland, as reported by USA Today, with winds of 155 miles per hour. At 157 miles per hour, the storm would have been classified as a Category 5, the strongest storm level on the Saffir-Simpson Wind Scale.