Hurricane Michael Landfall Time, Location: Deadly Storm to Hit Big Bend of Florida Panhandle
Update 1:58 p.m. EDT— Hurricane Michael officially made landfall Wednesday just slightly northwest of Mexico Beach, Florida, at about 1:40 p.m. EDT, according to the National Hurricane Center.
Original story—
The winds from Hurricane Michael were already lashing the Gulf Coast of Florida Wednesday morning. The winds were just the beginning of what was promising to be a strong storm arriving later in the day.
As of 7 a.m. EDT Wednesday morning, the storm was still off the coast of Florida but Michael was moving north at 13 miles per hour. With maximum sustained wind speeds of 145 mph, it was a Category 4 storm on the Saffir-Simpson wind scale. The storm was expected to make landfall along the Big Bend area of the Panhandle, specifically close to Panama City, the forecast from the National Hurricane Center showed.
Pensacola and Tallahassee are also near the area of the Panhandle where Michael is expected to first hit. Those areas will likely see some of the earliest rain from the storm.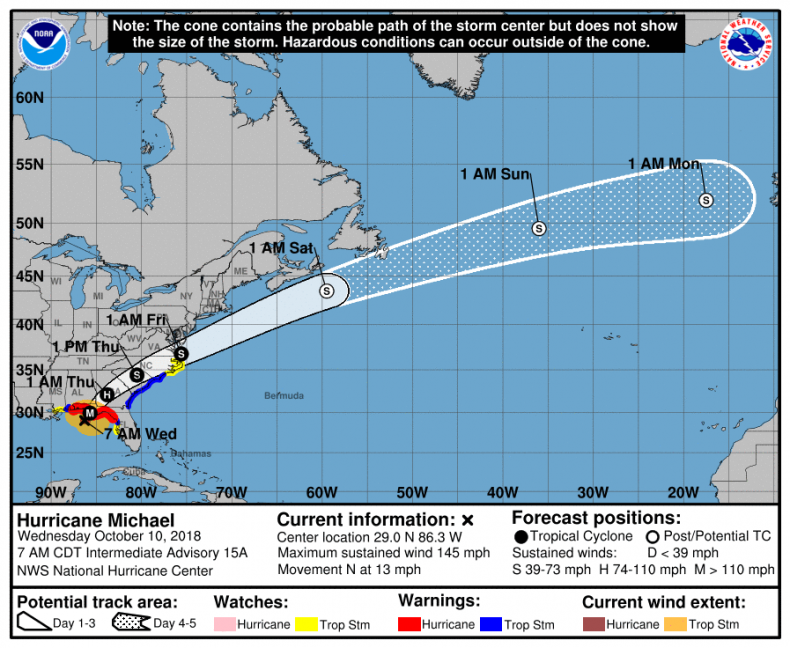 Water levels were already rising along the Panhandle, the NHC shared Wednesday morning. At 9 a.m. EDT the storm was 80 miles south south-west of Panama City and about 85 miles west south-west of Apalachicola, according to the NHC update.
The National Weather Service office in Tallahassee warned at 8:30 a.m. that landfall was expected "later this morning to early this afternoon." The office also said that the conditions were expected to "deteriorate quickly" as the storm approached.
Florida Governor Rick Scott warned residents in the area where Michael was expected to first hit that it was too late to evacuate and they should "seek refuge immediately." The governor tweeted that first responders would not be conducting rescue efforts during the middle of the storm.
The NHC was warning Wednesday that in addition to Florida seeing the impacts of Michael, parts of southern Georgia and southeast Alabama would also likely see "hurricane-force winds." The rainfall was expected to impact a wide region as well. Those in the Big Bend region of the Panhandle could expect to see heavy rainfall as well as parts of Georgia, both of the Carolinas and southeast Virginia later in the week, according to the NHC.
In addition to heavy rainfall, a significant storm surge was also a concern along the coastline of Florida. There, the storm's strong winds would likely be able to push large amounts of ocean water in the direction of the coast where it was expected to cause feet of flooding above the regular tide.
This is a developing story and will be updated as more information becomes available.​​