Hurricane Michael Path 2018, Landfall Timing Forecast: Where Is the Hurricane Headed? When Will the Hurricane Hit Florida?
Florida Gov. Rick Scott plans to declare a state of emergency today ahead of an impending, forecast direct hit from developing Hurricane Michael next week, likely along Florida's panhandle. Gov. Scott said Sunday he plans to declare the state of emergency for counties in the Florida Panhandle and Big Bend area as the state continues to monitor and prepare for Hurricane Michael's path to make a direct hit, likely on Wednesday.
Currently Tropical Depression Fourteen, the National Hurricane Center said that storm will develop into Tropical Storm Michael later today. Within the next few days, the forecast calls for the storm to strengthen into possibly major Hurricane Michael in the Gulf of Mexico, at Category 2 or Category 3 strength. Its forecast track calls for landfall across the Florida panhandle next week and winds may be as high as 110 miles per hour.
The National Hurricane Center's forecast cone, including uncertainty five days out, shows Michael could hit or have a high impact anywhere from Pensacola to Jacksonville, Florida next week. Gov. Scott urged families in Hurricane Michael's potential path to ready emergency plans and supplies.
"If any Florida family doesn't have an emergency preparedness plan, now is the time to act," Scott said in a release on Sunday. "Floridians also know just how quickly the path of a storm can change and that's why we all must be vigilant and get prepared today."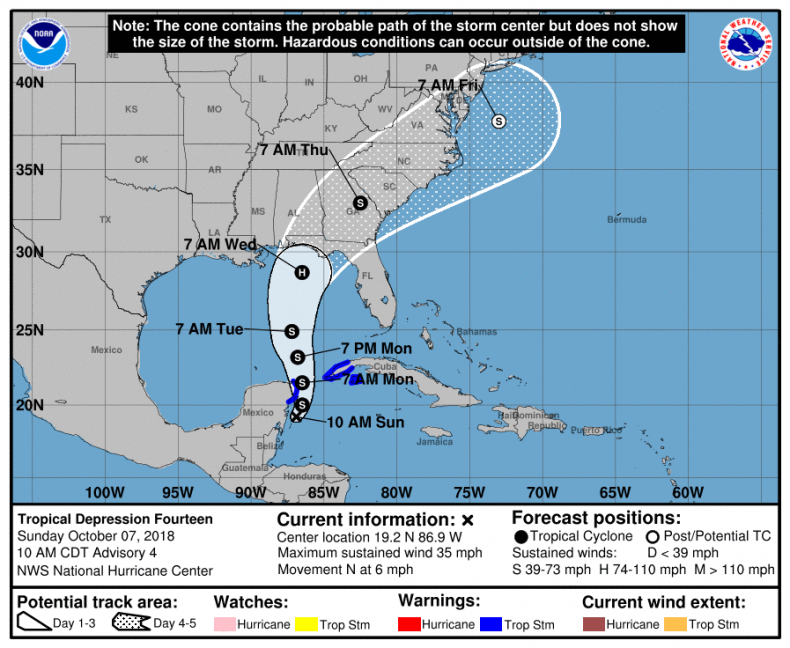 When Will Hurricane Michael Hit Florida?
The storm's timing, according to the latest National Hurricane Center forecast issued Sunday at 10 a.m., calls for Hurricane Michael's path to follow this timeline:
--Tropical Depression Fourteen will become Tropical Storm Michael on Sunday, with maximum sustained winds reaching 65 miles per hour by late Monday or early Tuesday.
--Tropical Storm Michael will become Hurricane Michael by late Tuesday night or early Wednesday, south of the Florida panhandle and moving north, northeast. Maximum sustained winds may reach 100 miles per hour (Category 2) by landfall. Landfall will be somewhere between the Alabama line and the Big Bend (Apalachicola area), according to the latest forecast track.
--Michael will downgrade to a tropical storm after landfall, but it will maintain tropical storm strength inland, moving over Georgia early Thursday morning with maximum sustained winds of 50 miles per hour.
--Michael will maintain tropical storm strength and move over South Carolina and North Carolina throughout the day Thursday, perhaps drenching flood-stricken areas.
--By early Friday morning Michael will exit off the East Coast from Virginia, becoming a post- tropical/extratropical storm with maximum winds of 50 miles per hour.
The National Hurricane Center said in its 10 a.m. update Sunday that conditions are conducive to storm strengthening as it moves north toward the U.S. Gulf Coast.
"The moderate westerly shear that is affecting the depression is forecast to gradually decrease over the next day or two as an upper-level trough over the Gulf of Mexico moves westward and weakens," the NHC said. "This, in combination with warm waters, should allow for gradual strengthening as the system moves northward over the Gulf of Mexico. Nearly all of the intensity models bring the cyclone to hurricane strength over the Gulf of Mexico in 2 to 3 days, and the NHC forecast follows suit."