Latest Hurricane Michael Rainfall Totals: Predictions for Florida, Alabama, Georgia
As Hurricane Michael barrels toward Florida's northeastern Gulf Coast, states are preparing for life-threatening storm surge, hurricane force winds, and heavy rainfall totals from the Category 4 storm.
The storm is supposed to make landfall on the Florida Panhandle and the Big Bend Region on Wednesday, the Weather Channel reported reported. A hurricane warning is in effect for the Florida Gulf coast from the Alabama/Florida border to Suwannee River, Florida, including, Panama City, Pensacola, Destin and Tallahassee, according to the Weather Channel. There are also hurricane warnings from southwestern Georgia.
The National Oceanic and Atmospheric Administration (NOAA) said Wednesday that Hurricane Michael could produce heavy rainfall, which could cause flash-flooding from the Florida Panhandle and Big Bend region all the way into Georgia, southeast Virginia, and the Carolinas.
The Florida Panhandle, the Big Bend, southeast Alabama, and portions of southwest and central Georgia are predicted to have four to eight inches of rain with maximum amounts of 12 inches, according to NOAA.
Places like Georgia, southern Virginia, and the Carolinas are expected to get three to six inches of rain, with isolated maximum amounts of eight inches, according to NOAA. The Florida Peninsula, eastern Mid Atlantic, and southern New England coast are also expected to receive one to three inches of rain.
A dangerous combination of the storm surge and the tide could also cause some flooding in normally dry areas, according to NOAA. If peak surge occurs during high tide, places like Tyndall Air Force Base and the Aucilla River in Florida could see nine to 14 feet of water, according to NOAA. Places like Cedar Key Florida and the Okaloosa/Walton County could see six to nine feet of water, and two to four feet of water in Chassahowitzka, Anna Maria Island, and Tampa Bay, according to NOAA.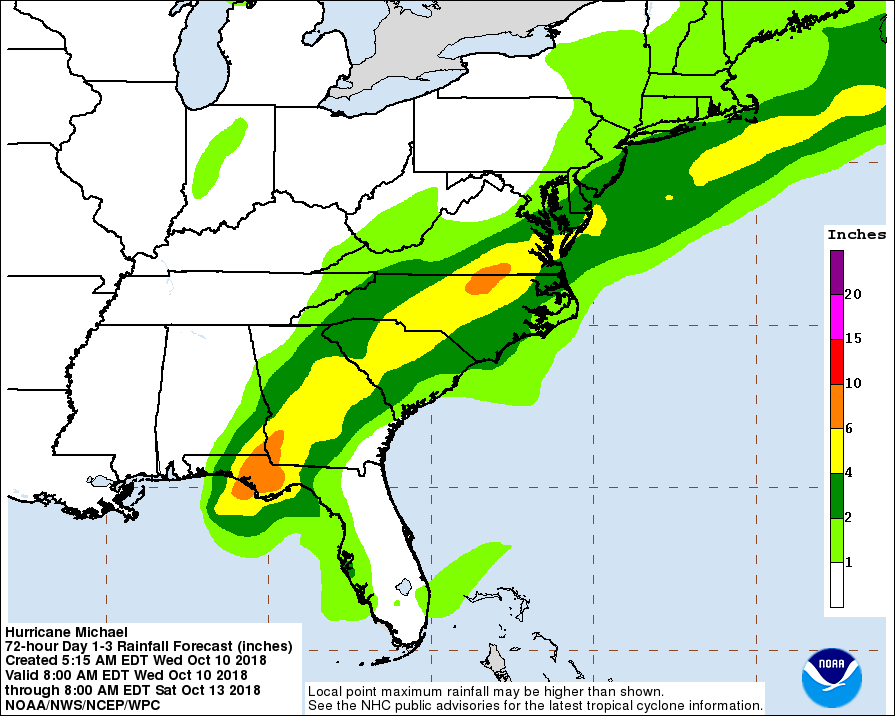 As of 8 p.m. Wednesday, the National Hurricane Center reported that the water levels and winds have increased along the Florida Panhandle. The National Ocean Service in Apalachicola, Florida recorded a sustained wind of 40 mph and a wind gust of 53 mph. The storm is currently moving 13 mph toward the Florida Coast, according to the National Ocean Service.
The Florida Panhandle will not only potentially see heavy rainfall and strong winds, but it could also experience a few tornadoes. The NOAA stated that it is possible parts of the Florida Panhandle and northern Florida Peninsula could see a few tornadoes Wednesday afternoon. There is a risk of tornadoes in central and southern Georgia and southern South Carolina Wednesday afternoon and night, according to NOAA.