Hurricane Michael School Closings: Storm Causes Florida Districts to Close Ahead of Landfall
As Hurricane Michael closes in on the Florida Gulf Coast, those on land are doing their best to prepare for the winds and rain the storm is promising to bring.
The storm was declared a Category 1 hurricane Monday and was expected to hit Florida directly on Wednesday, but be largely past the state by Thursday morning. A state of emergency was declared and the prospect of the storm hitting had some schools districts already preparing by closing down for the week or a portion of it.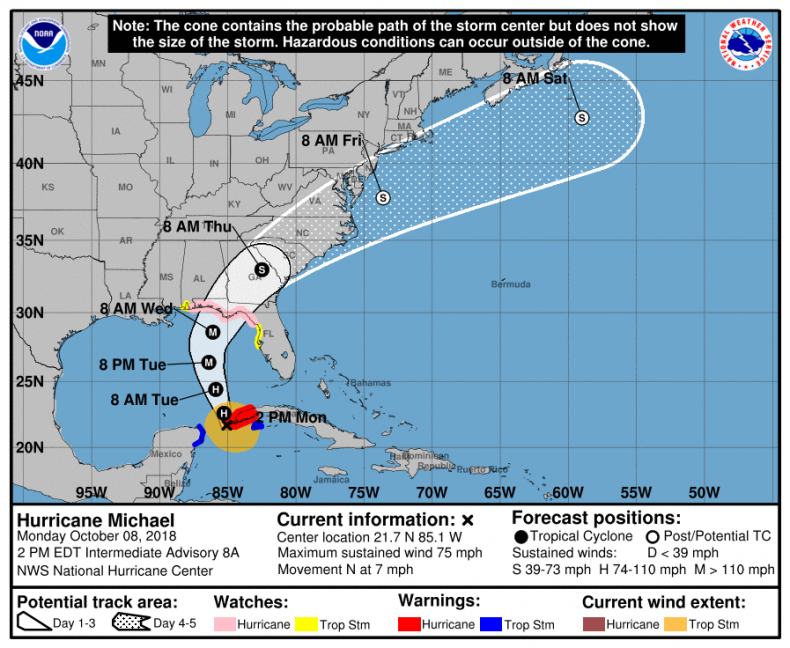 Some school districts made an announcement Monday for two days out and then had plans to update as the week progresses and the storm gets closer to the mainland. Among those schools were some in the northern part of the state where the impacts of the storm were expected to be worst.
Leon County Schools announced Monday that they would be closed the remainder of the week due to Hurricane Michael. Florida State University also announced that it would be closed from Tuesday through the end of the week due to the storm at its Tallahassee and Panama City campuses. Tallahassee Community College would be closed even longer, through Sunday.
In Madison County, school was canceled for Tuesday, Wednesday and Thursday with the possibility of a closing Friday. Holmes County schools were also set to be closed Tuesday, Wednesday and Thursday. Jackson and Walton County schools were closed Tuesday and Wednesday.
In Washington County, there was an early release scheduled for Tuesday, at 1 p.m. EDT and school was canceled Wednesday. That included after-school activities and there was a possibility of a cancelation Thursday as well.
People in the area where the storm is expected to hit hardest should check their local news stations and county school websites when possible to know whether or not their school will reopen on schedule.
The storm was threatening the coastline along the Gulf and was expected to bring rain and possibly life-threatening storm surge with it as well. That storm surge happens when the strong winds associated with the hurricane blow more water on land in addition to the regular tide waters, causing a rapid increase in sea level on the shore. Authorities were urging residents not to attempt to drive through any flooded roads as a result of the storm.​