Hurricane Michael Spaghetti Models, Evacuations Update: Where Will Storm Hit, Make Landfall in Florida?
All eyes are on Hurricane Michael as the storm approaches Florida and meteorologists are trying to provide the best predictions possible. Where will the storm hit? When should people be prepared? How bad will it be? There's always a level of uncertainty when it comes to hurricanes, but spaghetti models aim to show the most likely path a storm will take.
A spaghetti model is a compilation of forecasts from several forecasts, intended to show where each computer believes the storm is headed. Each guess is represented by a thin line, making all the lines together look like spaghetti, hence the name.
Storm Vista's spaghetti model from Tuesday showed the National Hurricane Center's (NHC) forecast in a thick, orange line and the other forecasts, including Global Forecast System and European models, are shown in a thin black line. Aside from the outliers, most of the forecasts believe Hurricane Michael will make landfall in Florida and then continue up the southeastern coast before turning out into the Atlantic Ocean.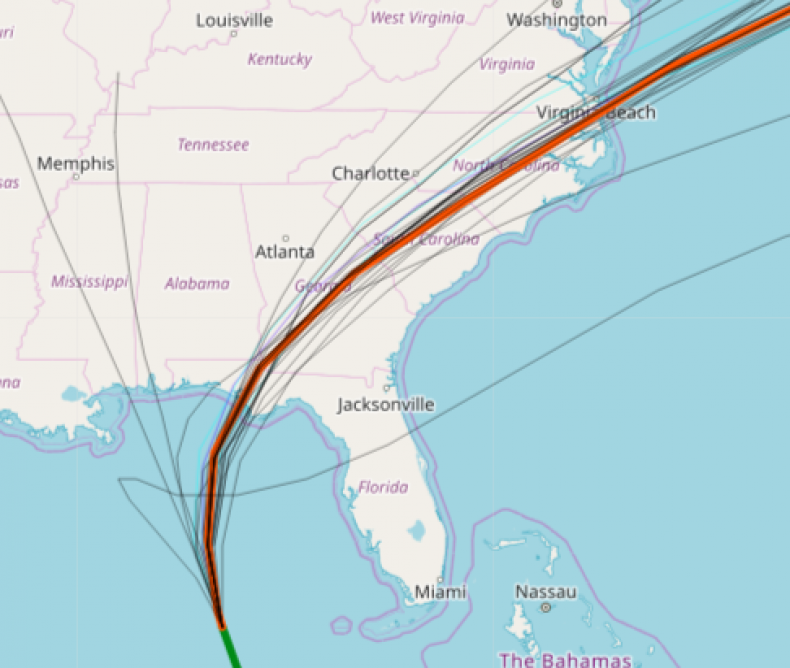 Another spaghetti model, released by the South Florida Water Management District, showed about 20 different trajectories in various colors and shapes. The NHC's forecast shown in red.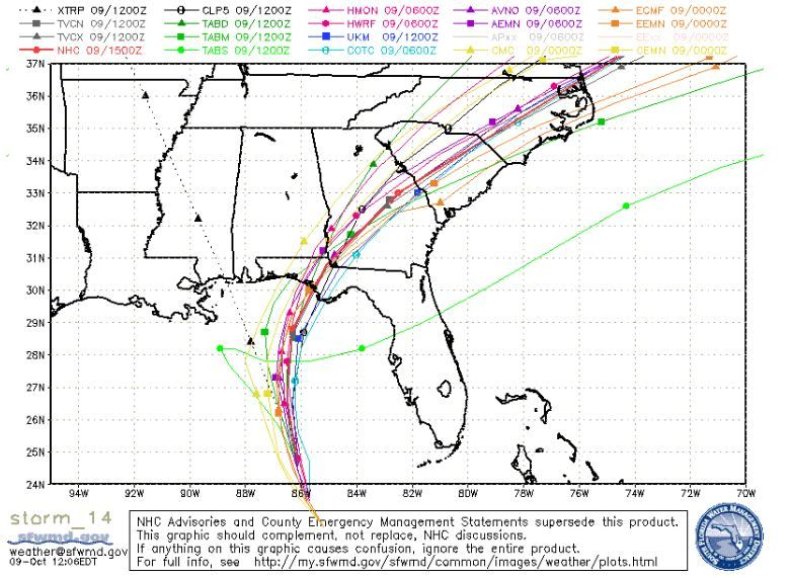 Michael rapidly intensified Sunday into Monday from a tropical storm to a Category 1 hurricane. The storm continued to gain strength on Tuesday morning with wind speeds of 100 miles per hour making it a Category 2 hurricane.
At 11 a.m. EDT, the NHC said in an advisory that aircraft designed to investigate the storm reported Michael was still gaining strength. The storm was located about 360 miles from Panama City, Florida, which was 35 miles closer than it was during the 8 a.m. EDT release. Michael also traveled 30 miles closer to Apalachicola, Florida, coming within 335 miles.
Michael will become a major hurricane on Tuesday, according to the NHC, and remain a "dangerous major hurricane" through landfall. Michael continued to move northwest and the forecasted point of landfall shifted west towards Tyndall Air Force Base in Bay County, Florida.
After the storm makes landfall on Wednesday, the NHC reported that it will move in a northeastward motion across the southeastern United States on Wednesday night and Thursday. On Friday, Michael is expected to move off the Mid-Atlantic coast and away from the United States.
The hurricane's maximum sustained wind speeds increased to 110 miles per hour on Tuesday, putting it only one mile per hour away from being classified as a Category 3 hurricane on the Saffir-Simpson Hurricane Wind Scale.
While Michael's strength increased, the NHC reported hurricane-force winds extended 35 miles from the center of the storm, a decrease from the 40 miles reported at 8 a.m. EDT.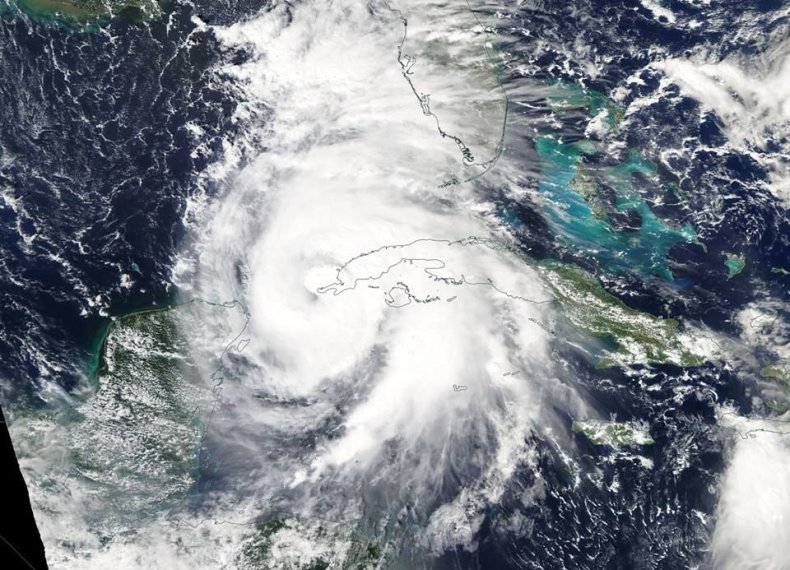 The NHC discontinued a hurricane watch for the coast of Alabama but kept a hurricane warning in place for the Alabama/Florida border to the Suwannee River in Florida.
Ahead of the storm, Florida Governor Rick Scott and Alabama Governor Kay Ivey declared a state of emergency for their respective states. Several local governments in Florida also issued mandatory and voluntary evacuation orders, including:
Bay County: Mandatory evacuation order for zones A, B and C
Citrus County: Mandatory for zone A and mobile homes and RVs
Dixie County: Mandatory for coastal, zone A, low lying areas and mobile homes
Franklin County: Mandatory for all residents and businesses
Gadsden County: Voluntary for mobile home and low lying areas
Gulf County: Mandatory for Cape San Blas, Indian Pass, Simmons Bayou, Highland View, Windmark, Port St. Joe, St. Joe Beach, Beacon Hill
Hernando County: Voluntary for coastal zone levels A and B
Jackson County: Mandatory for mobile homes, manufactured homes and RV parks
Jefferson County: Voluntary for coastal, low lying areas and mobile homes
Leon County: Voluntary for mobile homes and low lying flood prone areas
Levy County: Mandatory for Coastal Levy County
Liberty County: Voluntary for mobile homes, substandard housing and low lying areas
Okaloosa County: Mandatory evacuation for all properties south of US 98, low lying and coastal areas
Pasco County: Voluntary evacuations west of US 19
Santa Rosa County: Voluntary evacuations for mobile home parks, campsites, low lying areas and Navarre Beach
Wakulla County: Mandatory for zone A, mobile homes and other weak structures.
Walton County: Mandatory for zones A and B
Escambia County: Voluntary for zone A and low lying areas
During a press briefing on Tuesday, Scott implored residents to take the storm seriously and said there's no reason every family in Florida shouldn't be prepared.
"Hurricane Michael is forecast to be the most destructive storm to hit the [Florida] Panhandle in decades," Scott tweeted. "It will be life-threatening and extremely dangerous. You cannot hide from this storm. You can rebuild your home, you cannot rebuild your life."
Scott warned residents that the storm surge, which is forecasted to reach up to 12 feet between Indian Pass, Florida, and Cedar Key, Florida, should not be taken lightly, calling it his biggest concern.
"When you watch those videos about the tsunamis, that's like three feet and that's deadly," he explained. "We're talking about more than that."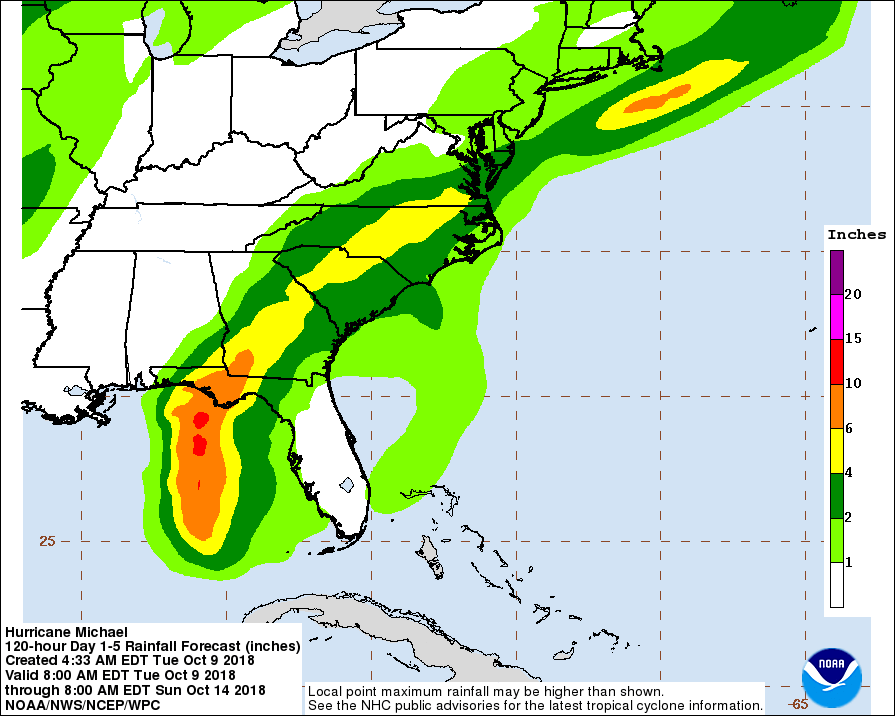 Scott instructed tolls in Florida to be waived as people evacuate and activated 2,500 Florida National Guard troops to be ready to respond to the storm. The governor acknowledged that evacuation orders can be an inconvenience, but implored residents to heed orders from officials to save their own life and the lives of their family members.
After losing strength, Michael will be a tropical storm when it passes through Georgia, South Carolina and North Carolina on Thursday, turning into a post-tropical storm at 8 a.m. EDT on Friday. Winds and rain from Hurricane Michael are forecasted to be felt as north as New England before the storm turns away from the United States.