Hurricane Michael Flooding Map: 'Life-threatening' Storm Surge Watch Issued in Florida
Tropical Storm Michael officially became a hurricane before most people in the United States even sat down for lunch Monday. The storm was still in the Caribbean at that time and was expected to cut up through the Gulf of Mexico in the direction of Florida and then continue north.
As of Monday, there were hurricane and tropical storm watches issued for the coast of Florida and Alabama and the storm had maximum sustained wind speeds of 75 miles per hour making it a Category 1 storm at the time. Forecasters were predicting that by the time Michael reached the coast of the United States it would likely be a major hurricane.
Whether or not the storm's winds strengthen to Category 3 by Wednesday, it is expected to bring rains and significant flooding and storm surge, according to the National Hurricane Center.
"Life-threatening storm surge is possible along portions of the Florida Gulf Coast regardless of the storm's exact track or intensity. Residents in the storm surge and hurricane watch areas should follow any advice given by local officials, as storm surge and hurricane warnings will likely be issued later today," said the 11 a.m. EDT update from the NHC.
The Storm Surge Unit at the NHC was issuing warnings and tracking the possible surge development ahead of Michael's approach. The office shared a map Monday of the warning areas along the Gulf coast of Florida from Navarre to Anna Maria Island. That warning is issued when there's the possibility of a surge of three feet or more water developing.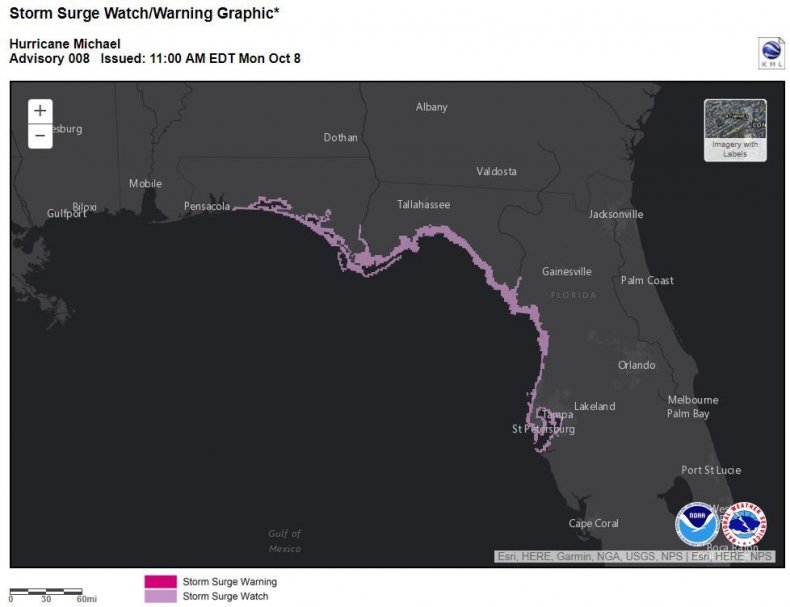 Storm surge happens when the sea level rises during a storm, according to the National Oceanic and Atmospheric Administration. Surge is the height the water reaches above the normal tide that would occur when there were no storm. The wind from the storm typically causes surge by pushing water up and onto the land above the normal tide levels. A storm surge is different from storm tide; a storm tide is the overall total water level meaning the surge and the regular tide combined.
The storm surge can be one of the most dangerous and life-threatening parts of a storm because it can bring feet of water up onto land where it normally wouldn't reach. Storm surge updates will be available from the NHC online, and the NHC's surge Twitter account will also post updates on the storm surge watches and warnings associated with Michael.