Hurricane Michael Storm Surge Map: Flood Warnings and Watches Issued by NHC
Hurricane Michael is making its final push in the direction of Florida, and residents are bracing themselves for the impact. The storm was a Category 2 on Tuesday morning, with maximum surface wind speeds of 100 miles per hour.
Michael was in the Gulf of Mexico Tuesday, moving north by northwest at 12 mph, and the coasts of Florida, Alabama and part of Mississippi were expected to feel the storm's impact by Tuesday night into Wednesday morning. Not only were there hurricane warnings and tropical storm warnings in effect for the coast, but the National Hurricane Center (NHC) was also predicting a life-threatening storm surge.
"Life-threatening storm surge is likely along portions of the coasts of the Florida Panhandle, Big Bend, and Nature Coast, and a storm surge warning is in effect for these areas. Residents in these areas should follow all advice given by their local officials," said Tuesday's key message from the NHC.
That storm surge is the ocean water being pushed by the wind from the storm up and onto land. It's not the rain from the storm, and it's different from the normal tide that would rise and fall on any given day.
A storm surge can combine with the regular ocean high tide and cause significant and sudden flooding when a storm hits. The NHC estimates the most at-risk areas for significant storm surge but is not exact. "Due to forecast uncertainty, the actual areas that experience life-threatening inundation may differ from the areas shown on this map," said a disclaimer on the storm surge map.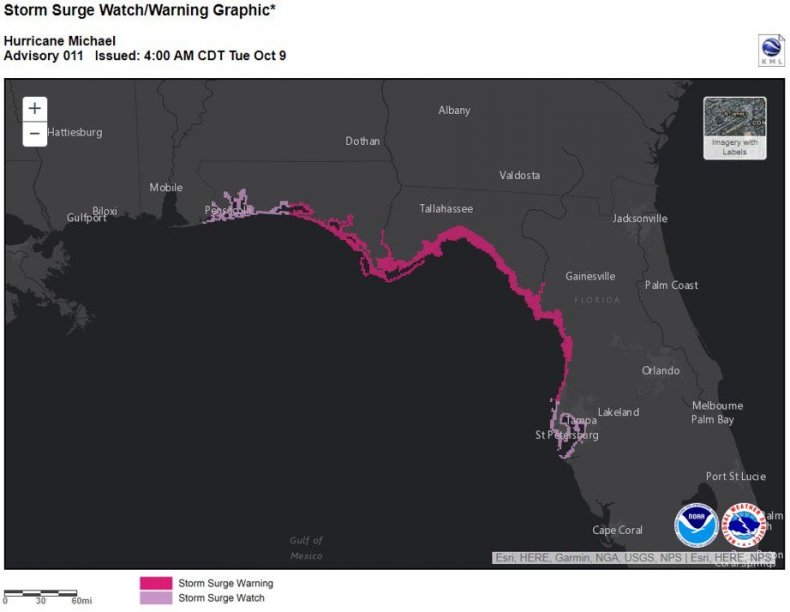 "All persons, regardless of whether or not they are in the highlighted areas shown by the graphic, should promptly follow evacuation orders and other instructions from local emergency management officials," said the NHC warning.
A storm surge watch was issued in Pensacola, Florida. A watch was also issued for Clearwater, Tampa Bay and St. Petersburg. A watch is less urgent than a warning because the latter means the flooding is likely either already happening or about to happen. Along the Gulf Coast, a warning was issued from Panama City and Lynn Haven all the way to Spring Hill.
Updated warnings and watches will be available from the NHC. Its storm surge center was urging residents to prepare Tuesday ahead of the storm.
"Water levels will rise well in advance of the arrival of #Michael. It's essential that residents within the storm surge warning area finish preparations to protect life and property today," the NHC tweeted.