Hurricane Michael Storm Surge Flooding Map: Risk Levels For Panama City, Lynn Haven, Tallahassee
The impacts of Hurricane Michael arrived Wednesday and they were devastating parts of the Big Bend section of the Florida Panhandle. Hurricane-force winds arrived early in the day prior to Michael's landfall and the rain was coming down along the coast as well.
In addition to the rain and strong winds from the Category 4 storm, there was a significant risk associated with the storm surge Michael was expected to bring too. Even as early as 6:30 a.m. EDT in Rock Landing, Florida, there was a significant surge, with Michael still more than 80 miles off the coast of Florida. A photo of the surge, posted to Twitter by the National Weather Service office in Tallahassee, shows the surge water line high along a building.
A storm surge happens when a storm's strong winds push water from the ocean up and onto the shore. It's an abnormal rise in the seawater levels above the usual expected astronomical tide. The orientation of the coast and the storm's track, along with the intensity and size of a storm have a lot to do with how high the storm surge ends up reaching, according to the National Ocean Service.
The storm surge from Michael was expected to reach between nine and 13 feet in some areas along the Big Bend portion of the Panhandle. Other areas were expected to see six to nine feet or two to four, with the likelihood of the extreme height decreasing in areas further from where Michael was expected to make landfall.
The NHC has a storm surge watch and warning feature that shows where storm surge should be expected as the storm rolls in. However, those who view the graphic should keep in mind that it identifies the locations that are most at risk for storm surge, rather than the areas that will definitely see a surge. The actual areas where the surge occurs and is at its worst can vary.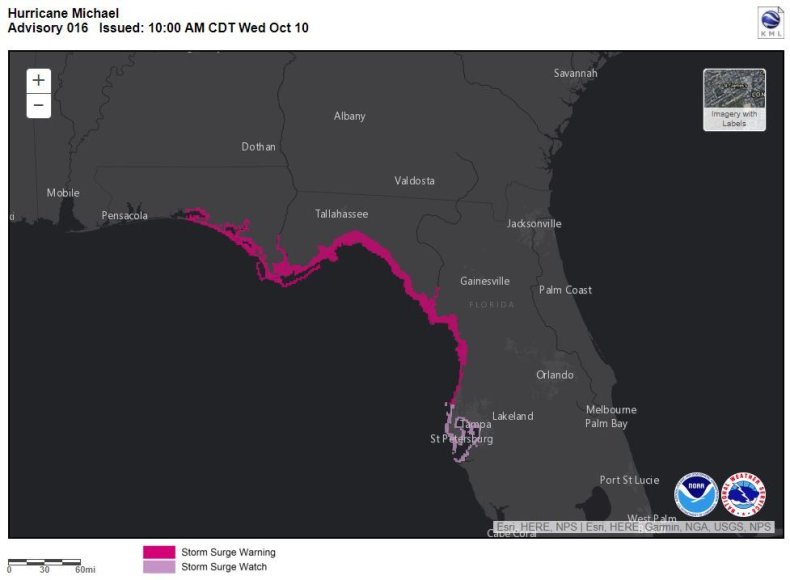 There were storm surge watches issued for Clearwater, St. Petersberg and Tampa in Florida and there was also a watch ordered for the Outer Banks in North Carolina. Tallahassee was out of the space indicated most at risk for a storm surge. More at risk parts of Florida included the coastline from Spring Hill north to Lynn Haven, the map from NHC showed.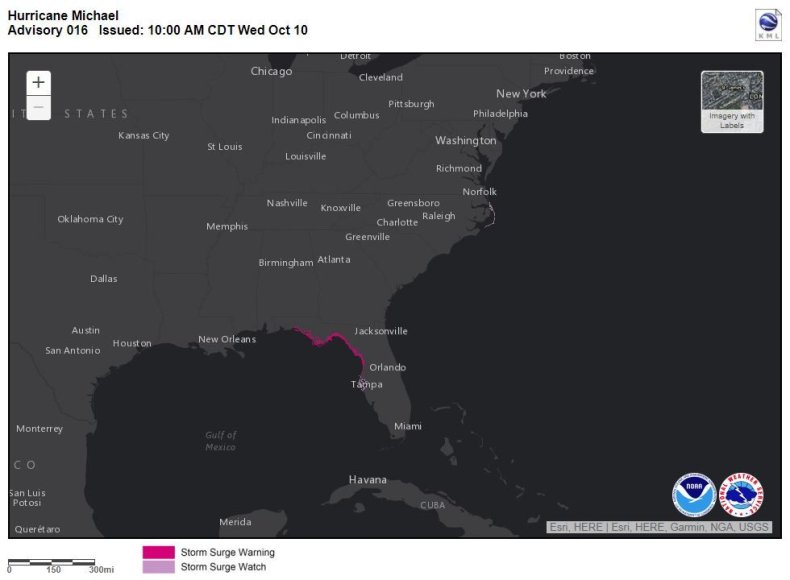 ​​
Hurricane Michael Storm Surge Flooding Map: Risk Levels For Panama City, Lynn Haven, Tallahassee | U.S.