Hurricane Michael Track, Path: NOAA Forecast Has Category 4 Hurricane Making Landfall in Florida Panhandle
The Florida Panhandle spent days preparing for Hurricane Michael's arrival, expecting it could be one of the most destructive and deadly storms to hit the Sunshine State in years. With landfall imminent, Michael could likely hit as a Category 4 storm.
On Wednesday around 2 a.m. EDT, the National Hurricane Center (NHC) reported Michael became a Category 4 hurricane with maximum sustained wind speeds of 130 miles per hour. The only category higher on the Saffir-Simpson Hurricane Wind Scale is a Category 5, which requires hurricanes to have a wind speed of at least 157 miles per hour.
The storm moved about 40 miles toward Florida overnight and was about 140 miles away from Panama City and 130 miles from Apalachicola by the 5 a.m. EDT, according to an NHC advisory. In the hours between the 2 a.m. advisory and the 5 a.m. advisory, Michael gained strength to maximum sustained wind speeds of 140 miles per hour. Hurricane-force winds extend 45 miles from the center of the storm and tropical storm–force winds extend 185 miles.
"Michael is an extremely dangerous Category 4 hurricane on the Saffir-Simpson Hurricane Wind Scale," the NHC said. "Some additional strengthening is possible before landfall."
At 5 a.m., Michael was moving toward the north at 13 miles per hour and was expected to make landfall in the Florida Panhandle on Wednesday. Since Tuesday, the storm has been moving northwest, and the NHC forecast Michael will make landfall in Bay County, Florida, practically on top of Tyndall Air Force Base.
"We want everyone to know this is an EXTREMELY dangerous storm and unfortunately, the time for preparation is ending!" the National Weather Service in Tallahassee, Florida, tweeted.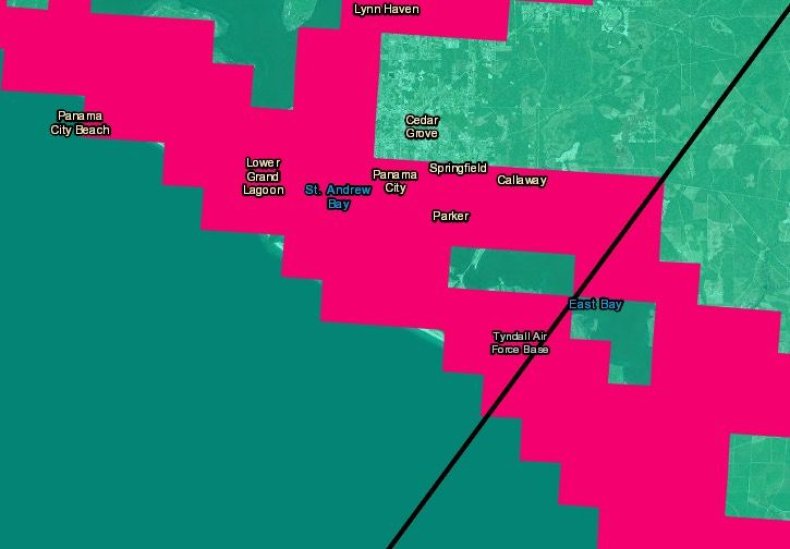 On Wednesday morning, the NHC discontinued the storm surge watch for west of the Okaloosa/Walton County Line in Florida but added a tropical storm warning from the South Santee River in South Carolina to Surf City, North Carolina. Other warnings include:
Storm surge warning for the Okaloosa/Walton County Line Florida to Anclote River in Florida
Storm surge watch for Anclote River in Florida to Anna Maria Island in Florida, including Tampa Bay
Hurricane warning for the Alabama/Florida border to Suwannee River in Florida
Tropical storm warning for the Alabama/Florida border to the Mississippi/Alabama border, Suwanee River in Florida to Chassahowitzka River in Florida, north of Fernandina Beach, Florida, to Surf City, North Carolina
Tropical storm watch for Chassahowitzka, Florida, to Anna Maria Island, Florida, including Tampa Bay, the Mississippi/Alabama border to the Mouth of the Pearl River, Surf City, North Carolina, to Duck, North Carolina, Pamlico and Albemarle Sounds
Dangerous storm surges are expected for various parts of Florida, with the area between Tyndall Air Force Base and Keaton Beach seeing up to 13 feet. The Florida Panhandle, where the storm is supposed to hit, as well as Big Bend, southeast Alabama and southeast and central Georgia, will have 4 to 8 inches of rain, with a maximum of 12 inches in isolated areas.
Rainfall from Michael, including the up to 8 inches forecasted for Georgia, the Carolinas and southern Virginia, could lead to life-threatening flash floods.
Ahead of the storm's contact with Florida, Governor Rick Scott pleaded with residents to take it seriously and heed the warnings of officials. To prepare for the storm's impact, Scott declared a state of emergency, waived toll fees and activated 2,500 members of the National Guard.
"Hurricane Michael will be here TONIGHT," Scott tweeted on Tuesday. "This is your LAST CHANCE to get prepared for this monstrous and deadly storm. The state is not taking this storm lightly and neither should any family."
County officials throughout the state also issued mandatory and voluntary evacuation orders in anticipation of life-threatening storm surges. To hammer home the severity of storm surges, Scott referenced videos people have seen during tsunamis. He explained in those deadly videos, the storm surge was only at about 3 feet.
"Michael is a nasty storm that could bring total devastation to our state," Scott said.
Michael rapidly intensified on Sunday and turned into a Category 1 hurricane on Monday. By Tuesday afternoon, NHC reported the eye of the storm was moving over the Gulf of Mexico with maximum sustained winds of 110 miles per hour, making it a Category 2 hurricane. At 5:00 p.m. EDT on Tuesday, the NHC reported Michael became a Category 3 hurricane and was expected to strengthen before landfall.
Unlike Hurricane Florence, which hovered over the area for days, Michael is forecast to move out of the area on Wednesday night and into Thursday. Michael will continue up the southeastern United States, bringing rain and wind as north as New England on Thursday and move away from the United States by Friday.