Tropical Storm Michael Virginia Damage: Fatalities, Power Outages, Flooding, Tornado
Hurricane Michael's wrath came down hard on Florida, and as it made its way up the coast, its reign of destruction continued. In Virginia, one of the last states to experience Michael, hundreds of thousands of residents were without power, flooding closed roads, and at least five people lost their lives.
Michael made landfall on Wednesday in the Florida Panhandle as a Category 4 hurricane, with winds at 155 miles per hour. Moving relatively quickly up the East Coast, Michael was then downgraded to a tropical storm and hit Virginia on Thursday evening with winds of about 50 mph.
Virginia Governor Ralph Northam declared a state of emergency ahead of Michael's arrival and urged residents to get prepared for flash floods, winds, tornadoes and power outages.
"I am declaring a state of emergency in order to provide state assets to Virginians and to assist our neighbors in states who are dealing with the devastating effects of this historic storm," Northam said.
His warning proved necessary on Thursday, as parts of Virginia experienced flooding so severe it closed roads, trapped people in their homes and cars and prompted an inundation of emergency calls.
The Danville Fire Department told news station WDBJ that on Thursday, within a two-hour time frame, there were an estimated 200 emergency calls. In Glade Valley, heavy rain prompted a landslide that destroyed a camper and a building and uprooted trees.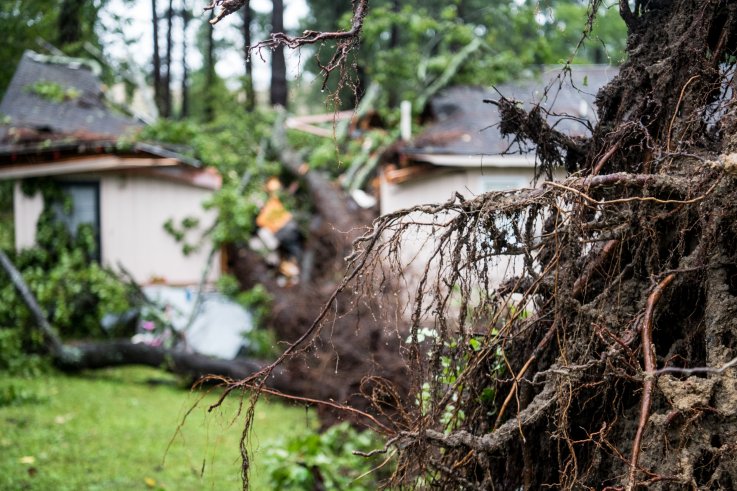 ABC News Meteorologist Ginger Zee posted a video on Twitter of flooding in Roanoke, which she explained was up to about 6 inches and was "swallowing cars."
Michael's extreme conditions caused multiple rivers to rise to major flooding levels, including:
New River at Glen Lyn: 19.29 feet
New River at Radford: 23.83 feet
Peak River at Pulaski: 14.1 feet
Dan River at Danville: 30.01 feet
Dan River at Paces: 28.23 feet
Dan River at South Boston: 29.37 feet
On Thursday at 7 a.m., at least 520,000 people were without power and 1,200 roads were closed because of the storm, the Virginia Department of Emergency Management (VDEM) reported.
Tragically, the storm caused the deaths of five people in Virginia, according to VDEM. One victim, 45-year-old James E. King, was killed during a flash flood in Pittsylvania County, according to WTKR.
Jeff Caldwell, a spokesman for VDEM, told The Washington Post that three other people lost their lives after being swept away in floodwaters.
"As the light comes up today we're looking at damages," Caldwell told The Washington Post. "We see a lot of downed trees."
The fifth fatality caused by Michael was Brad Clark, a fire lieutenant from Hanover County, who lost his life when a tractor-trailer hit the fire department's engine. At the time of the crash, Clark was on the scene assisting victims of a two-vehicle crash.
"We're still in life-safety mode," Federal Emergency Management Agency Administrator Brock Long told CBS News. "We're not even close to having discussions on rebuilding yet."
Along with the tropical storm conditions, a tornado touched down near Scott's Forks in southern Amelia County on Thursday, the National Weather Service in Wakefield, Virginia, said. Four other tornadoes possibly hit the area, but that has not been confirmed, according to the VDEM.
On Friday, Michael was headed out to the Atlantic. The storm, classified as a post-tropical cyclone, had wind speeds of 65 mph.
Tropical Storm Michael Virginia Damage: Fatalities, Power Outages, Flooding, Tornado | U.S.